Life on the Road: PokerStars European Poker Tour Barcelona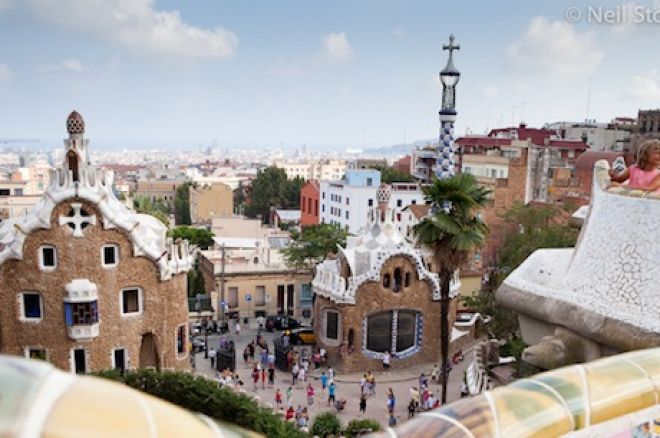 As a poker blogger, I've had the opportunity to travel to some great tournaments across the world. I've covered events in South America, the Bahamas, and even in Australia, but despite these great experiences, I always longed to visit Europe. That chance finally arrived in mid-August when for the first stop of the PokerStars European Poker Tour's ninth season — EPT Barcelona.
Aside from a quick jaunt to England in my college days, I'd never visited Europe, so you can imagine how excited I was to travel to Spain and cover my first EPT. I arrived a day before the start of the €50,000 Super High Roller and took the opportunity to explore the city. I accompanied the lovely Lynn Gilmartin and Kristy Arnett, who were filming welcome videos for the PokerStars Blog and PokerNews respectively, as well as two cameramen and my fellow blogger, Emilis. Together we aimlessly wandered the city streets, occasionally stopping whenever the girls fancied a location.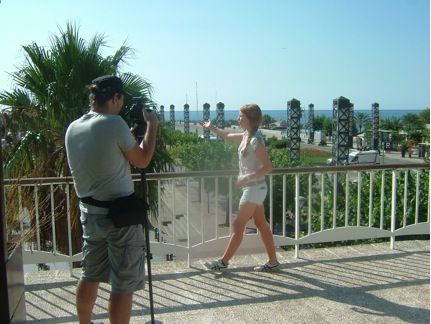 We briefly visited the beach where it was not uncommon for women to bask topless. While this no doubt sounds agreeable to most male readers, you have to remember that the bad comes with the good and oftentimes the former outnumber the latter considerably. In other words, you might see some things you'd rather not at the topless beach. Also, in case you're wondering, neither Lynn nor Kristy opted to let loose.
From there, we ventured down to the tree-lined La Rambla, a street in Barcelona that is known for street performers, living statues, and kiosks. It was there that Kristy took us all to a tucked away marketplace that served everything under the sun. Meats, cheeses, and nuts were aplenty, but what interested us was the vast array of fresh-squeezed fruit juices. The kaleidoscope of colors offered no easy choice, but ultimately I settled on an orange-peach concoction that pleased. Without a doubt, the best €2.00 I spent the entire trip.
After the girls finished filming at returned to the hotel, Emilis and I opted to take a bus tour of the city. For just €24.00, we got to see vast expanses of the city including the area where the 1992 Summer Olympics were held, the Plaza Monumental de Barcelona bullfighting arena, Port Vell Aerial Tramway, and Magic Fountain of Montjuic, just to name a few locations. The tour allowed us to get off at anytime and explore at our leisure, but given our time frame we opted to stay on the bus and take in a much of the city as possible. There was a lot we didn't get to see, but I was happy with what we saw in such a short period of time.
That evening, Donnie Peters, who had flown in earlier in the day, invited me out. Our party included Kristy; Garry Gates; Kyle Julius and his girlfriend, Justine; and Team PokerStars Pro Jason Mercier and his fiancé, Erica. The dinner, which was at a restaurant at the marina, was decent, but the real treat was the company and conversation. Both Kyle and Jason were set to play the €50K the following day, but that didn't stop them from having a good time.
While everyone else was enjoying wine, I ordered some sangria. What I didn't realize until it was too late was that I had inadvertently ordered a large sangria; more specifically, I had ordered a full pitcher of sangria. Of course others wanted to sample, and I was more than happy to oblige. Four pitchers and a couple bottles of wine later, and everyone felt pretty good — except for Kristy, who uncharacteristically abstained.
This was my first time interacting with Jason and Kyle socially, and while I got the sense that they'd be lost without their better halves, both guys proved to be a blast. That part of the group, along with Donnie, extended the night by visiting a hookah bar, while the rest of us returned to the hotel to prepare for the €50K Super High Roller, which I had the privilege of working that event from start to finish.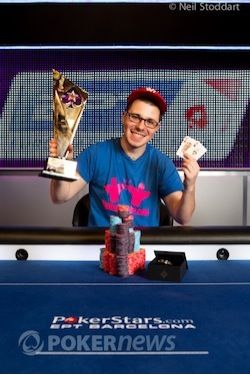 It was a truly remarkable tournament; in fact, I rank it among my favorite events I've ever covered. I say this because of the eclectic mix of players. I've covered super-high roller events with Phil Ivey, Daniel Negreanu, Erik Seidel and the like on more than one occasion, but I've never had the chance to cover one with European players. At the EPT Barcelona, I finally had the chance to witness legends like Philip Gruissem, Juha Helppi, and Tobias Reinkemeier; in addition, I observed online legends I had only previously written about in Ilari "Ilari FIN" Sahamies, Terje "Terken89" Augdal and Ignat "0Human0" Liviu.
In my opinion, the lineup of the EPT Barcelona €50K Super High Roller surpassed that of the $1,000,000 buy-in Big One for One Drop, and I wasn't all that surprised to see Dan Smith take down the title. I watched him win a similar event back in January, and the guy is something special. His meteoric rise in 2012 is as impressive, if not more, than Seidel's accomplishments the year prior.
After the €50K wrapped, it was time to cover the €5,000 Barcelona Main Event. It was a week's worth of great action, but the highlight for me was watching Sahamies, who had taken fourth place in the €50K, navigate the 1,082-player field and make it to the final table as the chip leader. It was there that a fellow Finn, Joni Jouhkimainen, joined him and together the pair put on quite the show.
I've never seen so many four and five bets, and I learned a lot about the sheer power of aggression. The Finns are truly fearless; however, neither Jouhkimainen nor Sahamies managed to capture the title, finishing in third and second places respectively. It seemed to me the duo celebrated a bit too early and overindulged in drinks, which opened the door for Belarusian Mikalai Pobal to swoop in and claim the €1,007,550 first-place prize.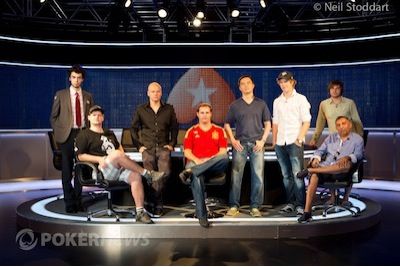 I'd be remiss if I didn't briefly mention my first "football" experience. Now if you read football and thought the NFL, then you're way off track. Outside the United States, football is the common name for what we Americans would call soccer, and believe me when I say it's a big part of their culture. While in Barcelona, the hometown team took on Real Madrid. Now I know very little about the game, but I was told they were two of the best teams and the electric atmosphere surrounding the game backed that up.
Plenty of poker pros took the night off to attend the game at Camp Nou, which is the largest stadium in Europe with a 100,000 capacity, but at €250+ for a ticket, our gang opted to watch it at the Barcelona Sports Bar on La Rambla. The usual cast of characters were there, but my experience was exemplified by the inclusion of Marc Convey, Chris Hall and Neil Stoddart — three Brits who knew the game well. They were king enough to answer my naïve questions and provide me some background on the clubs and players.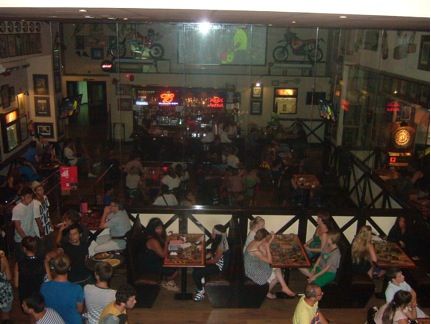 The game started slow but definitely picked up steam in the second half. I got to watch Lionel Messi and Cristiano Ronaldo work their magic, and rousing match ended up 3-2 in Barcelona's favor. It was only one match, but I took away a whole new appreciation for the game — I really like that there were no commercial interruptions.
My trip to the EPT Barcelona was full of great experiences. The poker action was the best I've seen, and there was no shortage of things to do in the city. Other than being a bit too hot and humid for my liking, I had an amazing time in Spain. It may have been my first EPT, but if I have my way, it won't be my last.
Follow PokerNews on Twitter for up-to-the-minute news.