Barry Greenstein - The Quiet Storm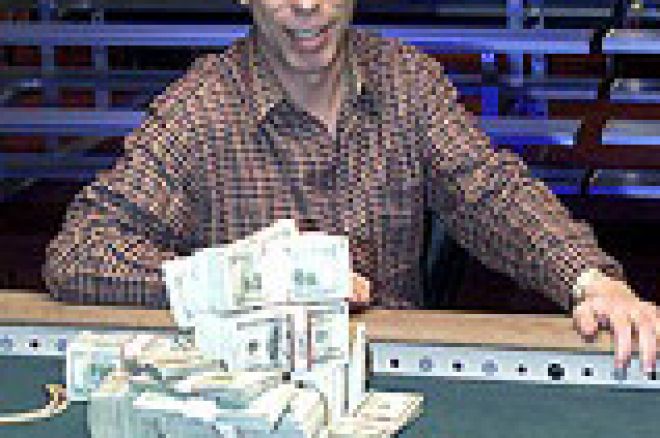 Barry Greenstein is one of the quietest figures you will ever see at a World Poker Tour final table. He is also one of its most feared competitors. An accomplished cash game player, Barry won the Championship Event at the 2004 Jack Binion World Poker Open and has also captured a World Series of Poker bracelet in one of its toughest disciplines, Lowball. He is also noted for his huge heart; all of his tournament winnings are donated to select charities to assist those less fortunate around the world, earning him the nickname as the "Robin Hood of Poker". I was able to speak with the tremendously private Barry and get his views on the game today and his part in it.
PN: You have a very low-key persona at the tables. How does this work to your advantage against other players?
BG: I don't try to show other people up. I focus on trying to win the most money.
PN: Table selection is important for cash players. What do you look for when you are choosing a cash game? Are there particular players you are looking to go against or does the action primarily drive your choice?
BG: I look for bad players with a lot of money to lose. I am not afraid of anybody at the poker table, but some games are not worth my time.
PN: Do you focus in on one particular game or would you say you are an all-around player?
BG: I play whatever game is being played. We usually play eight different games, eight hands each in the big game.
PN: What got you into playing poker? Is it something from your childhood?
BG: I have always been good at games. I played various card games at home when I was a child. I played poker for money from the time I was twelve.
PN: You have played some excellent poker on the World Poker Tour. What are the main differences between tournament poker and cash games in general?
BG: I go into this in detail in my book that is due out in June 2005. There are many management decisions in a session and as an overall scheme that a tournament player doesn't need to worry about.
PN: Do you have a desire to capture more World Series of Poker bracelets? Or is it something that will come with time?
BG: I won a World Series of Poker bracelet in Deuce-to-Seven in 2004. Before 2003, I only played in the final event and at most two others. The last two years I played in more events and consequently had several top finishes.
The WSOP Main Event is another thing entirely. Of course, I would like to win it, but that is less likely each year as the number of entrants skyrocket.
PN: You quietly were in the chase for the 2004 CardPlayer Magazine Player of the Year championship. Did you strive for that or was it just a fortunate extra to a great year?
BG: I didn't work hard at it, but I wanted to have a shot going into the last event. Unfortunately, I didn't give myself a chance to win it in the fashion Daniel Negreanu did. I tip my hat to him.
PN: You were the best Lowball player, according to CardPlayer. That is a game that is hard to find anymore, isn't it?
BG: I played a lot of Lowball in California in the '80s. It was the main game until Hold'em was legalized. I came in fifth at the World Series in limit lowball and fourth in Deuce-to-Seven no-limit in the '90s. The WSOP limit lowball was moved to the Commerce Casino for a few years and I won the event (and the gold bracelet) the first year. By the way, I didn't play in many tournaments before 2003 because I predominantly played side games. People didn't consider me to be a good tournament player even though I finished at the final table in more than 30% of the events that I had played in, not counting the final event of the WSOP.
PN: More poker tournaments are offering charity events. Should poker do more philanthropic events or is it an individual choice?
BG: I think it should be an individual choice. Most poker players aren't in a position to give money away. I have confidence that many of them would be more charitable if they hit it big like I did.
PN: You give a majority of your tournament winnings to Children, Inc., with the rest going to other charities. What is the objective of the organization and how can people learn more about it?
BG: Check out my website, www.barrygreenstein.com, for a link or go directly to www.children-inc.org.
PN: Do you play online any or do you prefer live play?
BG: The online games aren't big enough for me. I played last year while writing the Internet chapter in my book.
PN: You have written a section for Doyle Brunson's Super/System 2. What can we expect you to be focusing on?
BG: Doyle allowed me to keep my section and make it into my own book. I give advice on how to make money at poker.
PN: Are there any other writing endeavors or other projects you are undertaking?
BG: There are many televised tournaments and projects that I will be part of in the next few years.
PN: What advice would you give the beginning players? What about the player who thinks they are ready to step up to the World Poker Tour?
BG: I advise players to read books and to be very observant when they play. They should try to discern what winning players are doing differently than they are. Anyone can play on the World Poker Tour if they can afford the money and the time. I would advise players to get some practice in internet tournaments first and then, if they feel comfortable, they can take a shot at the big time.
PN: What do you see the future of poker being? How do we continue the current success beyond today?
BG: I'm not sure if it will keep growing or if televised poker is nearing its saturation point. I don't know what you mean by "success." If teenagers spend their time playing poker instead of playing sports and finishing their education, then we will not be successful, but we will have a lot of poker players.
PN: What does your schedule look like for 2005?
BG: I will play in the final events at the big tournaments and I am trying to get my book out in June. I hope I only need to play in side games during the major tournaments to keep my cash flow in good shape.
PN: How do you take a break from the game?
BG: I don't play much anymore. I have been dividing my time between traveling to tournaments, staying at home finishing up my book, and responding to mail.
PN: Is there anything that you would have liked to have done in your life that you haven't achieved yet?
BG: I always have big dreams and ambitions. I wanted to become a research MD and work on curing diseases. I had planned on going to medical school after I got my PhD in mathematics, but I never had the time. I never even had the time to defend my PhD thesis. I am the only person I know who passed all of the exams and wrote a PhD dissertation, but didn't do the final edits and defend his thesis. I had family and money constraints and the software company (Symantec) I was involved in could not afford for me to take a couple of months off.
PN: What are your basic tenets of life?
BG: I have a nice closing chapter in my book about this. I don't want to give it away. I try to be nice to people and do the right thing when the choice is clear.
PN: Thank you very much for your time, Barry.
BG: Thank you.
I would like to thank Barry for his time and encourage you to catch up with all his activities at www.barrygreenstein.com. Additionally, you can learn more about one of his favorite charities, Children, Inc., by going to www.children-inc.org.