Jennifer Harman - Back and Better Than Ever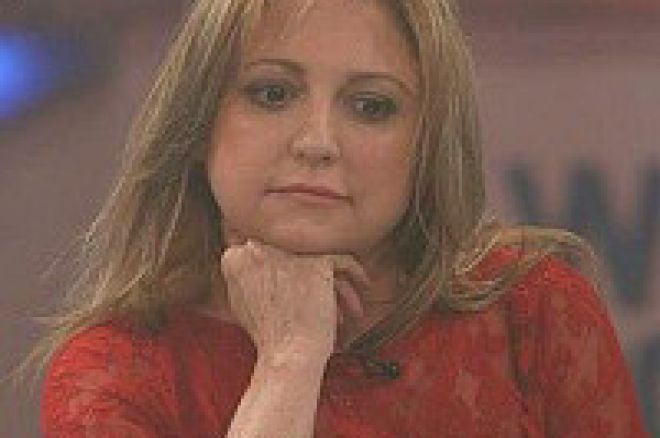 When discussion of the best female player in the game warms up, there are your usual list of candidates: Liebert, Duke, Tran, Enright, and many others. Another name that many come up with, and for a well deserved reason, is Jennifer Harman. Harman has for years been a force in the cash games, even winning the largest pot ever contested ($1.7 million) in such a game. She is also one of the few women who have broke through the male ranks to win a World Series of Poker bracelet, and she has done it twice.
2004, however, was a year of tremendous struggle. Jennifer missed the World Series because she was waiting for a kidney transplant. She could not commit to the Series, mostly because of her health, but also because the life saving operation could come at any time. After the donation of a kidney from her niece and a successful operation, Jennifer quickly regained her form to be at the final table of the 2004 Five Diamond World Poker Classic in December as a combatant, not a railbird. She also received what has to be the ultimate compliment; when Doyle Brunson went for the authors of the sections of "Super/System 2," he tapped Jennifer to write the Limit section of the book.
2005 is in full swing and so is Jennifer! She is eager to return to the World Series this June, which I found out when I had a chance to speak with her recently.
PN: First off, and we'll talk more about it later, how is your health after last year?
JH: My health is great. My kidney is doing great. I feel so fortunate to have another chance at
life.
PN: Are you eager to get back to the World Series after missing last year? How do you view your chances of adding to your bracelets, with record entries expected across the board?
JH: I'm very excited to play in this years WSOP. Since I did miss last year's, I can't even tell you how much I'm looking forward to it. I don't know what my chances are of winning a bracelet, but I will tell you this, that whenever I enter a tournament, I'm going to play with all my heart.
PN: Is there a potential problem with so many tournaments running nearly together between the World Poker Tour and the World Series of Poker Circuit?
JH: There are a lot of tournaments these days. I don't know if it's a problem. The way I deal with it is I just play the tournaments I want to play. Personally for me, if I play them all, I would have problems playing my best in each tournament. When I enter a tournament, I want to play the best I can.
PN: What do you think is the potential for the Professional Poker Tour?
JH: I think the PPT has a lot of potential. I think the WPT is doing a great job with it. It's also a fun event to play.
PN: Your section of Doyle Brunson's "Super/System 2" has been praised as one of the best Limit guides there is. How many of your secrets did you give away?
JH: I'm sure I gave away a lot of secrets. I basically wrote the chapter based on how I've been playing Limit Hold 'Em for years.
PN: Other than "Super/System 2," you haven't done a book yet. Is that something we can look forward to from you or are the rest of your secrets yours alone?
JH: I'm actually writing a book on No-Limit Hold 'Em versus Limit Hold 'Em cash games. I'm not sure what it's going to be called yet though.
PN: You often play in high stakes games. Do you find it difficult to concentrate when the stakes are not quite so high?
JH: Not really. I'm very competitive, so if I sit down to play poker, I take every game I'm in seriously. I'm a professional, so if I sit in a poker game, I'm going to try to win at any level I play.
PN: What are the adjustments you make between Limit and No-Limit? What about between ring games and tournaments?
JH: I feel that Limit and No-Limit are two totally different games. So I really don't make any adjustments. I play the game according to what the game is. For instance, I don't play Limit Hold 'Em and Omaha 8 or better the same. They are different games. Same with No-Limit and Limit.
Additionally, ring games and tournaments are totally different. I do find myself sometimes having to adjust to ring games after I've played a lot of tournaments. I have to make a conscious note in my mind that now I'm playing a cash (ring) game. I am WAY more aggressive in ring games then I am in tournaments. After all, in a ring game you can just pull out more money.
PN: When you started playing, did other players believe they could push you around because of being female and your size?
JH: For some reason, I've always gotten along in the poker world. I think at first everybody wanted to be nice to me because I was just giving away my money. Later, I feel that I was just part of the furniture so everybody just got used to me.
PN: What would you like to see tournaments do for the players?
JH: What I would like to see with tournaments is more money being added to the prize pool. Tournaments these days are very expensive for the players. It would be nice to be able to pay more spots with the added money so at least some of the players are getting their money back.
PN: What are some of the things that you would do to ensure the current poker explosion continues?
JH: Again, I think adding more money to the prize pools will help. I feel the explosion will continue for awhile. Everybody loves to play poker, including me!
PN: How are you enjoying your experience with Full Tilt Poker? What drew you to join that prestigious group?
JH: I really enjoy playing on Full Tilt Poker. When I have time, I like to give back to the poker world and help others improve their game. On Full Tilt Poker, I have the opportunity to do that.
PN: Who are the players, male or female, that you respect the most?
JH: The male players I respect the most are John Hennigan, Daniel Negreanu, Phil Ivey, Doyle Brunson, John Juanda, Eric Lindgren. The females I respect the most are Kathy Leibert and Cissy Bottoms.
PN: What are the innate abilities a person has to have to be an excellent poker player?
JH: This is a difficult question because I don't know if innate abilities and/or years of table experience are the same thing. I guess talent is an innate ability. How do I describe talent? I guess being able to get into somebody's head and know how to play each player accordingly and also being able to adjust at any given moment.
PN: What advice can you offer the player who believes they are ready to step up to the big time, be it cash games or tournaments?
JH: I always recommend to go at a slow pace. Make sure you have the bankroll behind you to take the swings of poker. There is one thing that you can't get away from in poker and that is the roller coaster ride.
PN: How is married life treating you?
JH: I love married life. There is nothing more important to me than family. If I have a great home life then everything else just falls into place.
PN: What do you do to escape the pressures of the game?
JH: The way I escape the pressures of the game is to exercise, eat right and relax. I like to be outdoors so whenever I get a chance, I will try to go somewhere that I think is beautiful and just hang out, having a picnic or hiking.
PN: With your illness last year, organ donation has become an important issue to you. Tell us about CODA and what people can do to help.
JH: CODA stands for Creating Organ Donor Awareness. I feel I was very fortunate because I actually had family and friends that came forward to offer their kidney to me. Some people are less fortunate. Sometimes family members can't donate because they do not match or they have health problems themselves, so what happens is the one needing the organ has to go on a waiting list.
So many people die waiting for these precious gifts. I would love to be able to educate people on how important it is to donate your organs. I feel saving a life is a wonderful gift to give someone. We are still working out the details on CODA, but I hope it's up and running in less than a year.
PN: Are there any other issues that you feel as strongly about?
JH: Other issues I feel very strongly about and I wish there was more we could do about are child abuse and also animal abuse and neglect.
PN: Finally, Jennifer, what does your schedule look like for the rest of 2005?
JH: I just know my schedule until the middle of July. I'm going to play at the Rio in the WSOP circuit tournament, then off to Reno at the end of the month for the WPT, then back to Vegas for the PPT and WPT championship at the Bellagio. Tahoe is next. PPT at the Mirage. Then the WSOP starting June 3rd.
PN: Wow, sounds like you have it planned out! Good luck and thank you, Jennifer.
JH: Thank you as well!
I want to thank Jennifer for taking a moment from her busy schedule to talk to me. If you haven't been to her website, it is something to see. Check out www.jenniferharman.com for the latest news on Jennifer, her own personal journal of her travels, and for continuing information on CODA and her efforts with educating people on the benefits of organ donation. If you would like to possibly step to the plate against one of the best players in the game, you might find her at Full Tilt Poker right now.
Please visit our online poker room directory to see the best bonuses on the web!