Legends of Poker - Doyle Brunson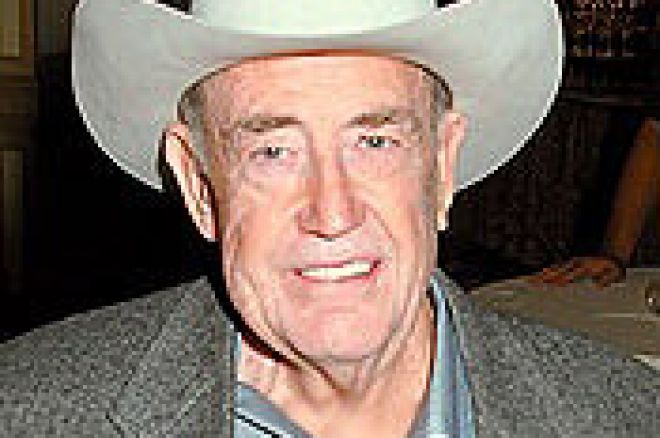 Seven of the first eight World Series of Poker Champions hailed from the state of Texas. What could account for that? Was it something in the water? Were those players really that good? Or was it simply that they were playing the toughest, most exciting poker game ever invented: Texas Hold'em?
Nobody knows for sure why, but the fellows from Texas just dominated the competition when it came to big money, high pressure Texas Hold'em, and Doyle "Texas Dolly" Brunson was arguably the finest player by the end of the 1970's.
Born in Longworth, Texas in 1933, Doyle grew up with his brother and sister in a small home his father was able to provide them by working at the Planters Gin Co. He recalled his father as "The calmest, most even-tempered individual I've ever been exposed to," and from Doyle's later accomplishments in poker, he must have inherited his calm demeanor from his father.
Summers were filled with play; lots of running and swimming, and Doyle's athleticism carried on at Sweetwater High School. As a seventeen-year old senior he was the best high school one-mile runner in the state, and later at Hardin-Simmons College he was chosen as one of the top ten college basketball players in the country by Dell's Basketball Magazine. Everything seemed to be going according to plan.
A summer job at the U. S. Gypsum plant changed all that, as Doyle was injured while on the job. His severely-damaged right leg needed to be immobilized for almost two years, and by the time the cast came off, his basketball days were over. The injury has hampered Doyle throughout his life, but it just made him more determined to succeed in other areas.
The athletic drive and competitiveness he learned in high school and college have served him well in the world of high-stakes poker. Of course, it wasn't always that way. Although his poker winnings paid for his college expenses after his injury, he had intended to be a superintendent of schools when he graduated. However, since no such offer was forthcoming, Doyle took a job selling business equipment. By the end of his first day he was in a poker game, and thinking that the game was a lot more fun (and lucrative), than selling business machines.
Doyle spent several years playing poker in the tough north side of Fort Worth, Texas, hard on the Mexican border. With his friend, Dwayne Hamilton, he learned all forms of poker, and began to excel at any form of no-limit, whether it was hold'em or Kansas City lowball. After moving downtown, to a slightly calmer, higher-limit game, Doyle and Brian "Sailor" Roberts, became friends. Soon, the two were traveling to towns all over Texas looking for good games. Sailor said Doyle was "The most competitive sonofabitch I'd ever met, and that's saying something when you consider the players I've been up against."
As their poker ability improved, so did the size of the games. By the time the two friends ran into Thomas "Amarillo Slim" Preston, they were used to $1000 pots being won. They were not used to losing, however, and after missing the game in Amarillo, Texas, Slim invited them to his home. He promptly busted both of them in heads-up matches, then loaned them a couple thousand dollars to get down the road to the next game.
Sailor and Doyle spend their nights playing poker, and their days discussing strategy. They shared their bankroll, and a month later they agreed to go partners with Slim. Soon the three friends were playing poker all over the southern circuit, looking for games in Texas, Oklahoma, Arkansas and Louisiana. They also setup bookmaking in Fort Worth and Midland, because there was plenty of oil and cattle money in Texas at the time.
Slim liked the arrangement, since he considered Doyle and Sailor to be two of the most honest people he had ever met. He also thought the two were a good match, since Sailor cursed like a blue-streak, and called Doyle "One of the most polite people he had ever met." Later, Slim would say, "Doyle is as tricky as a rattlesnake without a rattle, so you have to give him some room, and when you do, he steals another pot from you."
When the US Government made it illegal to transmit sporting information across state lines in 1961, Doyle and Slim decided it was time to get out of the bookmaking. "Sailor" stayed with it, and later paid the price with a one-year jail sentence. There were plenty of poker games to get to, and the three partners even bet among themselves when games weren't available.
Slim remembers walking into one of their hotel rooms in Mexico during a vacation and seeing Doyle and Sailor pitching pesos into a hunting cap, and at that point Doyle was stuck eight-thousand dollars. "Oh, boy, they liked to gamble."
The following year, Doyle met his future wife, Louise, in Sailor's hometown of San Angelo, Texas. They were married in 1962, and just a few months later Doyle woke up with a sore throat. Before he new it, the sore throat and pea-size lump on his neck has swelled to the size of a hen's egg.
After two surgeries, Doyle managed to pull-through, even though he was not expected to live. Since money was tight, Louise and Sailor nursed him 24 hours a day for two weeks. Eventually he was strong enough to recuperate at his sister's home, and soon enough he was back playing poker.
The crushing medical bills were heavy on Doyle's mind, but he had a new appreciation for life, and a keener sense of everything around him, including his poker opponents. In fact, Doyle played the best poker he ever remembers, winning 54 straight times in a row. By the time he had a loss, the medical bills were more than paid off.
Doyle spent the next ten years playing mostly in Fort Worth, and also Las Vegas. In 1973 he packed the family up and moved permanently to Las Vegas, and amazingly, his best poker days were ahead of him. His best golf may not have been, as Doyle has admitted to playing some very high stakes golf, and "Sometimes, the other guy played just a little better than me."
Although the World Series of Poker was in its seventh year before Doyle won the Hold'em Championship, he had won the deuce to seven lowball tournament. Not satisfied with winning just the 1976 WSOP Championship, Doyle repeated the feat in 1977. In 1978, Doyle's book, Super System, was published.
Doyle spent an enormous amount of money getting what has been described as the "poker bible" published. He drew from his own experiences, and produced the finest poker book ever published at the time. Not only did he include his own "style" and ideas, but his got the best players of the day to include their own views on poker. That list of the best players and foremost authorities on poker included Mike Caro, Chip Reese, Joey Hawthorne, David Sklansky, and Bobby Baldwin.
Over the next twenty years, Doyle continued to play high-stakes poker with the best players in the world. He stopped playing in most tournaments, but could often be seen in the side-games of major tournaments. He invested his money in some business ventures, like his golf business in Florida with Dewey Tompko and Jack Binion, and thought about writing a second Super System.
In 1998, Doyle entered several of the tournaments at the World Series of Poker, and although he was supposed to be "over the hill", he won the Razz Championship, took second in pot-limit Omaha, and third in deuce to seven lowball. Could this be some strange fluke for a 65-year old player? Not hardly.
Doyle has continued to play in high-limit games since that wonderful return to tournaments in 1998. He plays regularly in the highest games at the Bellagio Casino in Las Vegas, and won his 9th World Championship bracelet in 2003, taking the H.O.R.S.E. title, proving again that a player should be good at all forms of poker.
Doyle's son, Todd, has followed in his father's footsteps, making a name for himself in the high-limit games, and winning a purported $20 million dollars this past year from the likes of Andy Beal, while playing a $100,000 - $200,000 limit hold'em game. It appears Todd has received both good instruction, from his father, and also the innate feel for poker that only Doyle could pass on.
There is no doubt that Doyle Brunson has proven himself to be the best, all-around poker player of the past fifty years, and it's hard to think of more fitting proof of a true champion, than to have their child exhibit some of the same ability. For those of you who are enjoying the sight of Doyle Brunson playing in tournaments like the World Poker Tour on television, remember, this great player won his first World Championship almost thirty years ago. What more can be said?
Ed Note: Doyle plays exclusively online at Doyle's Room. Maybe you should too.