Legends of Poker: Daniel Negreanu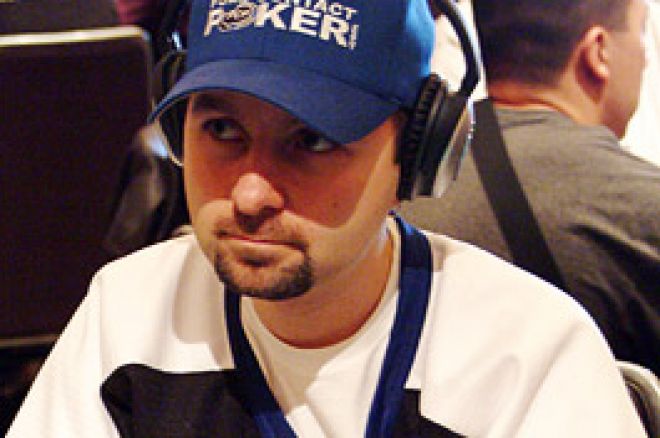 Daniel Negreanu was born on July 26, 1974, in Toronto, Canada. Originally from Romania, his parents, Constantine and Ann, brought up Daniel and his brother in a warm, loving home. As a teenager, Daniel recalls playing $10/$20 on a regular basis, and even at that young age he realized the game had to be fun for the losing players. He made a habit of keeping it that way by doing things like "always raising the first hand (of the day), regardless of his holecards." The game kept Daniel occupied and in spending cash for several years while he dreamed of playing at the WSOP in Las Vegas
In 1996, Negreanu made his first trip to Las Vegas and says, "The minute I got to Vegas, I sat down in a $20/$40 game during the WSOP," and in that very first session he lost most of his $3,000 bankroll. Deciding to call it a night, he walked to the bathroom, and upon his return he was shocked to see that "there wasn't a game in sight (the other players had already quit since he had left the table) – it dawned on me right then and there that for the first time in my life, I was the sucker!"
He made several return trips to Las Vegas, each time with the same result – he lost. Each time he headed back to Toronto and nursed his bankroll back to health while finally coming to the conclusion that he really need to work on adjusting his game to the competition. He also suffered a blow when his father passed away, and Daniel decided it was time to take his poker a little more seriously, and that would be tough.
However, the toughest thing of all was convincing his mother that he could actually be a professional player. According to Daniel, he tried everything, "I even showed her my extensive record book with all my poker statistics," which included dates, times, his hourly rate, notes, even how he played and his "overall mood that day." Eventually, Daniel convinced her to "tolerate the idea that he played poker for a living." Her concern was understandable, as mothers rarely dream of their children growing up to be gamblers, but in a few cases, such as Daniel's, it seems to have been a good decision.
The following year, Negreanu flew into Los Angeles for the 1997 Heavenly Hold'em Tournament at the Commerce Casino. Playing limit hold'em in a preliminary event (on a very short bankroll), Daniel made his first final table, and then battled Paul "Eskimo" Clark through nearly three-hours of heads-up play before coming away the winner (and $19,000 richer).
With his first tournament win under his belt, Daniel caught fire at the 1997 World Poker Finals at Foxwoods, and was dubbed the "Best All Around Player." His confidence was high, and that's just what it takes to play well at the World Series of Poker, so Daniel decided it was time for him to enter a tournament there. In his first event at the 1998 WSOP Daniel took-down $169,000 for his win in the $2,000 Pot-Limit Hold'em tournament. At the time, he was dubbed "Kid Poker," since he was the youngest gold bracelet winner ever at just 23 (Eric Froehlich now holds the title).
Over the next few years, Daniel won the California State poker Championship twice, as well as the United States Poker Championship. He also spent a great deal of time writing articles for magazines such as Card Player, and has been a major contributor to several online poker forums and writes his own online blog.
Daniel has always been candid about his own life, loves, and mistakes. He admits to bouts of loneliness, excessive drinking, and poor money management, but those seem to be behind him now. He moved permanently to Las Vegas several years ago and married his long-time love, Lori Lin Weber, in August of 2005.
Before that happy time, there was also the dream year of 2004. Negreanu, made the best of the World Poker Tour's TV events by winning the Borgata Poker Open (and $1.1 million dollars), the Bellagio Five Diamond World Poker Classic (and $1.8 million dollars), and placing 3rd at the Gold Strike Casino in the World Poker Open (and pocketing $396,000).
At the 2004 World Series of Poker, Daniel won his third gold-bracelet and made the final table in four other events, eventually being named the 2004 Player of the Year. Banking on that success, Daniel signed with the new Wynn Casino as their Poker Ambassador, and immediately challenged anybody in the world to play him in a heads-up freeze-out match for any amount up to $500,000.
There have been a lot of big games in Las Vegas over the years, but a player offering to play anybody heads-up for a half-a-million dollars (in any of nine different poker games), never. It's one thing to offer to play someone in your best game, but to offer hold'em, stud, Omaha etc. is simply amazing.
The offer sounded even more crazy after David Oppenheim beat Daniel for $200,000 in the very first match, but the second match (against Mimi Tran) resulted in a $500,000 win. Along the way, Daniel played four matches against Barry Greenstein (which they split), as well as a match against Tony Bloom (who lost), Joe Cassidy (who won) and John Doe (who won). The final results show Daniel starting 1 win, and four losses, then rallying to win four straight, winning $109,000 before the end of the challenge.
After nine matches, Daniel managed a small (for him) win, but in doing so, he showed how versatile a poker player he truly is. He has also shown a tremendous ability to create a positive "buzz" in the media about himself. It's probably safe to say that nobody has garnered more media attention, nor won more major tournaments in the past five years than Mr. Negreanu. It's impossible to say what awaits Daniel in his future, but I am confidant that most poker enthusiasts will have fond memories of his exploits over the past decade. And of course, that's what becoming a "legend" is all about.
Ed Note: Become a legend in your own mind by playing at Pokerroom.com