Poker Legacy: The Stu Ungar Foundation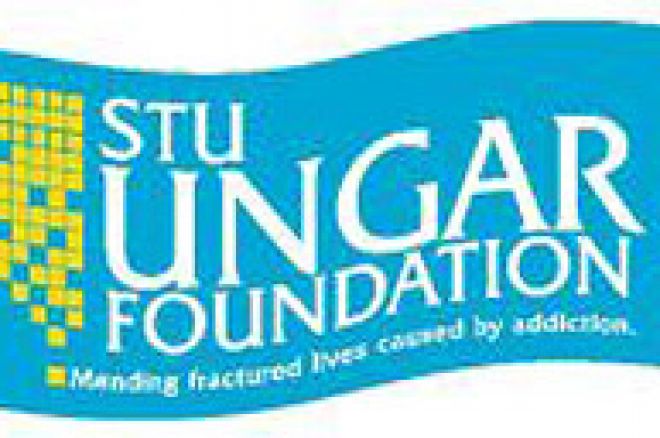 The formation of the Stu Ungar Foundation has been announced by Stuey's former wife, Madeline, and his daughter, Stefanie. Stuey's several addictions and the suicide of Stu and Madeline's son, Richie, have motivated the family to move in this direction.
According to a February, 2006 announcement letter, signed by Madeline and Stefanie, the mission of the Stu Ungar Foundation is to "deliver ongoing awareness of the problems associated with addictive behavior including gambling, drugs, and suicide, and to supply much needed funds to qualified and recognized organizations that provide treatment and education."
According to Joe Lake, co-founder of the Children's Miracle Network (CMN), who has been brought aboard as a volunteer consultant, "This is still very early in the game and we are moving slowly. We are trying to share the vision of the Foundation, establish its image, and build awareness of addictive behavior and suicide."
Madeline and Stefanie say, "We are confident the Foundation will accomplish something Stu was unable to do in his lifetime – help others avoid making the same mistakes he made. Thankfully, we can draw upon Stu's great success and legacy as a champion to help create awareness for the first ever charity named after a poker player."
Poker Ambassador Mike Sexton, who eulogized him at his funeral with "Let's forgive Stuey for his weakness and his drug problems and remember him for what he was – the greatest player to ever grace the green felt," has agreed to help out. Madeline and Stefanie are meeting with key people – players and industry execs – to share what they hope to accomplish.
A fundraising plan is under development. Funds are sought for the operation of the Foundation as well as the distribution of funds to the field. Individuals and corporations are being approached. High profile charity poker tournaments are planned for the future.
Joe Lake is a heavy hitter in the nonprofit field. A former advance man for the White House in the Nixon administration, Lake is friends with former President George H. W. Bush and sits on the board of the Dick Cheney Cardiac Research Foundation. He is friends with former President Bill Clinton and New York Senator Hillary Rodham Clinton as well.
During his time with CMN Lake established a fundraising network for 170 children's hospitals throughout the United States. He went after the nation's largest corporations, bringing Marriott aboard as a founding sponsor of CMN. He brought in American Express and other major companies. He locked up celebrity endorsements from Hollywood and the world of pro sports.
Lake says, "We envision the CMN model being applied to the Stu Ungar Foundation's mission and operations. Rather than building new brick-and-mortar facilities, we see existing treatment facilities allying themselves with the Foundation." Under Lake's guidance, CMN became the largest children's charity in the world.
Lake became involved because his son, Brad – one of Joe's six children - is coordinator of the CMN unit at St. Rose Dominican Hospital in Vegas. Brad knew the Ungar women and recommended that Joe, now retired and a freelance consultant, come aboard as a non-compensated resource to the fledgling charity.
Joe has nurtured the Foundation into the recent formation of a board chaired by insurance executive, David Hensey. Brad Lake is a member of the board. Joe does not serve on the board, nor do Madeline or Stefanie. The board, according to Lake, is diverse in terms of gender and ethnic background.
At the time of this writing (late April, 2006) ESPN is shooting a documentary on Stuey, to be released, says Lake, at the time the 2006 World Series of Poker is shown on television. Information about the Foundation will be a part of the shoot.
The Foundation will continue a tradition of generosity toward charities on the part of many of the top poker pros. For example, Barry Greenstein has contributed millions of his tournament winnings to children's charities. Phil Gordon has raised millions for cancer research. Jen Harman, who has had two kidney transplants, works on behalf of organ donation organizations. Clonie Gowen, whose mother is an ovarian cancer survivor, helps raise money for that cause.
Some of the greats in sports like Derek Jeter, Tiger Woods, and Brett Favre (and Favre's wife as well) all have foundations. Why should there not be a foundation named for the winner of three World Series championships, a member of the Poker Hall of Fame, and the one that authors Nolan Dalla and Peter Alson called, "One of a Kind"?