'Dr Pauly' From the Aussie Millions, Day 2: Two Champions Crowned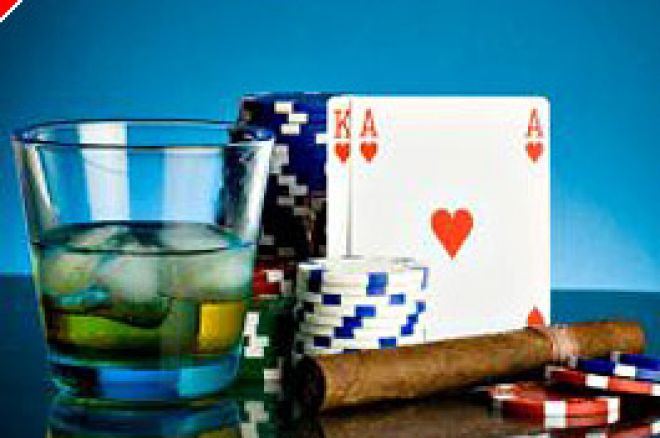 The second day of action at the Aussie Millions in Melbourne, Australia went late into the night and spilled into early morning. When it was all over, two champions were crowned in Event # 1 $1,100 NL and Event #2 $1,100 Limit Hold'em. In addition, several players won seats into the $10,500 Main Event via satellites as the official prize pool rose to over $4.7 Million or approximately 470 paid entrants.
Gabriel Xiourouffa became the first champion at the 2007 Aussie Millions when he survived a difficult field of 516 players and took down Event #1. The prize pool was worth over $516,000 and Xiourouffa won $139,047 (Aussie Dollars) as railbirds crowded around the final table to soak up the action. He went on a tear and busted 7 out of the last 8 players en route to his victory.
Xiourouffa started the final table as the chip leader and he used a big stack to his advantage. The word "domination" comes to mind when describing Xiourouffa's final table play. In one of the first hands, Matt Hilger opened up for a $20K raise and Xiourouffa quickly popped him back for $60K total. Hilger thought about what to do for a few minutes before he eventually mucked. The two players would tangle in several more pots. Xiourouffa mentioned to the table that he had a prior engagement to attend and played very fast while raising several pots. When Hilger came into another pot for a $16K raise, Xiourouffa aggressively reraised to $200K as Hilger quickly mucked.
George Tsakrios began the final table as the short stack and was the first player to bust out when his Kd-Qd was dominated by Karim Jomeen's A-K. Tsakrios won $8,240 for 9th place. Jomeen was the next player out when his J-J ran into Xiourouffa's Q-Q. Jomeen's hand did not improve and he finished in 8th place winning $11,588. Xiourouffa's continued to hold onto the chiplead as his stack rose to over $500K.
With a shortstack, Matt Hilger moved all in with A-2 and Xiourouffa called with A-3. Hilger outflopped Xiourouffa on a board of A-J-2, but Xiourouffa rivered his kicker to bust Hilger in 7th place. He won $15,450. Michael Harrison Ford headed to the rail in 6th place when his J-9s lost to Xiourouffa's A-10. Ford won $20,600 for sixth place. Xiourouffa's rush continued when he busted Joe Pua on the very next hand. Pua's K-10 could not beat Xiourouffa's A-J as Pua won $28,325 for 5th place.
Andy Gelfand became Xiourouffa's next victim. On a board of 9-2-9, Xiourouffa bluffed at the pot with A-3 and moved all in. Gelfand reluctantly called with 5-5 and was happy to see that he was ahead until an Ace fell on the turn. Xiourouffa's string of amazing luck continued as Gelfand busted out in 4th place collecting $38,625. That pot put Xiourouffa over $1M in chips and he had twice as many chips that both his remaining opponents combined.
In the only elimination at the final table that did not involve Xiourouffa, Paul Effeney's A-J lost to Zhi Hong Ma's A-Q. Effeney won $56,650 for third place. When heads-up play began, Xiourouffa held a 2 to 1 chiplead over Ma. On the final hand, Xiourouffa's A-K held up against Ma's K-J. Ma won $84,975 for second place while Xiourouffa took down $139,047 for his victory.
Final Table Results for Event #1 $1,050 NL:
1 Gabriel Xiourouffa $139,047
2 Zhi Hong Ma $84,975
3 Paul Effeney $56,650
4 Andy Gelfand $38,625
5 Joe Pua $28,325
6 Michael Harrison Ford $20,600
7 Matt Hilger $15,450
8 Karim Jomeen $11,588
9 George Tsakrios $8,240
* * * * *
Event #2 started at 12:30pm local time and ended 15 hours later when Nick Sutar eventually won the only Limit Hold'em event at the Aussie Millions. 171 players bought into Event #2. The top 18 players would win a share of the $171,000 prize pool and first place would collect $54,718. Notable players in the event included Jesse Jones, J.J. Liu, Mel Judah, Harry Demetriou, Scott Fischman, Shannon Elizabeth, and Kenna James.
The legendary Billy "The Croc" Argyros started out the day with a ten minute penalty. He showed up late and sat in the wrong seat. He was received a ten minute penalty but that would not discourage him as he'd end up at the final table. Scott Fischman jumped out to an early chiplead but busted out just before the dinner break.
When the final table began shortly after Midnight, Jesse Jones was in control with the chiplead with over $200K and almost twice as many chips as Paul Ravesi in second place. Jones would lose some of his big stack after he doubled up Gary Benson, when Benson's K-K held up against Jones' Q-J.
With a short stack Jason Gray moved all in with J-3 and ran into Jesse Jones' A-A. Gray won $8,550 for 6th place. Paul Ravesi's K-2 lost to John Juan's A-K and busted out in 5th place collecting $10,260 for his efforts.
With four players remaining, Jesse Jones held a slight chiplead. He lost one of the biggest pots in the tournament when he missed an open-ended straight draw against Nick Sutar who flopped two pair. Jones finished in 4th place when his 4-4 lost to John Juan's 5-8. Jones moved all in on a flop of 5-6-7 and turned a straight when a 3 hit. Juan rivered a higher straight when a 4 spiked on the river as Jones headed to the rail winning $13,680. Juan lost the majority of his chips when his K-J lost to Sutar's set of 9s. Juan busted out on the next hand and won $18,810 for third place.
When heads-up play began, Sutar had $420K to Billy the Croc's $240K. On the final hand of Event $2, Billy the Croc moved the remainder of his chips in the small blind with Q-3s. Sutar called with 8-9o. Sutar flopped two pair and won $54,718 as he took down Event #2. Billy "The Croc" Argyros won $32,490 for second place.
You can follow all the action in the Live Reporting section here on PokerNews.com