'Dr Pauly' from the Aussie Millions - Gus Hansen Wins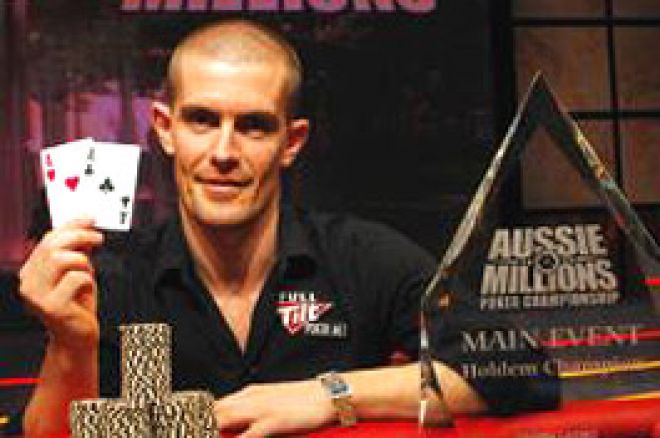 Gus Hansen won $1.5 million (Australian dollars) when he beat out a tough field of 747 players in the 2007 Aussie Millions main event championship at the Crown Casino in Melbourne, Australia. On the last day of action, Hansen was one of seven remaining players and he had to come from behind to take out Internet prodigy Jimmy "Gobboboy" Fricke in order to win the richest poker tournament in the Southern Hemisphere.
Starting Final Table Chip Counts:
Jimmy "Gobboboy" Fricke $5.175M
Gus Hansen $4.845M
Andrew Black $2.1M
Kristy Gazes $1.05M
Julius Colman $785K
Marc Karam $535K
Hans Martin Vogl $455K
Gus Hansen went to work quickly as he swiped away the chip lead. Jimmy Fricke came in for a 90K raise and Hansen called. The flop was 10c-2c-2h and Hansen checked. Fricke bet 150K and Hansen check-raised to 350K. Fricke called. The turn was Kc and Hansen bet 465K. Fricke folded and lost the chiplead.
Kristy Gazes was the first player eliminated from the final table. She raised 100K preflop and Hansen asked her how much she had behind.
"A little over a million," Gazes said before she flashed her million dollar smile.
Hansen fumbled with his chips for two minutes and then re-raised to 380K. Gazes counted out her chips before she went into the tank.
"I'm all in," she confidently said.
Her all in bet was 660K more. Hansen mumbled to himself in Danish before he called. Gazes had Ah-Qh versus Hansen's 9h-9c. It was a race for Gazes but Hansen's pocket nines held up. Kristy Gazes was eliminated in 7th place and she won $220,000.
"I had a gameplan," she said. "I knew what I wanted to do and thought I could win this event. Unfortunately, that didn't happen. But I can't complain. I felt I played great poker the last few days."
Fricke and Hansen seemed to be playing almost every pot and the two clashed several times. Fricke got some of his chips back when he took down a $2.5 M pot. Hansen raised 105K pre-flop and Fricke called. The flop was 8h-4s-3c and Hansen bet out 140K. Fricke called. The turn was Qd and Hansen bet out 330K. Fricke called. The river was Ac. Hansen took two minutes before he bet 770K.
"I have no idea how I got to this decision with this hand," said Fricke.
He seemed like he wanted to fold, but reluctantly called Hansen's river bet with Ad-Jc. Hansen showed 3s-2s for bottom pair as Fricke took down a $2.5 million pot after rivering the Ace.
Marc Karam was the next player out. He moved all in with Kc-Jd and Hansen eventually called with Ac-9s.The flop was 10h-8d-5s. The turn was 9d and the river was 4c. Hansen's pair of nines was good enough to win as Karam was eliminated in 6th place. He won $300,000. That pot put Hansen over to 4.7M in chips.
Hans Martin Vogl busted out when he moved all in with As-9c. Fricke called with Kc-Jd. The flop was 9h-8d-5c and Vogl took the lead. The turn was Qd and the river was Jh. Fricke won the pot and Hans Martin Vogl headed to the rail. He won $400,000 for 5th place. Fricke's stack topped 6.5M in chips after busting Vogl.
Julius Colman was the next player out when he moved all in with As-6c and was called by Andy Black's Qd-Qs. The flop was Ac-Ah-Qh. The turn and river did not help Colman and he was eliminated in 4th place. Colman won $500,000 and ended up being the last Aussie left standing in the tournament.
When play was three-handed, Fricke was on top with $6.3M with Hansen at $4.8M and Black around $4.1M. For a while it was the "Gobboboy Show." Fricke quickly amassed over 50% of the chips in play and bullied the seasoned veterans. Fricke raised preflop to 250K and Hansen reraised him 500K. Fricke called. On a flop of Ah-10s-6c, Hansen bet 800K. Fricke thought about what to do for three minutes before he re-raised to 1.6M. Hansen quickly mucked and Fricke took down the pot.
Fricke won three small pots in a row then made a great call against Andy Black to take down a pot worth over 500K. On a board of Ac-Qc-4c-Ad-10s Fricke check-called a 300K river bet from Black with 7s-4h. Black mucked as he complimented the young gun saying, "Nice call."
Then Fricke ran the good old fashioned squeeze play after Black raised on the button to 250K and Hansen called from the small blind. Fricke re-raised to 1.5M from his big blind. Hansen and Black both folded. At that point, it appeared that the kid who reportedly left high school to play poker full time was going to win it all. The pros did not know how to handle "Gobboboy." He had almost 11M in chips while Hansen and Black had 4M combined.
Black was on the verge of elimination and got all of his money in preflop with a dominated hand against Hansen. Black showed As-3h and Hansen flipped over Ac-8d.
"Stu Ungar always made a Wheel with this hand," Black joked.
The flop was Qs-4s-2h which gave Black a gutshot draw to the Wheel. The turn was 4c and Black picked up more outs for a chop. The river was 10h for a split pot.
On the 121st hand of the final table, Black was eliminated. Fricke raised and Black moved all in Ks-Qc. Fricke called with Ah-Qh. The flop was 7h-7d-3s. The turn was 9s. The river was 10h and Andy Black was eliminated in 3rd place. He won $700,000.
In the first big pot of heads-up play, Hansen doubled up. On a flop of Ac-Ks-7h, Fricke checked, Hansen bet 350K and Fricke called. On the turn of 8c, Fricke checked and Hansen moved all in. Fricke went into the tank for four minutes before he called with Kh-Qh. Hansen showed As-2s The river was 5c and Hansen doubled up.
Fricke lost the chiplead and was down 10.4M to 4.4M, but he remained patient and eventually doubled through Hansen to get the lead back.
On a flop of Jd-10d-10h, Hansen bet 500K and Fricke moved all in for 4.3M. Hansen sat and pondered a call as he mumbled to himself.
"This could be the worst call ever," said Hansen as he looked for excuses to fold.
Hansen eventually called and flipped over Ah-Kh, while Fricke showed Kd-Qc. Fricke was behind but flopped an open-ended straight draw. The turn was 10s and the river was 9c. Fricke rivered a straight and he doubled up.
Less than ten minutes later, Hansen would get his chips back. On a flop of Kd-Jc-6s, both players moved all in. Fricke showed Qh-9s while Hansen flipped over Ks-10h. The turn was 5c and the river was 6h. Fricke missed his draw as Hansen doubled up. He was ahead 8.7M to 6.1M.
Hansen added more chips to his stack when he turned a straight with Js-10c on a board of Ks-Qs-2d-9d. Hansen checked his made hand and Fricke checked behind. The river was the Ah and Hansen bet out 1.1M. Fricke thought for two minutes and called. Hansen flipped over the winner and Fricke did not show his hand as he quickly tossed it into the muck.
On the 47th hand of heads-up play, Hansen finally took all of Fricke's chips for the win. On a flop of Qd-8d-6c, Fricke checked and Hansen bet $1 million. Fricke check-raised all in and Hansen called instantly with Ac-Ah. Fricke flipped over 9c-7c for an open-ended straight draw. The turn was the 2c which gave Fricke more outs. The river was 9s and Fricke's magical run was over.
Jimmy "Gobboboy" Fricke played amazing poker and the 19-year old held his own against some of the best players in the world. Fricke busted out in second place winning $1 million.
"That kid is one hell of a player," said Matt Savage. "He had those pros scared."
"Andy and I were pushed around by Fricke," mentioned Hansen in a post-victory interview. "Once Andy busted out, I got some big hands. I was behind 3 to 1 when it was heads up so I felt that I could gamble a little. The next thing I knew I was ahead."
Gus Hansen won $1.5 million for first place and Howard Lederer presented him with the winner's check.
"I don't know how much that money is. I use a different currency," Hansen joked. "This is my first time to Australia and you can say this has been a pleasant week."
Here are the final table payouts:
1. Gus Hansen $1,500,000
2. Jimmy Fricke $1,000,000
3. Andrew Black $700,000
4. Julius Colman $500,000
5. Hans Martin Vogl $400,000
6. Marc Karam $300,000
7. Kristy Gazes $220,000
Ed Note: Photo courtesy Dave Goudie - Eagle Image