'Dr Pauly' From the Aussie Millions - Day 2 Recap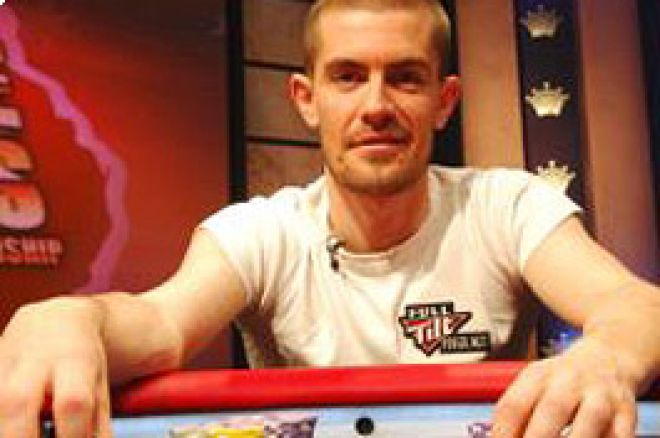 The first two flights combined into one field as Day 2 of the Aussie Millions Main Event and the day featured plenty of drama. Several players experienced rollercoaster-like days as their chip stacks took huge swings and fluctuations. Just before play ended for the evening, the money bubble broke, as the remaining 80 players are guaranteed prize money. Then there was the blackout which cut power to the poker room and casino momentarily.
Play was not affected due to the blackout, which occurred during one of the breaks in between levels. Melbourne was experiencing one of the hottest days of the year (104 F/40 C) which was a contributing factor to the blackout. However, that did not deter players and staff from continuing on with the Aussie Millions. After all, there was $1.5 million at stake.
Out of 747 entrants, 299 players started Day 2 while only 80 of them advanced to Day 3. Haralabos Voulgaris ended the day as the chipleader with over $634K. Patrik Antonius lost the chiplead and was nearly eliminated, but fought back to build his stack from 6K to 236K in a few hours. Several other pros were still left including Joe Hachem, Shane "Shaniac" Schleger, Gus Hansen, Andy Black, Kristy Gazes, David "The Dragon" Pham, Lee Nelson, Marek Kolk, Paul Wasicka, Ross Boatman, and Kirill Gerasimov.
One of the biggest stories of the day surrounded internet prodigy Jimmy "Gobboboy" Fricke. The 19-year old from Illinois, who qualified online at PokerStars, ended the day in the Top 3 in chips.
Several well-known players were busted on Day 2 including Carl Olson, Brandon Schaefer, Peter "Nordberg" Feldman, Joe Cassidy, Jesus Ferguson, Erick Lindgren, JJ Lui, Ed "Bolivia" Moncada, Amanda Baker, John D'Agostino, Billy the Croc, and Michaela Johansen.
Right after dinner, action slowed down to a snail's pace as the players approach the money bubble. After slugging it out for almost two full days, the remaining players took extra precautions not to make any crucial mistakes where they would put their stacks and tournament lives at jeopardy. Any misplay would cost them a chance of making the money. In order to avoid a $15K mistake, players with medium and small stacks tightened up.
Several pros like Joe Hachem and Gus Hansen used the bubble time to add more chips to their stacks as they picked on amateurs and online qualifiers who were afraid of busting out before the money. For the online amateurs who qualified with a minimal investment, $15,000 is a hefty pay out. If anyone has busted out on near the bubble in a major tournament, they can tell you about depressing that moment feels when they leave the poker room only a few spots from cashing. Soul crushing, indeed.
The buzz around the poker room was all about the comeback from Antonius. Lee Nelson did serious damage to Antonius' stack when the defending champion crippled the young gun from Finland. In the biggest pot of the tournament, Lee Nelson doubled through Patrik Antonius. On a flop of 8s-5s-4c, Nelson bet 15K and Antonius raised him 45K. Nelson quickly moved all in for the rest of his chips. Antonius reluctantly called with Js-Jd. Nelson flipped over 10s-9s for a flush draw.
A huge crowd gathered around the table as Nelson's tournament life was on the line. Although Antonius was ahead, he had a worried look on his usually stoic face. The turn was the 4s which gave Nelson the flush and the lead as he shouted, "Yes!" Although Antonius picked up a flush draw and had outs for a boat, he bricked up on the river when the 2d fell. Nelson scooped a monster pot worth over 270K. Antonius slipped to under 200K and was steaming so bad that he had to get up and take a walk. He missed a few hands while he tried to cool off. That hand put Antonius on slight tilt as he bluffed off some of his chips.
Antonius eventually was crippled and down to 3K in chips. He quadrupled up twice, before he doubled up twice more (once through Lee Nelson). Antonius busted Barny Boatman and in a matter of a few orbits, he was back up to over 100K. He went on a rush late and ended up with 270K in a remarkable comeback.
Joe Hachem quietly built up his stack. He doubled up early and then picked up more chips when he busted Peter Hedland with K-K. After a short stint on the TV table, Hachem doubled up when his K-K held up against As-Js. When Hachem was moved tables during the last level, the WSOP Champion bullied the players at his new table. He ended the Day with 275K.
Here are the End of Day 2 Top 10 Chip Counts:
1. Haralabos Voulgaris 634,500
2. Gus Hansen 562,500
3. Jimmy Fricke 535,500
4. Jan Suchanek 516,000
5. Emanue Seal l 514,000
6. Andy Black 501,500
7. Patrick Fletcher 484,500
8. Paul Wasicka 451,500
9. Chronis Chris 416,000
10. Michael Ismael 400,500
Here are some noteworthy chipcounts:
David "The Dragon" Pham 350,000
Shane "Shaniac" Schleger 346,500
Ross Boatman 316,000
Adam Junglen 309,500
Joe Hachem 275,000
Patrik Antonius 236,000
Marek Kolk 210,000
Kristy Gazes 199,000
Lee Nelson 192,000
Kirill Gerasimov 150,500
Daniel Alspach Daniel 99,500
Keith Sexton 96,000
David Callaghan 36,500
Action resumes at 12:30 PM local time. To follow the coverage of the Aussie Millions, check out the live updates from PokerNews.
Editors Note - Photo courtesy Eagle Image - Dave Goudie