'Dr Pauly' from the Aussie Millons - Erick Lindgren Wins $1 Million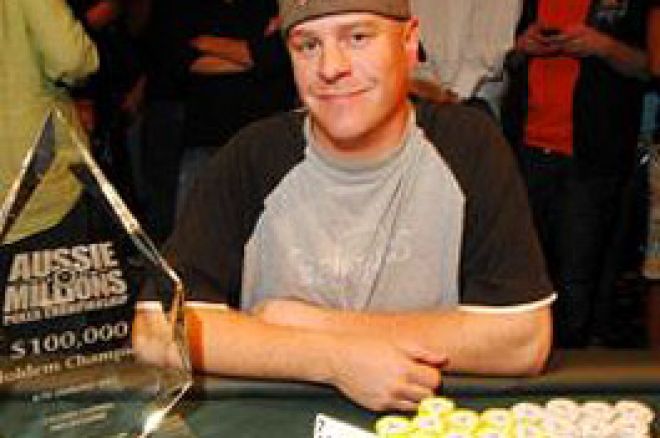 Event #8 at the Aussie Millions created quite the buzz here in Melbourne, Australia. Everyone in the Crown Casino could barely contain their excitement over the $100,000 buy-in event which featured some of the best poker players in the world. First place would win a cool $1 Million, with second place collecting $550,000 and third place taking home $250,000.
Anyone with $100,000 could have bought in, but the field was so tough that several top pros avoided the tournament. That's a huge investment to make against sharks like Phil Ivey, Erik Seidel, and defending champion John Juanda. A first place prize of $1 million was at stake but in order to win the money, you had to survive two of the toughest tables I had seen in a very long time.
The starting table assignments were:
Table 28
Seat 1: Daniel Negreanu
Seat 2: Masaski Kagawa
Seat 3: Phil Ivey
Seat 4: Gus Hansen
Seat 5: Erik Seidel
Seat 6: Roland DeWolfe
Seat 7: Michael Sampoerna
Seat 8: Jason Grey
Seat 9: Kevin O'Donnell
Table 31
Seat 1: Jeff Lisandro
Seat 2: Erick Lindgren
Seat 3: John D'Agostino
Seat 4: Joe Reina
Seat 5: David Benyamine
Seat 6: Lee Nelson
Seat 7: John Juanda
Seat 8: Tony G
Seat 9: Tony Bloom
Players started with $100,000 in chips and the format was Pot-Limit before the flop and No-Limit after the flop. Players were also given a set time limit to act during each hand and got two thirty-second time extensions.
Before the event began, Daniel Negreanu joked, "I have Phil Ivey and Gus Hansen to my left. Talk about some tough blinds to steal."
Michael Sampoerna amassed chips early after he busted the first three players; Kevin O'Donnell, Roland de Wolfe, and Daniel Negreanu. After the first hour or so, Sampoerna played fearless.
"I'm having fun for sure. I have nothing to lose," said Michael Sampoerna as he walked past me during the break. "I have chips now, so I'm not afraid of anyone at my table."
John D'Agostino, who showed up late to the event, probably wished that he did not play after he busted out in 15th place when he lost a race to Tony G. David Benyamine had been having a tough afternoon. He folded a decent hand (toppair with middle kicker) against Jeff Lisandro, then doubled up Joe Reina, who caught a runner-runner flush draw on him. With a short stack, he moved all-in with A-9s. Tony G called him with 9-9 and his hand held up as Benyamine busted out in 14th place. Lee Nelson was the next player out in 13th place after Joe Reina busted him with just Ace high.
Masaaki Kagawa, a businessman and high stakes gambler from Japan playing in one of his first big live events, was on the brink of elimination until he came from behind to beat Erik Seidel's Big Slick with As-Qs. Kagawa hit a runner runner flush, and he doubled up to 88K. Kagawa's rush continued when he doubled up against Phil Ivey. Kagawa flopped a set of 3s and got all his money in against Ivey's 10-10 on a 9 high flop. That pot put Kagawa close to 190K in chips. He would add more to his stack after he felted Gus Hansen. The Great Dane moved all in with a short stack and once again Kagawa came from behind to crack A-K. That instance it was with A-10s. Kagawa flopped the 10 and Hansen headed to the rail in 12th place.
Defending champ John Juanda lost a race against Tony Bloom and busted out in 11th place. Jason Gray was the next player out in 10th place when Phil Ivey busted him. Jeff Lisandro went out in 9th by Joe Reina who had a rollercoaster of an afternoon. Reina doubled up Tony G in a 300K pot a few hands earlier. With a big stack, Tony G started trash talking. When Erik Seidel raised a pot, Tony G pointed at him and said, "Be careful that's going to be the last pot you play!"
Tony G ended up folding which got a chuckle out of the always quiet Seidel. But that would not be the last time the two would butt heads. With a shortstack, Seidel moved all in with 8d-8h and Tony G called with Ad-Ah. Seidel flopped a gutshot but he doubled up against Tony G when an 8 spiked on the river. That might have been the most decisive hand of the tournament.
The last 8 players made the final table with both Erick Lindgren and Michael Sampoerna as the top two chip leaders. Joe Reina busted out in 8th place after Phil Ivey flopped two pair and decided to trap Reina, who moved all-in on the river with just a pair. Tony Bloom was eliminated by Erik Seidel in 7th place when his 9-9 lost a coin flip to Seidel's A-K.
Ivey took the chiplead after taking down several small pots over the course of the final table, that was until he ran into Masaaki Kagawa who slow played flopping a set of Aces. Kagawa check-called Ivey all the way to the river. Ivey flopped top pair with A-Q and lost a big pot against Kagawa who jumped into the chiplead.
Michael Sampoerna lost most of his chips to Tony G. The two moved all in preflop in a classic race. Tony G had 3-3 and Sampoerna flopped top pair with J-10s. Tony G caught a miracle 3 on the turn to double up. Sampoerna was crippled and busted out on the next hand.
As the blinds accelerated, Ivey and Kagawa battled once again. Kagawa came in for a minimum raise as Ivey re-raised the pot. Kagawa re-raised which put Ivey all in. Kagawa's A-Qs held up against Ivey's A-7, as he finished in 5th place. Tony G was the next player out when his Q-Js lost Erick Lindgren's A-10 after Lindgren flopped an ace. Tony G bubbled out of the money in 4th place.
With three players remaining Kagawa was the chip leader with over 700K with both Seidel and Lindgren hovering around 500K each. Lindgren became the aggressor early on. Playing against two of the best players in the world, the inexperienced Kagawa held on tough, but was way out of his league. He bled away some chips and found himself the shortstack. Kagawa moved all in with A-7 but lost a race against Seidel's 6-6. Kagawa won $250,000 for third place and the respect of all the pros in the event.
"Kagawa played really well," added Lindgren. "He was all over the place and hard to figure out."
Seidel had a 2 to 1 chip advantage over Lindgren when the two started heads-up play, which lasted 46 hands. Lindgren chipped away and doubled up with K-K against Seidel's J-J as both players moved all in preflop. On the final hand, Lindgren acted first and moved all in with Ac-7c. Seidel called with Kh-Jh. Although Lindgren flopped an ace, two hearts were on the board, giving Seidel a nut flush draw. Seidel couldn't catch any of his outs and Lindgren ended up winning the hand with an 8 high straight on a board of Ah-9h-8d-6d-5c.
"Seidel played great, but I think I was really on my game today," mentioned Lindgren in a post victory interview, which you can check out in our 'videos' section under live reporting.
Seidel won $550,000 for second place, while Lindgren walked away with a cool $1 Million (Australian Dollars).
Editors Note: Photo Courtesy Eagle Image - Dave Goudie