WCOOP – Event #17, $320 NLHE 6-Max: 'pes4fans' Takes Short-Handed Title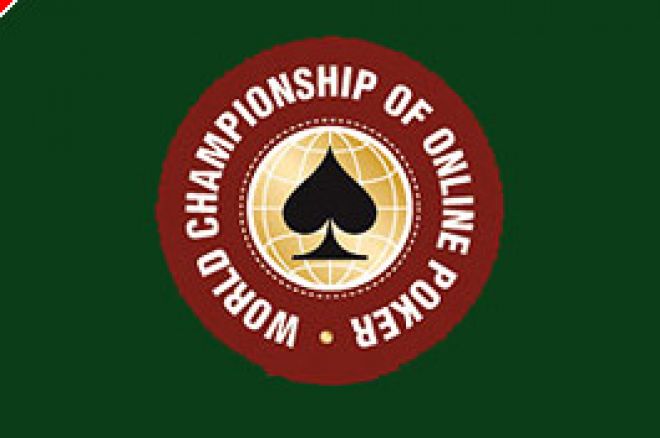 The PokerStars World Championship of Online Poker (WCOOP) held another short-handed tournament on Wednesday, in Event #17, $320 No Limit Hold'em (6-Max). While the structure may be the same, the buy-in for this event was steeper than the $215 Event #1 and resulted in nearly 2,000 fewer participants.
Despite that, the pre-tourney guarantee was yet again crushed by the actual turnout. Event #17 had a guaranteed prize pool of $400,000, but the actual purse totaled $861,900 with the top 402 players being paid out. Anyone who made the final table would be taking home no less than $11,000. Many notable poker players were in the field, including Chris 'Money800' Moneymaker, Greg 'FossilMan' Raymer, Katja Thater, 't soprano', Tom McEvoy, and Hevad 'RaINKhAN' Khan.
The final table of six was reached when 'PeachyMer' raised to 60,000 pre-flop and 'GAHh' moved all-in for 249,693 more. PeachyMer made the call and showed
and was up against GAHh's
. The board came
and although both players made three of a kind, PeachyMer's ace kicker was good enough to pick up the pot and eliminate GAHh in seventh.
The final table was made up of 'Pillars', PeachyMer, 'AcEGoDD', 'pape85', 'pes4fans', and 'jejune524'. PeachyMer held a very strong lead at the table with 2.6 million in chips, holding nearly a third of the chips at the table. The first elimination of the final table happened on just the second hand when jejune524 moved all-in from under the gun for 434,188 and was called by AcEGoDD in the big blind. AcEGoDD showed
and jejune524 turned over
. The board came
and jejune524 was eliminated as he failed to improve against the pocket rockets.
As players continued to butt heads at the final table, PeachyMer continued to control the action and quickly gained 3.3 million in chips, taking more than a two-to-one chip lead at the table with the blinds at 20,000/40,000. Pillars lost a 720,000 pot to PeachyMer and found himself all in on the following hand against pes4fans. pes4fans raised pre-flop to 120,000 and Pillars came over the top for 400,000. pes4fans moved all in, having Pillars covered, and Pillars called. Pillars showed
while pes4fans showed pocket aces. The board came
and Pillars was eliminated in fifth place.
AcEGoDD was eliminated next. After losing five small pots in a row and dipping down to just 600,000 in chips, he pushed all in pre-flop and was called by PeachyMer. AcEGoDD showed
and was up against PeachyMer's pocket queens. The flop came
, leaving AcEGoDD drawing to an ace or a king. But the turn and river brought no help and AcEGoDD was eliminated in fourth place.
pes4fans, with nearly four million in chips, asked after the knockout if they could talk about a deal. PeachyMer, in second place with over three million in chips said no, as did pape85, with just 1.3 million in chips. Play continued on with the blinds at 40,000/80,000 until pes4fans made it 200,000 from the button, pre-flop. pape85 moved all-in for 1.8 million and pes4fans made the call; pape85 showed
and was up against pes4fans's pocket queens. The board came
and pape85 was eliminated in third place.
After nearly 17 hours of play, PeachyMer and pes4fans were heads up at the final table with PeachyMer as the short stack of two million going against pes4fan's 6.5 million in chips. The final hand of the tournament came when PeachyMer raised pre-flop for 300,000 and pes4fans called. The flop came
, PeachyMer bet 300,000 and pes4fans called. The turn came the
, PeachyMer led out for 600,000 and pes4fans called. The river brought the
, PeachyMer moved all-in for 1,024,896 and pes4fans quickly called, showing
while PeachyMer showed
for top two pair. PeachyMer was eliminated in second place, making pes4fans the winner of Event #17.
Final Results:
1. pes4fans - $167,553.60
2. PeachyMer - $98,946.12
3. pape85 - $62,918.70
4. AcEGoDD - $37,061.70
5. Pillars - $19,823.70
6. jejune524 - $11,204.70