WSOP-C Rincon, Final Table: Michael Pickett Takes It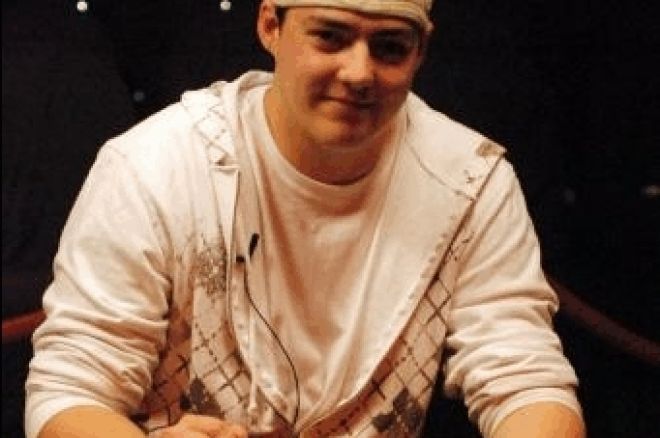 In a repeat of Day 2's fast-paced play, it took less than six hours for Michael 'Mickey' Pickett to come from far back in the pack to claim his first major tournament victory at the World Series of Poker Circuit Main Event at Harrah's Rincon Resort & Casino. Pickett started the day as one of the shortest stacks, as Edward Sabat took the chip lead into the final table. The starting seat assignments and chip stacks looked like this as the nine remaining players from an original field of 148 began play:
Seat 1: Gavin Smith - 197,500
Seat 2: David Peters - 442,000
Seat 3: Damien Oborne - 124,000
Seat 4: Jon Eaton - 75,000
Seat 5: Kenny Bedoya - 701,500
Seat 6: Michael Pickett - 121,000
Seat 7: Edward Sabat - 854,000
Seat 8: Cristian Avendano - 96,500
Seat 9: Lee Watkinson - 337,000
Jon Eaton got off to a hot start, doubling through Gavin Smith in one of the first hands of the day, but immediately after that hand he found all his chips back in the middle of the table. This time he had David Peters dominated, with A♠J♠ to Peters' K♠J♦, but when the board ran out 5♦Q♦8♦10♠A♣, Peters had rivered a runner-runner Broadway straight to bust Eaton in ninth place ($14,136).
Australian Damien Oborne also began the day with a short stack, and soon after Eaton's exit, moved all in over the top of a Peters preflop raise with A♥5♠ from the small blind. Peters called with K♣10♥, and the 10♣ in the door left Oborne drawing thin. The rest of the board came down 3♦8♠J♠9♣, and the young Aussie was busted in eighth for $21,204.
Lee Watkinson fell moments after Oborne, amidst a flurry of bustouts. Watkinson shoved all in before the flop from late position, and Gavin Smith moved all in over the top from the button to isolate. Both blinds folded, and Watkinson revealed 4♣4♦ to Smith's 10♥10♦. No help came on the board for Watkinson, and he was eliminated in seventh place ($28,272). Smith pushed all in again almost immediately after busting Watkinson, and found one caller in Kenny Bedoya. Smith tabled Q♥10♦ to Bedoya's A♠J♣. The flop of 4♣K♠A♥ left Smith drawing to runner-runner or a gutshot, and the K♣ on the turn was no help. The 9♥ came down on the river, and Smith was busted in sixth place for $35,340.
Cristian Avendano took his shot by shoving all in from early position with 7♠7♥, only to run into Kenny Bedoya, who picked up 8♠8♣ and made the call. The flop came down 8♥J♦K♦, and Avendano needed to draw perfect to stay alive. The 4♠ on the turn ended the matter, and he picked up $42,408 for his fifth-place finish.
After a brief break from the rapid-fire eliminations, Kenny Bedoya got into a big pot with Michael Pickett and busted in fourth place ($56,544). The board read 7♦6♥Q♣5♥ after the turn, and Bedoya led out with a bet. Pickett min-raised, and Bedoya pushed all in over the top. Pickett insta-called with 8♦4♦ for the turned straight, and Bedoya was drawing dead with A♥Q♣ for top pair, top kicker. Edward Sabat then lost a coinflip to David Peters when Peters' pocket eights held up against Sabat's A♣9♠ on a board of 3♦K♥7♦10♦6♣ to send Sabat to the rail in third place ($70,680).
Michael Pickett took a 2:1 chip lead into heads-up play, with 2,038,000 chips to 910,000 for David Peters, but it took over an hour for Pickett to put Peters away and claim his WSOP Circuit Championship ring and the $229,002 that came along with it.
In the final hand, Peters completed the small blind, and Pickett checked his option from the big blind. Pickett led out on the flop of 3♠9♣A♦, and Peters called. Pickett bet out again when the 7♦ came on the turn, and Peters again smooth-called. The J♣ landed on the river, and fireworks ensued as Pickett led out once again, Peters moved all in over the top with J♥9♥ for two pair, and Pickett insta-called with 10♦8♠ for the straight and the win. David Peters was eliminated as the runner-up for $120,156, and Pickett, from Little Canada, Minnesota, picked up his first major tournament victory.
The final-table finishers rounded out like this from Harrah's Rincon:
1st: Michael Pickett ($229,002)
2nd: David Peters ($120,156)
3rd: Edward Sabat ($70,680)
4th: Kenny Bedoya ($56,544)
5th: Cristian Avendano ($42,408)
6th: Gavin Smith ($35,340)
7th: Lee Watkinson ($28,272)
8th: Damien Oborne (21,204)
9th: Jon Eaton ($14,136)