College Poker Life: Virginia Tech University, Blacksburg,VA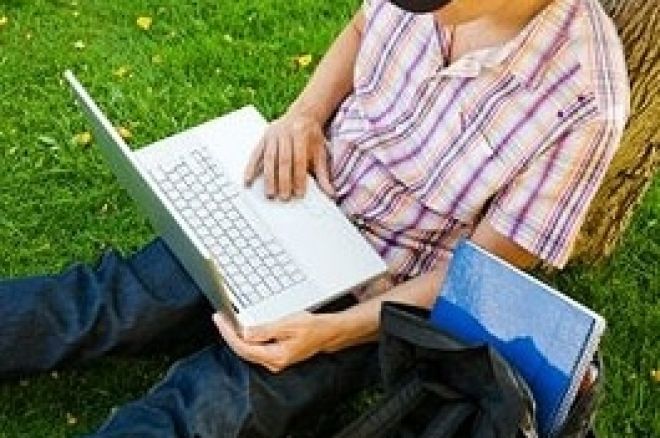 Though there isn't a single licensed poker room in the state of Virginia, students attending the Virginia Polytechnic Institute and State University, otherwise known as Virginia Tech, still have plenty of different ways to enjoy poker. Whether it's a campus-sponsored event, a friendly weekly cash game, or a nearby poker league, student poker players in the Blacksburg area have made the best of a state unfriendly to the game they love.
For the past few years, the VT campus has been home to many poker tournaments and casino nights. Though some of these events have seen flutuating attendance, the Virginia Tech campus continues to offer new and exciting events for students. BreakZONE, Virginia Tech's billiards and bowling center, is home to 17 pool tables, eight bowling lanes, three table tennis tables, and the occasional poker tournament. Last semester, the Association of College Unions International (ACUI) hosted a free poker tournament for students in BreakZONE, with prizes being distributed to the top finishers. Students should check their calendars for upcoming BreakZONE poker events.
The Association for Women in Computing (AWC) has also hosted a few poker-related events, including this semester's Texas Hold Em Poker Night. The event had over 40 participants with first and second places both receiving gift certificates to the video game store GameStop. Virginia Tech also used to have its own poker club, named Aces Up, which was established to help student poker players meet, schedule, and organize poker tournaments and events. The group has irregular meeting sessions, but has a listing in Yahoo! Groups.
The Virginia Tech campus has been home to many small-stakes tournaments and cash games for students who would rather spend their time playing poker for money than freerolls. The games normally aren't at the nosebleed level, but they do offer up a great social experience. Most of these regular games meet early in the week, on Mondays and Tuesdays, and see typical buy-ins of $5 for both tournaments and cash games. The cash games can see several rebuys, with regular winners for the night taking home over $50. While these small-stakes games may lean toward friendly environments over big action, they serve as an ample way for both beginners and improving players to have fun.
Free tournaments off campus have become scarce over the years, with the Blacksburg Poker League coming to a halt last year; the league formerly saw regular games held at the She-Sha Lounge in downtown Blacksburg. The closest leagues now are far north of Blacksburg, with regular events held by the Stars-and-Bars poker league in areas such as Broadlands, Dulles, Herndon, Leesburg, Sterling, and Vienna all of which are too far for VT students to consider on a regular basis.
Unfortunately for students at Virginia Tech, the idea of hitting the felt inside of a nearby casino just isn't much of an option. The state has no casinos at the moment, so that students looking to play with professional dealers and floor staff would have to drive over ten hours to reach the closest facility. One of the closest options – if you want to call it that – is the Foxwoods Casino and Resort. It is 630 miles from the VT campus and houses over 100 poker tables and runs standard blinds for Hold'em, Omaha, and Stud. The poker room itself is amazing for any poker player to behold, let alone the typical college students living in a state which has no casinos to speak of. Foxwoods also has several poker tournaments throughout the year, including the WPT events, so if you're intending on making the drive, plan ahead accordingly to get the most out of your trip.
Students attending Virginia Tech, when it comes to poker, have certainly had to make do with the hand they've been dealt. With plenty of campus-sponsored poker tournaments and steady ring games, VT students have enjoyed a solid year of playing cards, even in a state lacking a casino-based poker room.