Harrah's Announces Major Changes for 2008 WSOP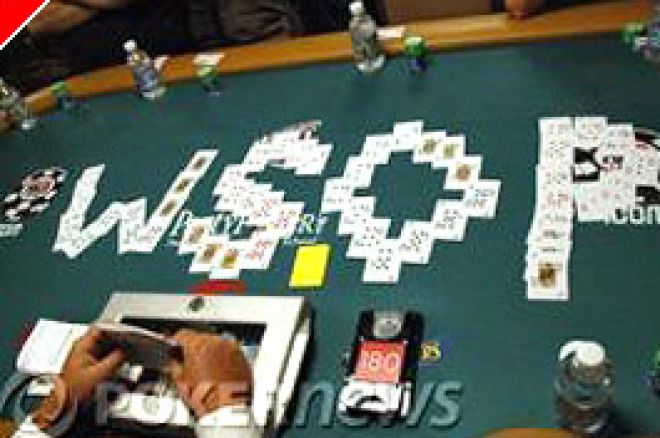 In a stunning move that they hope will revolutionize how the general public experiences the world's largest poker tournament, Harrah's Entertainment confirmed this morning in a media conference call that the final table of the 2008 World Series of Poker will be played out on November 9, 2008, a full 117 days after the last card prior to the final table is dealt at the Rio. Poker's new world champion will be crowned on ESPN during a primetime, nearly-live broadcast on November 11.
"It is our hope that this adjustment will add more excitement to what's already the biggest poker event ever... just like when baseball added the wild card or when NASCAR added the "Chase for the Championship" said ESPN senior producer Jamie Horowitz.
"Our goal is to create a greater sense of anticipation for the outcome of the final table," added WSOP Commissioner Jeffrey Pollack. "We're changing the equation, if you will. We want as many people around the world as possible to be asking 'Who will win?' and the best way to do that is to make the decision we've made. If there's more buzz and water-cooler talk, just as there would be around the Super Bowl, the NBA Finals, or the Daytona 500, then we've done a great thing for the game of poker."
Here's how the new format will work. The WSOP Main Event kicks off on July 3, and should reach a final table of nine on July 15. Each of the nine will be paid out ninth-place money right then, and thus begins a 16-week window of what Pollack calls "promotion and anticipation" during which the finalists will not only have the opportunity to practice their game, learn about their opponents, hire professional coaches and "do things any skilled competitor would do," but also capitalize on their sudden fame via lucrative promotional deals. A one-hour special "Final Table Preview" show will air on November 4, documenting what the players' lives have been like since July. On November 9, the final table will reunite at the Rio Hotel & Casino in Las Vegas and will play down to two players. Heads-up play will commence on November 10, and a winner will likely be crowned in the early morning hours of November 11. ESPN will air the final-table broadcast only a few hours later, on the evening of November 11.
The poker community is already buzzing about the sort of nefarious behaviors such a delay could bring about when there are millions of dollars on the line (over $22 million was up for grabs at the 2007 Main Event final table). What about potential collusion, or the threat of harm to one of the final table players during the interim? What about pre-final table deal-making between several of the finalists? What if a non-U.S. citizen makes the final table and is denied a visa to return to Las Vegas in November? Of these situations, Pollack had this to say:
"There are probably a hundred different scenarios that precede any championship event, whether in entertainment or sports and it's very difficult to anticipate every scenario beforehand. People should be confident in our ability to stage an event that is professional, world-class, and customer-friendly as we always do. If there are extraordinary circumstances, we will deal with them with the good process we apply to anything that comes across our desk."
Additionally, the prize pool will be slightly pumped up for the final-table finishers. All remaining prize money will be placed in an interest-bearing account during the 16-week hiatus and that excess will be added to the prize pool.
Building upon feedback they received from players, a number of other changes will be implemented at this year's WSOP. Here are the major ones:
- The much-maligned "Poker Tent" is history.
- The satellite area, which until this year has been located on the tournament floor, will be moved into its own separate room. There will be a total of five additional rooms for poker in the Rio Convention Center.
- The total tournament player capacity for the Amazon Room this year will be 2,740.
- There will be no alternates allowed in tournaments this year. In order to avoid being sold out of an event, pre-registration is encouraged. In-person registration at the Rio opens on May 28th.
- The cage will also be moved off the tournament floor and combined with the payout area to allow for more expedited processing.
- A new player code of conduct will be released later this week. It will include new regulations regarding "unsportsmanlike conduct" as well as clarifications on the use of cell phones in the tournament area. Cell phones must remain silent at the table, and players must be at least one table length away from their seat in order to answer it. The player code of conduct will also address cheating and/or collusion.
- Pollack & Co. are also touting more room between the tables than ever before to "increase both player and spectator comfort" as well as expanded bathroom facilities, enhanced food choices, longer hours at the Sao Paulo Café, and a player concierge.
- There will no longer be an ESPN or online pay-per-view live broadcast of the Main Event final table. Plans are still in the works to potentially broadcast some of the bracelet events on ESPN 360.