Sexton's Corner, Vol.43: Mike Sexton: Poker Visionary, Part 1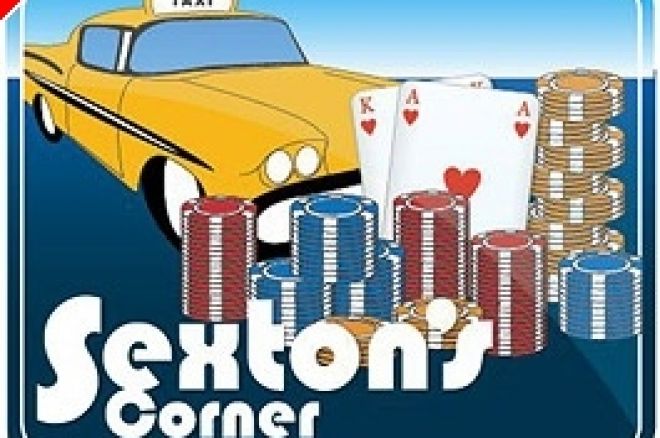 Mike Sexton has been a poker visionary and pioneer for many years. Just look where poker was in the past and where it has come to today. Who would have ever dreamed such a big leap was going to happen for all of us, who love to play poker? The answer is very simple: My brother, Mike Sexton. Of course I'm very proud of him, for all he has done for the poker world… what brother wouldn't be? When I play poker anywhere in the United States, and Mike's name is mentioned, I'm proud for his fame and recognition. The respect he has earned as the "Poker Ambassador" is in my opinion well deserved, and in these next two articles, you'll get some inside information and various tidbits about Mike and why he is considered by many as a point guard or quarterback for the poker industry today.
This past week I dropped Mike off at the Las Vegas airport, as he was flying over to London, England to host the sixth annual PartyPoker Million cruise-ship excursion. As I left the airport, I flashed back to the days I drove a cab, and reflected just how much has happened to both of us these past ten years. Back in my very first column I related where Mike phoned me and said to park the cab!
There are many components that have contributed to poker's boom, and the two biggest are TV coverage and online poker. Mike's role in these two arenas is absolutely staggering. He was the right person in the right place. There is nobody who knows Mike better than me, and in spite of his enormous success, he is very modest and down to earth with everyone, whether a beginning low-limit player or a major Hollywood star.
The night in 2005 that the poker world assembled for the Card Player Awards Gala, that some call poker's Oscars, Mike received the Poker Ambassador Award. It was held at the Kodak theatre in Hollywood, and it truly was a night of Who's Who in the poker world. Mike's competition that night was pretty tough: Doyle Brunson and Daniel Negreanu. It was the poker players, Mike's colleagues, who voted for him, which made this prestigious award extra special to him. They were the ones who recognized and appreciated what Mike has done for them over time, with his vision of not only where the poker world could go in the future, but in how he could help that process.
On Steve Wynn's desk for many years has been a framed quotation by Jonathon Swift: "Vision is the art of seeing things invisible." What an inspirational credo for Steve to follow throughout his life, as he has been afflicted with retinitis pigmentosa, causing him to lose most of his eyesight. Yet, in spite of this, Steve has had the vision to change Las Vegas forever, building such innovative and creative hotel/casinos as the Mirage, Bellagio, Wynn and Encore Casino. Let's not forget the Golden Nugget's renovation, Treasure Island, and the Monte Carlo.
In Mike's case, if you were to go back almost 20 years and read Card Player Magazine, you would discover Mike was the first poker player to get sponsored by LaMode, a clothing line. You would read Mike's predictions about corporate sponsorship and TV coverage, including how that coverage will take poker to new, then-unimaginable heights. He had a pioneering vision and was once quoted, "You can mark this down: TV is coming in a big way." Most people thought he was crazy back then, this dreamer with tinted glasses and grandiose ideas! His predictions not only came true, but it is worth repeating, he helped lead all of us into poker's new age, becoming the World Poker Tour's voice of poker as the commentator with his partner, Vince Van Patten, from the very beginning of the TV revolution. Although there have been many competitors, the WPT remains in my opinion the pro's choice to follow, with every opportunity for any amateur to pony up his $10,000 entry fee. Just recently Mike and Vince were Masters of Ceremony in the "O" show theatre at the Bellagio to celebrate the first six seasons of all previous WPT champions. Seeing the 86 millionaires that the WPT has created so far was impressive.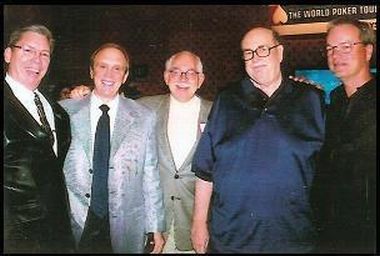 From the opening night of WPT Season 1. L-R: Mike Sexton, Chip Reese, Lyle Berman, Doyle Brunson, and Bobby Baldwin
The announcement May 1, 2008 by Harrah's and WSOP Commissioner Jeffrey Pollack to shift the final table of the World Series of Poker to November to accommodate television was a blockbuster. In a move scripted for TV, WSOP officials announced once the nine players are determined on July 14, play will stop for 117 days or almost four months. Jeffrey Pollack likened the change to television coverage of the Olympic Games, which is often shown on same-day coverage because of time zone differences. The final nine players will resume play on Nov 9th, with ESPN showcasing the nine finalists on a prime-time show Nov. 4th. Once two players are down to heads-up action, play will stop and be shown to the world the next day on Nov. 10th, with same-day coverage.
The press coverage and buildup will create nine potential superstars instead of just one. Pollack said the players will have a chance to increase their promotional opportunities and exposure. By the way, all players who make the final nine on July 14 will receive ninth-place money immediately, which could be over $1,000,000 each with a chance to win millions more in the TV finals. Last year's main event had 6,358 entries competing for a prize pool of $59.8 million. Poker players can now dream about making the "final nine" lineup. I feel sorry for that one soul out there who ends up on the bubble in tenth place. It looks to be the saddest bubble in poker history!
As much credit as my brother deserves for being a visionary and TV pioneer, I will have to admit, he didn't see this one in his crystal ball…. Who could have foreseen poker and television would end up being showcased like the Super Bowl? Stay tuned for Part 2, as you'll get an inside look at Mike's world — how he ended up as the WPT commentator, and how he helped the four owners of PartyPoker cash out on the London Stock exchange for eight billion dollars! Mike is seen every week on TV in over 100 countries on the WPT, in many languages. What many of his fans may not know is that his major contribution to the growth of online poker, at the same time, is one of poker's greatest and most inspirational stories.
The Cab is Parked,
Tom Sexton
Tom Sexton is a featured columnist for PokerNews.com. Tom attended the University of Oklahoma on a full gymnastic scholarship, where he was captain of the team four straight years, becoming the first NCAA All-American and Big Eight Champion in OU's gymnastics history in 1968. The Sexton family is well established in poker and includes Tom's brother Mike, the World Poker Tour commentator and poker's "First Ambassador", as voted by his peers. Tom welcomes your thoughts and comments about any of his articles. His e-mail is TSStarbuck1@aol.com.