2008 WSOP Event #33 $5,000 Seven Card Stud Hi-Low: Ruthenberg Tops Ferguson for Bracelet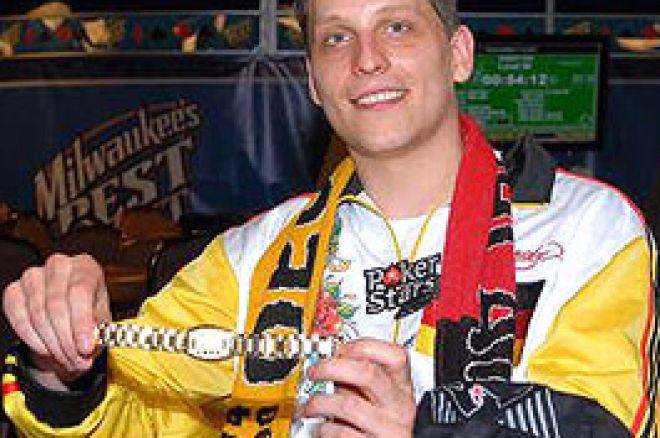 Sebastian Ruthenberg came into the final table of Event #33, $5,000 Seven Card Stud Hi-Low World Championship, as the chip leader after taking down a huge pot at the end of Day 2. He ended the day the same way he began it, atop the field, this time clutching his first World Series of Poker bracelet after beating one of the best players in the world heads-up for the title.
Another star-studded final table greeted spectators at the 2008 WSOP, in what is quickly becoming known as the "Year of the Pro." The eight final-table competitors had six bracelets between them, most of them on the wrists of Chris "Jesus" Ferguson. Ferguson and Marcel Luske were at their second final tables of 2008, while Steve Sung and Ruthenberg had also cashed already in the series. The chip stacks and seating assignments looked like this when play reconvened after the grueling 16-hour Day 2:
Seat 1: Bob Lauria (West Haven, Connecticut) — 44,000
Seat 2: Marcel Luske (Amsterdam, Holland) — 308,000
Seat 3: Steve Sung (Torrance, California) — 207,000
Seat 4: Annie Duke (Los Angeles, California) — 277,000
Seat 5: Alessio Isaia (Cuneo, Italy) — 398,000
Seat 6: Sebastian Ruthenberg (Hamburg, Germany) — 663,000
Seat 7: Chris Ferguson (Pacific Palisades, California) — 434,000
Seat 8: Bob Beveridge (Vancouver, British Columbia, Canada) — 280,000
After taking a few hits early, Bob Beveridge got the last of his chips in the middle in a bit pot with Marcel Luske. When the dust settled, Beveridge held [
]
[
] for an 8-6 low, while Luske tabled [
]
[
] for a pair of fives and a 7-6 low. Luske scooped the pot while Beveridge headed to the payout line to collect his eighth-place payday of $36,801.
Next, Steve Sung and Annie Duke fired on every street, and Sung got all in on seventh street for what would be his seventh-place exit ($46,001). Duke tabled [
]
[
] for a pair of kings and a 6-4 low. Sung had a pair of sevens up and mucked his hand when Duke caught her low on seventh to send him to the rail.
Alessio Isaia was all in on fifth street against Sebastian Ruthenberg with a made 8-7 low against Ruthenberg's big draw. Ruthenberg tabled [4-A]-7-5-2, and picked up an ace on sixth street for a better low and a pair of aces. Isaia bricked out and was eliminated in sixth place for $58,268.
Annie Duke got all her chips in the middle with buried tens on third street against Chris Ferguson and Sebastian Ruthenberg. Ruthenberg folded to Ferguson's bet on fourth street, and Ferguson tabled [
]
for buried kings. Duke was in trouble with her [
]
, and her hand never improved. Ferguson caught another jack on seventh street to finish with jacks up, and Duke was eliminated in fifth place ($73,602).
The dapper Marcel Luske certainly put on an entertaining show before his exit in fourth place ($95,069). All in for the seventh time, he finally met his demise at the hands of Bob Lauria. All the money went in on sixth street, and Luske showed [
]
for a pair of fives with no low draw. Lauria had a made low with [
]
and caught the
on seventh street for the high hand. Luske's
was no help, and he shook hands around the table on his way to the rail.
Bob Lauria started the final table with the smallest stack by a huge margin, but threaded the needle multiple times to work his way up the ladder to a third-place finish. It seemed as though he would work his all-in magic once again when he and Chris Ferguson got all the chips in the middle with Lauria holding trip eights to Ferguson's pair of kings. Ferguson made two pair, kings and tens on fifth street, and then caught a ten on seventh to fill up and end Lauria's impressive run at third place ($125,737).
With Lauria's elimination, Ferguson took the lead into heads-up play with Sebastian Ruthenberg, as the chip counts looked like this:
Ferguson - 1,600,000
Ruthenberg - 1,150,000
With the split-pot format and the deliberate style of Chris Ferguson, it was no surprise that heads-up play took over three hours to complete. Both players were content to wait for big hands, and the chip lead changed frequently as the players waited for their knockout punch. Finally, Sebastian Ruthenberg strung together three big hands in a row to take the chip lead, and then the title.
With all his chips in the middle for the second time in a short span of hands, Ruthenberg tabled [
]
for two pair. Ferguson was behind with [
]
, but had nearly two dozen outs to win the title with his aces and a flush draw. Ruthenberg caught one of Ferguson's out on seventh, the
, and Ferguson drew the
for a brick to double Ruthenberg up. Ruthenberg took the chip lead a few minutes later, and then it was nearly over.
After dwindling down to just a few bets, Chris Ferguson got his last chips in the middle on fifth street with [A-9]
for a pair of aces. Sebastian Ruthenberg called with [6-2]
, and picked up a pair of fours on sixth street. Ferguson caught a jack, which brought him no help. Ruthenberg caught a seven on seventh street to make two pair, while Ferguson picked up a meaningless
to send him home just shy of his sixth bracelet, in second place ($202,406).
Sebastian Ruthenberg picked up his first WSOP bracelet, his biggest career cash (the previous being a third-place finish at EPT Dortmund) for $328,756 and the knowledge that he took down a field of some of the toughest poker players in the world on the way to the bracelet.