2008 WSOP $50,000 H.O.R.S.E. Event #45 Final: Scotty Nguyen Claims Trophy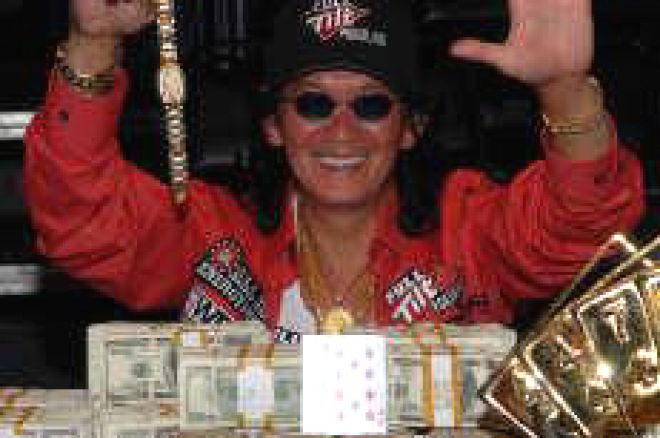 It took five days and an amazing final-table performance to do it, but Scotty Nguyen claimed his fifth World Series of Poker bracelet with his victory in Event #45, the $50,000 H.O.R.S.E. World Championship. He outlasted a final table featuring several other bracelet winners, Player of the Year candidates and some of the biggest cash-game players in the world on the way to the bracelet, the $1,989,120 first prize, and the Chip Reese Memorial Trophy.
Nguyen started the final table just slightly behind Erick Lindgren in chips, with the seating assignments and chip stacks as follows:
Seat 1: Matt Glantz — 1,445,000
Seat 2: Huck Seed — 1,200,000
Seat 3: Patrick Bueno — 695,000
Seat 4: Lyle Berman — 1,430,000
Seat 5: Scotty Nguyen — 3,535,000
Seat 6: Barry Greenstein — 1,955,000
Seat 7: Michael DeMichele — 905,000
Seat 8: Erick Lindgren — 3,680,000
Patrick Bueno started the final table on the short stack after hovering near the top of the leader board for several days. He busted early in the final table when he got the last of his chips in the middle in a razz hand against Erick Lindgren. Lindgren started with 8-7-2, and Bueno held 4-K-A on third street. Lindgren made an 8-low by the end of the hand, while Bueno paired his four on fourth street and bricked out the rest of the way to finish in eighth place ($230,880).
Play was deliberate and the stacks were deep, so significant time passed between each elimination. Huck Seed was next to fall when he and Michael DeMichele tangled in a hand of stud hi/lo. DeMichele had the bring-in, and Seed called. DeMichele led out on fourth, and Seed called again. Seed had a pair of nines showing on fifth street when he led out, and DeMichele called. DeMichele called on every subsequent street, and tabled a flush and a low to send Seed to the rail in seventh place ($284,160).
Barry Greenstein and Erick Lindgren went into this tournament in heavy contention for the Player of the Year title, and Greenstein took the lead when he was eliminated in sixth place ($355,200). Greenstein, who cashed in this event all three times it was played while making the final table twice, busted to Scotty Nguyen in a stud hi/lo hand that saw action on every street. Nguyen completed with [x-x]
, and Greenstein called with the
in the door. Greenstein led out on every street, and Nguyen called him all the way down to seventh street, when Greenstein fired out the last of his chips with a board of
. Nguyen called and tabled [7-7]
[6] for trip sevens. Greenstein held two pair, aces and fours, but no low. Nguyen's trips were good enough to send Greenstein to the rail in sixth.
It took a while for the next elimination to take place, and it was multiple bracelet winner and "Big Game" regular Lyle Berman who busted in fifth place ($444,000). The action was capped on third street in razz when Berman, Scotty Nguyen and Michael DeMichele engaged in a raising frenzy. Berman was all in on the last bet, and DeMichele fired on every street. Nguyen called, and both players checked seventh street. DeMichele tabled 8-7-5-4-3, and both opponents mucked. Nguyen still had a healthy stack, but Berman was eliminated.
Matt Glantz got all his chips in on the flop in Omaha hi/lo against Scotty Nguyen holding
. Nguyen tabled
on a flop of
, for the nut low draw and a naked A-K to Glantz' pair of tens. The
on the turn gave Nguyen a pair of aces and a flush draw, and Glantz was in trouble. The
river made Nguyen's flush, and he scooped the pot as Glantz was eliminated in fourth place ($568,320).
After Glantz was eliminated, the tournament entered marathon mode. The pace of eliminations had been fairly steady to that point, with 20 or 30 hands going by between bustouts. Here, nearly six hours passed between Glantz' elimination in fourth place and Erick Lindgren's third-place bustout.
It took nearly 200 hands of three-way action before Lindgren and Scotty Nguyen tangled for the final time. In his final hand, Lindgren completed on third street with the
in the door. Scotty Nguyen raised, showing the
, and Lindgren called. Nguyen fired again on fourth street with
showing. Lindgren had
up and called. The
on fifth street gave Lindgren the high board, and he bet out. Nguyen, with
showing, raised and Lindgren called all in. Lindgren showed [
]-
for a pair of eights, and Nguyen tabled a pair of nines. Lindgren caught no help on sixth or seventh street, and was eliminated in third place for $781,440. Lindgren also vaulted past Barry Greenstein on the Player of the Year points list with his third-place finish.
Scotty Nguyen took more than a 4:1 chip lead into heads-up play with the young Michael DeMichele. The 22-year-old Connecticut native was playing his second WSOP final table, and was guaranteed his largest cash ever just by locking up second place. In fact, his cash in Event #45 was greater than the sum total of his live winnings up to that point. The chip stacks looked like this as heads-up play began:
Scotty Nguyen: 12,140,000
Michael DeMichele: 2,660,000
It didn't take long for Scotty Nguyen to put his big stack to use and bust his final opponent to claim bracelet #5. After about ten hands of heads-up play, DeMichele raised preflop in hold'em with
. Nguyen thought for a moment before saying, in inimitable fashion, "It's gonna be all over, baby." Nguyen raised with
, and DeMichele called all in. The flop came down
, and Nguyen was in a dominating lead. The
came on the turn, and DeMichele could only win with a three on the river. The
showed instead, and Michael DeMichele was eliminated in second place ($1,243,200).
Scotty Nguyen earned $1,989,120 for his victory, and the right to call himself the world's greatest poker player… for a year, at least. The Prince of Poker beat one of the toughest fields in poker on his way to his fifth WSOP bracelet and the trophy honoring one of the true legends of the game, Chip Reese.
<center>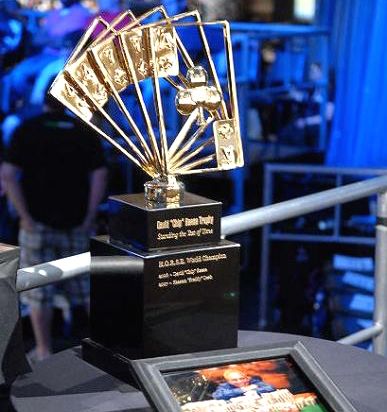 Scotty Nguyen claimed the beautiful Chip Reese Memorial Trophy as the winner of Event #45</center>