2008 WSOP Event #49, $1,500 No-Limit Hold'em: J.C. Tran Wins First Bracelet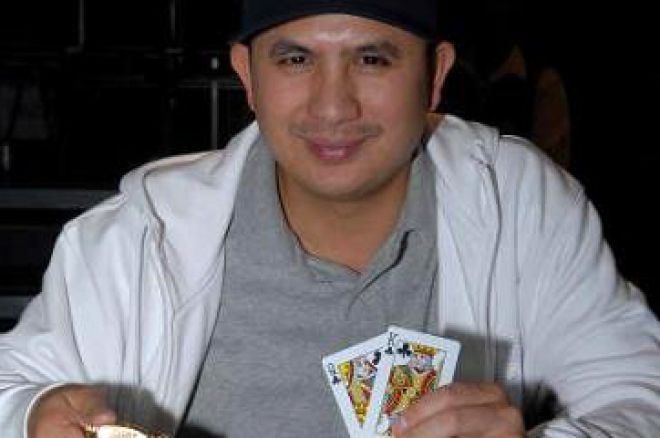 J.C. Tran came into the finals of Event #49 with an impressive poker resume, including one WPT title, five WPT final tables, a second place in a WSOP $1,500 No-Limit Hold'em event, and a PokerStars WCOOP Main Event title. Now he can add WSOP bracelet winner to his record. Going into heads-up play, Tran trailed chip leader Rasmus Nielsen 5.9 million to 2.3 million, but in less than two hours, Tran took the lead, and then the title. He earned $631,170 for his first-place finish in the $1,500 no-Limit hold'em tourney, Event #49 on the 2008 WSOP scehdule. Rasmus Nielsen, the runner-up, took home $389,557.
The final table was set as follows:
Seat 1: Christoph Köhnen (Moers, Germany) — 293,000
Seat 2: Joe Pelton (Irvine, California) — 1,093,000
Seat 3: Jesper Hoog (Stockholm, Sweden) — 320,000
Seat 4: John Conroy (Dublin, Ireland) — 501,000
Seat 5: Robert Kalb (Offenbach, Germany) — 456,000
Seat 6: JC Tran (Sacramento, California) — 1,438,000
Seat 7: Chad Siu (Vancouver, British Columbia, Canada) — 185,000
Seat 8: Peter Nguyen (Tustin, California) — 870,000
Seat 9: Rasmus Nielsen (Copenhagen, Denmark) — 2,998,000
The day would be a short one for Christoph Köhnen, a mathematics student who won a satellite in Germany to qualify for this event. On Hand #12, Köhnen reraised John Conroy all in from the small blind for 174,000 total. Conroy thought for a bit, then called the additional $88,000 and they showed their cards. Köhnen led with
to Conroy's
. The flop came
, keeping Köhnen ahead, but giving Conroy the inside straight draw. The turn blanked, but the river was the
, completing Conroy's straight and eliminating Köhnen in ninth place, with his first-ever significant tourney cash, $58,248.
Three hands later, it was Robert Kalb heading for the exit. Rasmus Nielsen raised and it folded around to Kalb, who moved all in. Nielsen, the overwhelming chip leader, called the additional 255,000. Kalb showed
and was behind Nielsen's
. The board ran out
and Kalb was out in eighth place, taking home $85,331 for his first WSOP cash.
Jesper Hoog was out about fifteen minutes later. Hoog moved all in for 220,000 from middle position, Nguyen called him from the button, and the blinds folded. Hoog was dominated, with
to Nguyen's
. There was no help for him on the
flop and the turn and river blanked as well,
. Hoog, in only his second WSOP cash, finished in seventh place, with $113,157.
Chad Siu came into the final table last place in chips, but he doubled up through J.C. Tran on the ninth hand of play, A-Q over K-10 on a 7-6-8-8-J board. Back down to 210,000, he moved all in from middle position and was called by Joe Pelton on the button. Siu had Pelton dominated
to Pelton's
and stayed ahead through the
flop and the
turn. Siu just needed to dodge one of two remaining nines for another double-up, but the river was the
and he headed to the rail in sixth place, with $150,257.
Joe Pelton was at his second WSOP final table and hoped to add a win here to his WPT win at the 2006 Legends of Poker, but he gave a big chunk of his chips to John Conroy and never recovered. In that hand, after they saw a 9-J-A flop, Conroy pushed all in and Pelton called. Pelton was ahead with A-5, while Conroy had J-10 and needed help – which came with a queen on the turn and an eight on the river for a straight. Then the short stack, Pelton moved all in three times but wasn't called. On the fourth all-in, J.C. Tran called from the big blind. Heads up, Pelton had
to Tran's
. Pelton took the lead on the
flop and the
turn changed nothing. But the river was the
and Tran's kings took down Pelton's sixes, eliminating him in fifth place with $191,068.
Peter Nguyen moved all in for 225,000 from the button, and Rasmus Nielsen called from the small blind. Nielsen was in the lead with
against Nguyen's
until the flop came
, giving Nguyen trips. The turn was the
, giving Nielsen two pair but keeping Nguyen ahead, until the river came the
, giving Nielsen the better full house, kings over sevens. Nguyen took home $233,734 for his fourth-place finish.
Irishman John Conroy, in his first WSOP final table, raised to 175,000 from the button, and after J.C. Tran folded, Rasmus Nielsen asked for a chip count. Hearing that Conroy had about 800,000 left, Nielsen reraised all in. Conroy called, showing
; Nielsen was behind with
until the flop came
. The turn was the
and the river the
, and John Conroy, who had finished third place in an EPT event in Warsaw, Poland, finished in third place here, earning $278,255.
Starting heads-up play, Nielsen had more than a two-to-one chip advantage over Tran, the same as when the day started. Tran started to chip away at Nielsen's stack in a hand which began with them both limping preflop and then checking the 6-4-K flop. A jack fell on the turn and Nielsen bet, Tran raised and Nielsen called. Nielsen checked the five on the river, then Tran bet 675,000, about the size of the pot and Nielsen called. Tran showed K-4 for two pair; Nielsen flashed a king as he tossed his cards.
Tran took the chip lead after winning two big hands, one where he hit two pair, aces and tens, first taking down a 1.6-million chip pot, then another where he scooped 1.5 million after hitting two pair, eights and threes. Nielsen never regained the lead.
The last hand of the event was raised by Tran preflop with a call from Nielsen. They saw an
flop and Nielsen check-called Tran's bet. The turn was the
. Nielsen checked again, Tran raised and this time Nielsen moved all in. Tran called showing
, crushing Nielsen's
. Nielsen needed a jack on the river, but it came the
and Nielsen was out in second place, for $389,557.
J.C. Tran had won his first WSOP bracelet and the top prize money of $631,170 for his come-from-behind, heads-up victory.