2008 WSOP $10,000 NLHE Main Event Day 1B: Ben Sarnoff Tops Busy Session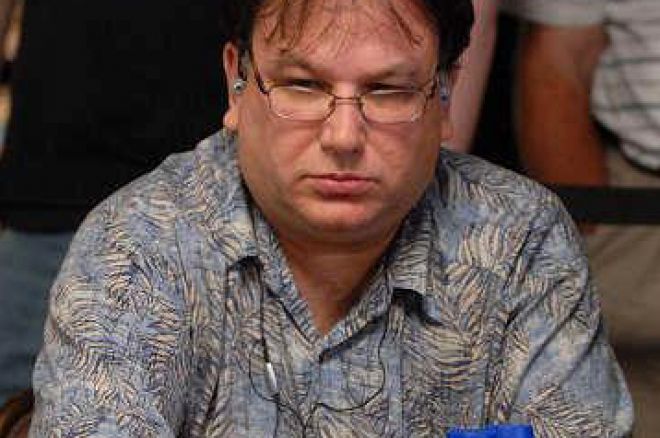 While most Americans were firing up their grills and gazing skyward at Independence Day fireworks, 1,158 players filtered into the Amazon Room for Day 1B of the WSOP Championship event. In honor of the occasion, country singer Andy Griggs led off with the national anthem, before reigning WSOP Champion Jerry Yang offered up his rendition of "Shuffle up and deal."
It was no holiday for Ben Sarnoff, who put in a lot of work to finish the day atop the field with 177,500 chips. Among his tournament cashes, Sarnoff won a preliminary Bay101 Shooting Star preliminary event back in March and has cashed twice already in this 2008 WSOP.
Ted Forrest's first challenge of the day was getting seated as he had forgotten to bring photo identification. But since well over half the room was able to identify him, he was ultimately allowed to play. Forrest wasn't the only recognizable face in the crowd, however. Former WSOP Champions Jamie Gold, Tom McEvoy, Greg Raymer, and Robert Varkonyi took the field for Day 1B. Daniel Negreanu, Erick Lindgren, Kathy Liebert, Erik Seidel, Robert Mizrachi, Andy Black, Dewey Tomko, Humberto Brenes, and Bill Edler also chose this flight to play. While Day 1A had its share of actors taking the field, Day 1B's celebrity theme was athletes; former MLB pitcher Orel Hershiser, Australian cricketer Shane Warne, and Australian boxer Jeff "The Marrickville Mauler" Fenech joined the field.
The first elimination of Day 1A was courtesy of cracked pocket aces. The first elimination of Day 1B occurred when pocket kings on a 9-10-8-9-K board failed to win after Stephen Ladowsky flipped over pocket nines for quads. And Ted Forrest barely got a chance to get comfortable before his elimination. Forrest got all his money in on an
flop, holding pocket deuces for the set. Gilles Smadja called with the nut flush and gutshot draws, holding
. When the
hit on the river, Forrest's day was over.
Andy Black, fifth-place finisher in the 2005 WSOP Championship, lost his bid for a repeat performance when his pocket jacks fell to an opponent's 7-5. All the money went in on a 7-5-3 flop and Black's overpair never caught up. Sebastian Ruthenberg also made an early exit when his
lost a race against Mattias Toermae's pocket fives. And Daniel Negreanu left the ESPN feature table early when his flopped set of sixes fell to an opponent's flopped set of nines.
Three-time WSOP bracelet winner Dewey Tomko has twice been the runner-up in this event, in 1982 (to Jack "Treetop" Straus) and in 2001 (to Carlos Mortensen). But it was a far earlier exit for Tomko when he connected for a queen-high straight only to see Magno Cunha flip over the king-high straight. All in on the
flop, Per Svensson's pocket aces were leading, but Noble Simpson's
had outs. The
turn was a good card for Svensson, but the
and Simpson's flush sent him home.
Elsewhere, Scott Fischman flopped a set, but his opponent just had too many outs to fold, having flopped the open-ended straight flush draw. A flush hit on the river and Fishman was done for the day. Kenny Tran's A-J found an ace on the flop, but so did Pattari Kangas' A-K. Tran's shortened stack went all in on the very next hand, his
with the lead over Jeremy Renz'
, on the
flop. A
on the turn spun the pot to Renz and eliminated Tran. And Greg Raymer got his short stack in holding Q-8 on an 8-5-5 flop but couldn't overcome Kai Are Hauge's pocket jacks.
David Levi would go out like Negreanu, on a deadly set-over-set flop. And Day 1B would see at least one quads-over-quads scenario. On a K-Q-4-Q-4 board, a player with pocket fours for quads was eliminated by an opponent holding the ladies for quads.
Ram Vaswani was eliminated when his flush draw failed to materialize against Steve Wise's flopped trip aces. A short-stacked Jamie Gold left the field after running his small-blind K-Q into Pat Pezzin's big-blind pocket queens. And Nancy Todd Tyner's turned flush ran into the nut flush and she was done for the day.
Orel Hershiser had a roller coaster of a day, getting near the felt before mounting a comeback. But his day ended just before the dinner break when all his chips went in on the turn, holding
with the board showing
. Stan Jablonski's
had the lead, but was vulnerable to another heart. The river was heartless for Hershiser.
There was a flurry of post-dinner eliminations, claiming Jason Gray, Matt Brady, Alex Quintana, March Schwartz, Sean Hildreth, Jacobo Fernandez, and Thomas Hover in rapid succession. Farzad Bonyadi became yet another victim, holding pocket kings for the set on an A-K-Q-J turned board against Markus Golser's pocket tens for the straight. Bonyadi couldn't get the board to pair for the win or the case ten to fall for the chop. The elimination wave continued, as Howard Smith, William Davidson, Dan Alspach, Peter Feldman, Marc Goodwin, Tom Oldberg, and Stefan Jedlicka all hit the rail.
Todd "Dan Druff" Witteles' evening ended when he ran his pocket queens into Oliver Berman's pocket kings. In the waning evening hours, Tom McEvoy's run ended when he flopped top pair against an opponent's flopped set. Sam Grizzle also failed to survive Day 1B when his flush draw failed to fill. Edward Teems slow-played a set on the flop and a boat on the turn until Kenna James though his two pair was good. James became another late-night departure.
Lee Watkinson was a 2007 WSOP Championship final tablist and had already cashed four times in this 2008 WSOP. But Watkinson lost his bid for a Championship final table repeat when his pocket queens lost out to Daryl Yarosh's pocket deuces. Watkinson pushed on the J-6-2 flop, but by that time it was already too late and Watkinson became one of the last eliminations of the night.
Overall, 615 players remained from the starting field of 1,158, with many notables advancing to a second day. Along with our chip leaders, listed below, Patrick Antonius, Erick Lindgen, Kathy Liebert, Erik Seidel, Markus Golser, Robert Varkonyi, Magnus Petersson, Bill Edler, Barny Boatman, Vicky Coren, Alex Kravchenko all survived. The 615 remaining players from Day 1B will be joined by the 636 survivors from Day 1a session for Day 2A, but not until the remaining two flights of Day 1 play out. Check back with the PokerNews "Live Reporting" team for all the Main Event action yet to come.
Ben Sarnoff 177,500
Brian Schaedlich 160,725
Robert Mizrachi 142,400
Nick Caltabiano 127,700
Liya Gerasimova 111,050
Robert Eckstut 110,275
Alex Balandin 109,925
Coco Valerice 106,727
Michael Watson 104,425
Gilles Smadja 101,450