The PokerNews Profile: Patrik Antonius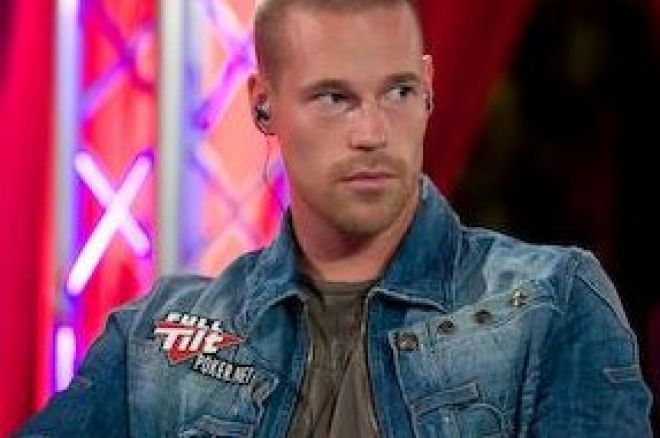 Don't hate him because he's beautiful. And wealthy. And multi-talented. When Patrik Antonius walks into a poker room the ladies swoon and the men clench their jaws, suck in their stomachs, and wonder what it must be like to be him. Though he's now enjoying unparalleled success at the tables, both actual and virtual, not all in life has been smooth sailing for the 27-year old Finnish sensation.
Antonius was born December 13, 1980 and grew up in the Helsinki suburb of Vantaa, Finland. He grew up far from wealthy and both of his parents worked to support Patrik and his sister. Patrik was naturally athletic and took to sports as a youth, playing soccer, hockey and tennis. It was the latter discipline that Patrik truly excelled at, and his coaches declared him a prodigy by his early teens. It was at his tennis club where Antonius got his first exposure to poker, playing with other tennis students after school. Antonius loved these games, and won his fair share of extra spending money from his peers. When he turned 18 and was of age to play live, Antonius ventured out to the Casino Helsinki and won the first no-limit hold'em tournament he bought in to.
After graduating from high school, Antonius chose to focus solely on tennis, with the goal of becoming a professional player. Tragically, though his promising career was cut short with a serious back injury that rendered him unable to train. Sidelined indefinitely from the court, Antonius decided to trade the clay for the felt and began playing poker in earnest. The low-limit pot-limit Omaha games at the Casino Helsinki were his initial stomping grounds, and he ground himself up a bankroll.
With the explosion of internet poker in 2003, Antonius took his game online. Though he zeroed out his initial deposit several times before finding success with the online game, Antonius eventually earned himself an $80,000 bankroll via multi-tabling. He treated it like a job, at times playing more than twelve hours a day. Meanwhile, his back injury had healed enough that he decided to give tennis one more try. He got a year-long scholarship to Averett University in Virginia, and moved to the United States to train. Though resuming his training regimen meant less hours to play poker, Antonius pushed his bankroll over the six-figure mark by playing a limited online schedule. After winning an online satellite to the 2004 WSOP Main Event, though, Antonius finished out his year in Virginia, packed his bags for Vegas, and never had to look back.
In January 2005, Patrik Antonius won a satellite to the PokerStars Carribean Adventure and ended up finishing 12th for $34,600, his first cash on the World Poker Tour. He made his second two months later at the Bay 101 Shooting Stars Event, coming in 15th and banking another $40,000. He made three cashes at the 2005 WSOP in no-limit and pot-limit hold'em events, then headed back to Europe at the end of the summer. It was there that Antonius' tournament game really caught fire. After winning the Ladbrokes Scandinavian Poker Championships in Stockholm, he finished third at the EPT Barcelona for $145,068. Less than three weeks later, on October 6, 2005, Patrik Antonius won his first EPT title at the Baden Classic. Antonius bested a final table loaded down with tough Scandi players such as Gunnar Ostebrod, Christian Grundtvig, and Torsten Iversen and added $343,366 to his skyrocketing bankroll.
Antonius came tantalizingly close to a World Poker Tour title in December 2005, when he finished second to Rehne Pedersen at the Bellagio's Five Diamond World Poker Classic. He did, however, become a WPT millionaire, banking $1,046,470 for his finish. He cashed two more times on the WPT that season and made five cashes at the 2006 WSOP including a ninth-place finish in the $50,000 H.O.R.S.E. By now, everyone knew Antonius' name, and he continued to flourish in high-stakes online play where he played under various identities including "Finddagrind" and "Luigi66369." Antonius would play pretty much any game, for any stakes, and was making millions at it.
Perhaps more meaningful than any tournament accolades, though, was Antonius becoming a father. His fiancé Maya gave birth to a daughter, Mila in May, 2007. The threesome settled down in Monte Carlo, Monaco, though Antonius continued to travel globally on the tournament circuit. He also appeared numerous times on the Las Vegas-based NBC program "Poker After Dark" and took down a PAD title during "International Week." Perhaps his most notable television appearance was on GSN's "High Stakes Poker" where he played what was then the show's largest pot ever, a $998,000 hand against Sam Farha. Antonius held
for top pair on the
flop and Farha the
for overs and a flush draw. After much negotiation, Farha and Antonius agreed to run the turn and river four times, Antonius winning three out of four times for a $749,100 win.
In June 2008, Patrik Antonius signed with Full Tilt Poker, becoming the 14th member of the elite Team Full Tilt. He has his own set of private nosebleed-stakes tables on the site, including $2000-$4000 six-handed H.O.R.S.E, $200-$400 six-handed deep stack pot-limit Omaha, $2000-$4000 six-handed limit Omaha 8 or better, and a six-max $500-$1000 NLHE table cheekily named "Rail Heaven."
When he's not traveling the circuit, Antonius continues to divide his time between his residences in Las Vegas and Monte Carlo.
Here's a video interview Patrik just did yesterday with our Gloria Balding.