PokerStars 'Million Dollar Men' Promo Offers Players Chance to Share the Wealth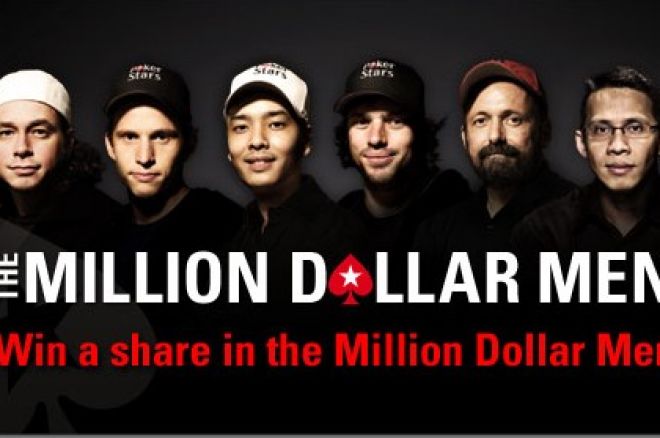 With the 117-day hiatus in the 2008 World Series of Poker Main Event almost over and action at the final table about to begin, Poker Stars continues to offer its players a chance to share in the excitement in a very real – as in real money – way. PokerStars' ongoing "Million Dollar Men" promotion is nearing its own crescendo, in which Stars players can win real cash prizes, including a piece of the winnings for the six Stars players at the final table.
PokerStars will be represented when the Main Event final table resumes on November 9th. Six of the nine finalists will proudly wear Stars insignias for the cameras, including chip leader Dennis Phillips, Ivan Demidov, Peter Eastgate, Ylon Schwartz, Darus Suharto and David "Chino" Rheem. Each of the six has been the focus of a qualifying tournament for both regular cash payouts and a share of the action in each of the Stars players in the final, which is already guaranteed to be $900,670 for each finalist and will rise to $9,119,517 to the winner. The top 100 finishers in each "Million Man" qualifier will each receive shares of 0.01%, meaning that if one of the six Stars players wins the title, the 100 top finishers in the qualifying tournament for share of that player will divvy up an extra $91,195, or almost $912 each. And that's in addition to the cash prizes in each qualifying tourney itself, where first place alone is guaranteed $10,000.
November 9th features the qualifying event for shares in the player generating as much pre-final interest as anyone – chip leader Dennis Phillips, whose modest background and everyman approach to the game has made him one of the fan favorites as well. Buy-ins for the Dennis Phillips "Million Man" are just 500 Frequent Player Points (FPPs) each, with satellites available for as little as ten (10) FPPs. The event is under the "Tourney" and "Special" tabs within the PokerStars main lobby.
More information on winning a share in PokerStars Million Dollar Men is available at www.pokerstars.com/wsop/novembernine/share/.
Ed note: PokerStars code stars600 is the best way to start your poker career at the world's largest online poker room. Use it to get the best deposit bonus or start with one of the many PokerStars Freerolls.