2009 Aussie Millions, $2,200 Six-handed NLHE: Lindjberg Tops Schwartz for Win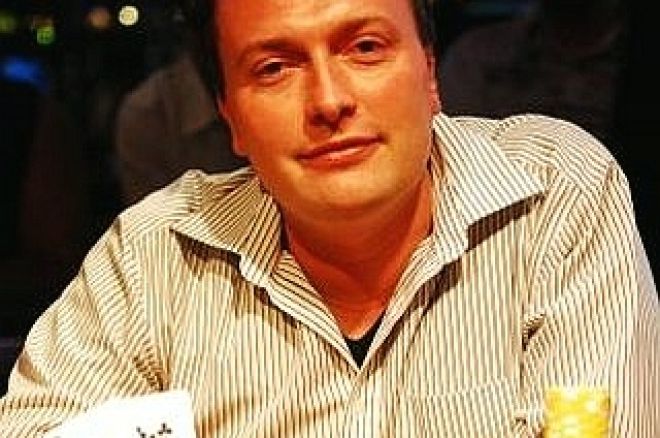 A mammoth field of 266 top pros turned out for Event #14 of the 2009 Aussie Millions Poker Championship, $2,200 Six-Handed No-Limit Hold'em. 24 survivors returned to the Crown Casino for Day 2, and it was Thomas Lindbjerg who emerged as the final-table chip leader and eventual champion. Lindbjerg went into heads-up play with Noah Schwartz dead even in chips and battled back from an early deficit to claim the title, the gold Aussie Millions Championship ring and the AUD $130,021 top prize.
All eyes were on chip leader James "AndyMcLEOD" Obst as play began for the day, but as the competitors fell around him, Obst bled chips for most of the day. Nick Binger was one of the early eliminations, busting in 23rd place (AUD $4,043) in a three-way pot with Sam Higgs and Niclas Dymling. Binger was ahead but not much of a favorite when the chip went in, as he tabled
to Higgs'
and Dymling's
. The flop gave Dymling the clear lead as it came down
. No help on the turn or river for Binger as the rest of the board ran out
. Other early eliminations included Graeme "Kiwi G" Putt (19th, $4,043) and Wesley Whybrew (17th, $6,384).
With play down to two tables, Obst lost a huge pot to Thomas Lindbjerg that set the tone for the rest of the tournament. Lindbjerg three-bet Obst preflop, and Obst moved all in over the top with
. Lindbjerg quickly called with one of the two hands that had Obst crushed –
. Obst flopped the nut flush draw, but the final board ran out
, and Lindbjerg doubled up to near the chip lead. Obst was left with a short stack and busted a few hands later in 11th place ($10,640). Aces marked Obst's last hand as well when he moved all in over the top of John Joannou's preflop raise. Joannou called with
, and Obst was drawing thin with
. No help came on the board for Obst, and the Day 1 chip leader was done.
After Michael "Timex" McDonald's eighth-place elimination, the tournament staff decided to merge the final seven players onto one table. The seating assignments and chip stacks looked like this as Thomas Lindbjerg took a commanding chip lead into the final:
Seat 1: Alexander Debus - 380,000
Seat 2: Thomas Lindbjerg - 723,000
Seat 3: Jonathan Dull - 290,000
Seat 4: Phillip Peters - 331,000
Seat 5: Jacob Lysemose - 301,000
Seat 6: Noah Schwartz - 290,000
Seat 7: Sam Higgs - 340,000
Sam Higgs became the first casualty of the final table when he and Alexander Debus tangled in a big hand. Debus raised preflop from under the gun, and Higgs defended his big blind. The flop came down
, and Higgs checked. Debus bet out, and Higgs called to see the
come on the turn. Higgs bet out, and Debus made the call. Higgs bet out again when the
came on the river, and Debus moved all in. Higgs put his last few chips in the middle as Debus tabled
for the flopped full house. Higgs mucked his hand as he picked up $19,152 for his seventh-place finish.
Soon after, chip leader Thomas Lindbjerg thought for a long moment before he called Jonathan Dull's open-shove preflop. Lindjberg finally called and showed
. Dull held a slight edge going to the flop with his
, but the
board gave the hand to Lindbjerg and sent Dull packing in sixth place ($23,940). Lindbjerg then eliminated Alexander Debus in fifth place ($34,580). Debus moved all in preflop from the button with
, and Lindbjerg quickly moved all in over the top with
. Lindbjerg started the hand ahead and improved as the board ran out
to make a full house for Lindbjerg and send Debus to the rail.
Next, Phillip Peters and Thomas Lindbjerg saw a flop of
out of the blinds, and Lindbjerg bet out. Peters called with
and the turn brought the
. Lindbjerg bet out enough to put Peters all in, and Peters called with second pair. Lindbjerg showed
for top pair, and when the
came on the river, Peters was done in fourth place for $47,880. Lindbjerg continued to steamroll the final table when he took out Jacob Lysemose in third place ($65,436). Lysemose moved all in over the top of Lindbjerg's preflop raise with
, and Lindbjerg quickly called with pocket kings. No ace showed for Lysemose, and his tournament was over.
Noah Schwartz' aggressive final table play took him all the way to heads-up play with Lindbjerg, but in the end he could not overcome Lindbjerg's momentum, eventually finishing as the runner-up ($86,716). Schwartz raised preflop with
, and Lindbjerg called to see a
flop. Lindbjerg checked, Schwartz bet, and Lindbjerg called. Lindbjerg checked again on the
turn, then check-raised Schwartz all in. Schwartz went deep into the tank before calling with top pair, and Lindbjerg tabled
for two pair and a flush draw. The
on the river was no help to Schwartz as Thomas Lindbjerg's two pair held up to take down the title, the champion's ring, and $130,021 in prize money.