2009 Aussie Millions Event #10, $5,300 Heads Up, Day 1a: Torelli, Solomon Make Semis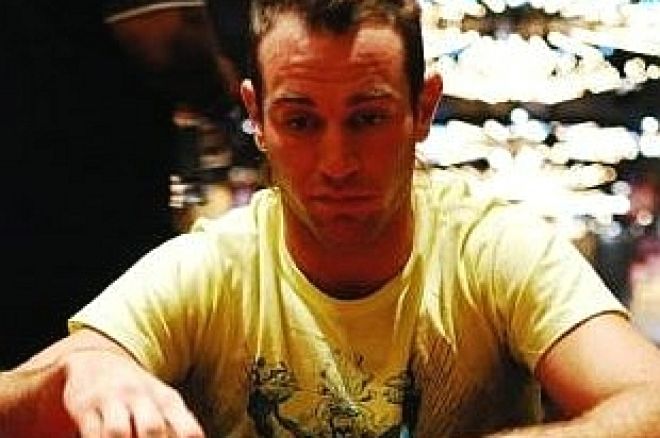 Day 1a of the 2009 Aussie Millions Poker Championship's $5,300 Heads Up event featured 32 of the world's top players, including Sorel Mizzi, Craig Bergeron, Jarred Solomon, Graeme Putt, David Saab and Neil Channing. The field of 32 was thinned down to just two semifinalists by the end of a long Day 1a, with Alec "traheho" Torelli and Jarred Solomon the lone survivors after four rounds of play.
David "Chino" Rheem's bad run continued when he busted out of his second event of the day. Rheem, who left the Main Event on the second hand of the day, lost his first heads-up match against Graeme Putt in similar short order. Rheem got some measure of revenge in their second match, when he turned a straight on a board of
to even things up at 1-1. In the third match Rheem moved all in over the top of Putt's preflop raise with
. Putt called with pocket eights and sent Rheem to the rail for the second time in one day as the board ran out
. Other eliminations from Round One included Neil Channing, Sergey Rybachenko, Lee Nelson and Sorel Mizzi.
With some matches in Round Two forced to wait on Round One pairings to conclude, Jarred Solomon and Alexander Kostritsyn had enough time to dispatch their second opponents before the rest of the matches had even started. Solomon finished off James Obst in short order, making a four-flush in the third match with
on a board of
to crack Obst's
. Graeme "Kiwi G" Putt also dispatched his opponent quickly, winning a coin flip against Sam Higgs with
to Higgs'
. Putt paired the
flop and Higgs never caught up as the turn and river came down
in their deciding match.
Alec Torelli bounced Tony Bloom in Round Two to move on to face Michael Wywrot in the quarterfinals. Torelli, who finished as runner-up to Kenny Tran in the 2008 WSOP $10,000 World Championship Heads-Up event, made a strong showing on Day 1a to make the money and again demonstrate his heads-up tournament chops. When Stefan Jedlicka, David Saab and Craig Bergeron finished off their opponents, Round Three began and the money bubble was upon the remaining eight players.
Jarred Solomon again kicked off the round strong, eliminating Craig Bergeron in two straight matches and moving into the quarterfinals. Their final hand was somewhat anti-climactic: all the money went in preflop with Solomon holding
to Bergeron's
. No nines or other help showed and Bergeron was finished.
David Saab won this event in 2007, but saw his hopes for a repeat and the Aussie Millions Event #10 championship ring go down in flames at the hands of Graeme Putt. Saab called a preflop raise from Putt with
, then check-raised all in on the
flop. Putt called with
, and improved to a full house when the
hit the turn. The river did not bring a nine to keep Saab alive, as Putt advanced to the money round. Stefan Jedlicka and Alec Torelli rounded out the Round Three winners, to set up the following matches for Round Four:
Stefan Jedlicka vs. Alec Torelli
Graeme Putt vs. Jarred Solomon
Alec Torelli was the first player to advance to the semifinals when he eliminated Stefan Jedlicka in eighth place. Torelli defeated Jedlicka in two straight matches, taking down the first match when his pocket aces held up against Jedlicka's
on a board of
. The second match went by quickly as both players hit top pair on a flop of
. Torelli bet out and Jedlicka check-raised. Torelli moved all in over the top with
, and Jedlicka called. Jedlicka tabled
, and needed a ten to stay alive. The turn and river came down
, and the first semifinal spot was locked up.
Jarred Solomon had a considerably tougher time dispatching Graeme Putt to claim his spot in the final four. Solomon took down the first match with ease, but his unbeaten streak came to an end when Putt stormed back and evened things up by winning the second match. Putt had Solomon on the ropes in their third match, with all the chips in the middle on a board of
. Putt tabled
for second pair, and Solomon showed pocket sixes. Only a six would keep Solomon's tournament hopes alive, and the
came on the river to double him up and give him a huge chip lead over Putt.
Putt needed a two-outer of his own a few hands later when all the chips went in on a board of
. Putt open-shoved on the turn with
and Solomon snap-called with
. Putt didn't catch the six on the river, and he headed to the rail as Solomon headed to the semi-finals.
Join PokerNews at 2:30PM Melbourne time on Wednesday (late Tuesday night in the Americas) for all the live updates from the second round of 32.