PokerStars.com LAPT Vina Del Mar: Fabian Ortiz Wins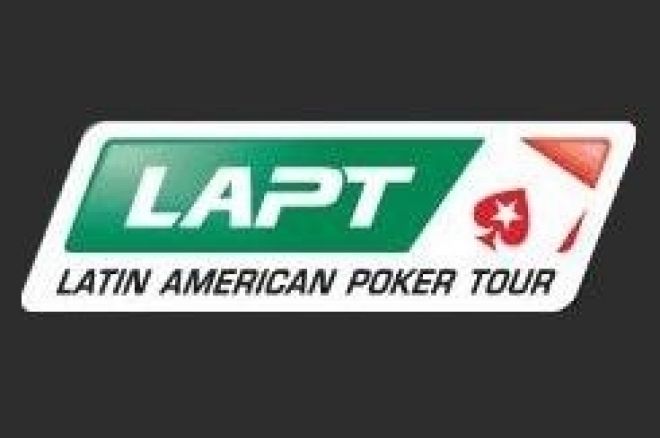 At one point during the PokerStars.com LAPT Vina Del Mar final table, Fabian Ortiz was down to half a big blind. But the Argentinean player fought back to take the title and $141,426 for first place.
Jaime Ateneloff was the first elimination of the final table, when his pocket sevens didn't hold against Damian Salas' Q-J. Salas also took out Eduardo Camia in eighth place with pocket nines to Camia's A-9. The crowd had understandably been rooting for Jyries Saba Saba, a resident of Vina Del Mar, was the only Chilean to make the final table. Saba got all his chips in on a flop of K-5-4, holding K-J. Fabian Ortiz, however, was holding pocket aces and sent Saba to the rail in seventh place.
Vincenzo Giannelli had started the day as the second shortest stack. But he had slowly built his stack and had Fabio Escobar covered when his A-K went up against Escober's A-Q; Escober went out in sixth place on the hand. Hernan Villa had managed to hold on, starting the final table as the short stack. He blinded out with rags to finish in fifth.
The biggest pot of the final table nearly ended Ortiz' tournament. Ortiz had Salas covered by only 18,000 chips when his pocket tens went up against Salas' A-J. A jack fell and Ortiz has his work cut out for him. But Ortiz tripled, then doubled, and eventually eliminated Leandro Balotin in fourth place.
Giannelli, with a dominating A-Q, sent Salas, holding A-5, to the rail in third place. At the start of heads-up play, Giannelli had Ortiz outchipped by more than 2-to-1, but Ortiz quickly doubled up. Only moments later, Ortiz took a hand, and the tournament, when his A-J faced off against Giannelli's A-10.
Final results:
1. Fabian Ortiz - $141,426
2. Vincenzo Giannelli - $78,570
3. Damian Andres Salas - $52,380
4. Leandro Balotin - $39,285
5. Hernan Villa - $28,809
6. Fabio Escobar - $23,571
7. Jyries Saba - $18,330
8. Eduardo Camia - $13,095
9. Jaime Ateneloff: $10,476