Jens Kyllönen Wins Pokerstars.com EPT Copenhagen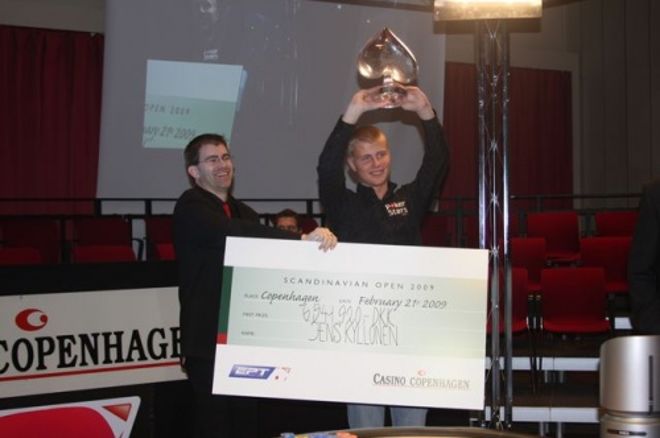 Saturday's final table of the PokerStars.com European Poker Tour stop in Copenhagen, Denmark, looked as though it would be a duel between leaders Norway's Anders Langset and Denmark's Rasmus Hede Nielsen, who had dominated the previous two days of play. Instead, both Nielsen and Langset exited the eight-man final before the heads-up duel had been reached, and Finland's Jens Kyllönen emerged with the title and the DKK 6,542,208 ($1,141,474) top prize. Kyllönen was one of the short stacks entering the final but successfully guided his stack through a fast-paced final to add his name to the roster of EPT champions.
The day's first level brought two quick exits, with Denmark's Jonas "slaktarn" Klausen in eighth (DKK 598,774 / $104,473) and France's Eric Larcheveque in seventh (DKK 842,728 / $147,038). Leaders Langset and Nielsen then mixed it up in one of the day's pivotal hands, with Langset grabbing a 700,000 pot to surge over 2,000,000 in chips, and Nielsen on a short stack. Nielsen exited in sixth (DKK 1,064,493 / $185,731) soon after. Langset had the field more than doubled at this point, but faltered as Kyllönen gathered chips in the following levels.
Sweden's Petter Petterson exited in fifth (DKK 1,352,793 / $236,033), and Finland's Jussi Nevanlinna fell in fourth (DKK 1,641,093 / $286,335), leaving only Langset, Kyllönen and Sweden's Peter Hedlund in the hunt. The tide turned when Kyllönen won a race for his life with
against Langset's pocket eights, and the board rolled out
to give Kyllönen the flush and vault him into the lead. Kyllönen busted Langset a few hands later to leave only Hedlund as his final challenger.
Kyllönen started heads-up play with a 3:1 edge over Hedlund, and the end came quick, when Kyllönen's pocket jacks held up over Hedlund's all-in with A-J. The quick ending left Hedlund with DKK 3,703,550 ($646,190). Kyllönen's come-from-behind win was worth DKK 6,542,208 ($1,141,474).