The PokerNews Profile: Jeff Madsen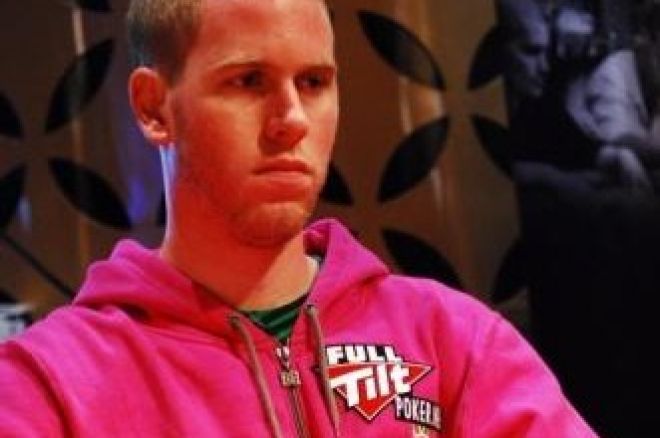 Though he'd already enjoyed a poker career that is the envy of many of his peers, Jeff Madsen still had a monkey to get off his back. Despite his two WSOP bracelets, his $2 million in earnings, and his sponsorship deal with Full Tilt Poker, Madsen hadn't won a tournament since his stunning breakout at the 2006 World Series of Poker. Sure, he'd made dozens of final tables since then, but Madsen was craving another outright win. After coming close at the 2009 Aussie Millions, where he finished third in the $10,000 H.O.R.S.E. event, Madsen finally sealed the deal this week, taking down the $1,500 No-Limit Hold'em event at the L.A. Poker Classic for $107,593. The monkey was gone, Madsen proving both to himself and the poker world that he's still a force to be reckoned with at any tournament table.
Jeff Madsen was born of June 7, 1985 in Santa Monica, CA. He attended Palisades High School (also the alma mater of Chris "Jesus" Ferguson) and was a standout baseball player. Madsen learned to play poker the summer after he graduated high school and upon moving 90 miles north to Santa Barbara to attend college at UCSB, Madsen discovered that he could play live at the nearby Chumash Casino, where the legal gambling age was 18. Madsen balanced playing live with his studies as a film major and ended up winning two tournaments at Chumash, for a few thousand dollars each.
Madsen turned 21 in the summer of 2006 and after grinding it out at the cash game tables for a few years, he felt he was ready to take a shot at the World Series of Poker. He didn't quite have the bankroll to play all the events he wanted, so he turned to an unlikely set of backers — his parents. After listening to his game plan, Mama and Papa Madsen kicked in $3,500 of the $10,000 in buy-ins he needed and allowed their son to borrow from his college fund for the balance. Madsen selected six events to play — five NLHE events and one Omaha hi/lo event. Hoping to cash in two events and make enough money to pay back his parents, Madsen set off for Las Vegas.
Madsen's WSOP started off with a bang, as he finished third in the first event he played, the $2,000 Omaha hi/lo tourney. He collected over $97,000 for his finish and found himself freerolling for the rest of the series. Only two weeks later he earned his first WSOP bracelet in the $2,000 No-Limit hold'em event, winning more than $660,000 in the process and wresting away the title of "Youngest WSOP Bracelet Holder" from Eric Froehlich, who had set the record the year before. Six days after that, he was back at the final table, facing off heads-up with Erick Lindgren for the bracelet in $5,000 Six-Handed No-Limit Hold'em. Madsen prevailed and earned his second piece of WSOP hardware. With over $1.4 million in the till at this point, Madsen stayed on in Vegas and played several more WSOP events, including the $1,000 seven-card stud hi/lo event, where he made yet another final table, finishing third for another $65,000. With two bracelets and four final tables in four different disciplines of poker that year, Madsen handily won the WSOP Player of the Year honors in 2006.
Madsen got himself an agent, signed a sponsorship deal with Full Tilt Poker, and returned to UCSB to finish out his last year of college. He still found plenty of time to play both online and live, making the final table of the $2,500 NLHE event at the Bellagio Five Diamond Classic in December 2006 and finishing eighth at WPT $10,000 Bay 101 Shooting Stars in March 2007. He returned to Las Vegas for the 2007 WSOP and cashed three times, but did not make another final table that year. Madsen had to wait for the 2008 WSOP to do that, where he finished eighth in the prestigious $10,000 World Championship Mixed Games event, which featured eight disciplines of poker (the five limit H.O.R.S.E. games, along with triple-draw lowball, NLHE and pot-limit Omaha). Though he cashed four times at the '08 WSOP and made another pair of final tables at the Bellagio's Festa al Lago Classic that October, another major win still eluded him.
Back at home in Los Angeles, Madsen's win in the $1,500 NLHE event at the L.A. Poker Classic finally cast the proverbial monkey off his back. Only three days later, Madsen entered the $10,000 H.O.R.S.E. event at the LAPC and ended up finishing an impressive third in a stacked field of poker's best. The final table included Kenny Tran, John Monnette, Amnon Filippi, Chino Rheem, and eventual winner Scotty Nguyen. Madsen banked another $121,000 for his finish and is looking forward to playing in the L.A. Poker Classic Main Event later this week.
When he's not traveling the tournament circuit, Jeff Madsen lives in Los Angeles.