The PokerNews Profile: Eric "Rizen" Lynch
Nicole Gordon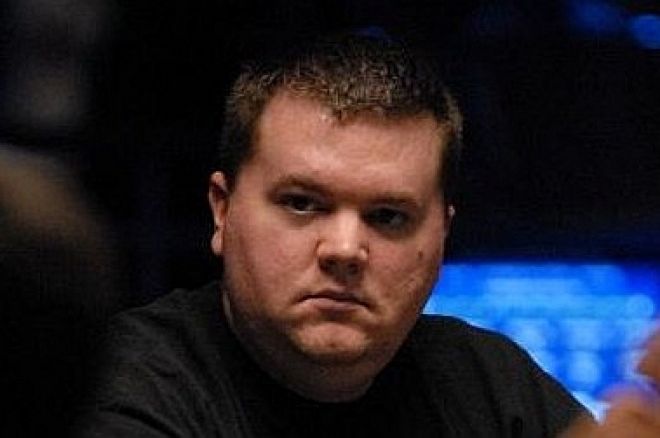 If there's a stereotypical image of a young online poker
professional — brash, overconfident, and clad in a tragic hoodie, Eric Lynch turns that notion on its ear. You won't find him rolling craps for tens of thousands, you won't find him ordering bottle service at a trendy Vegas nightclub and you won't find him crying "Ship it, holla!" at the tables. An introverted family man from Olathe, Kansas, the man they call "Rizen" is perhaps the most shining example of how online poker
can be a downright respectable career. By diligently studying strategy, constantly working to improve his game and practicing disciplined bankroll management, Lynch was able to leave the 9-5 life behind, spending more time at home and providing far more for his family than he ever would have working a desk job.
Eric Lynch was born on October 20, 1978 in St. Louis, Missouri. When he was an infant, his family relocated to Olathe, the Kansas town he still lives in to this day. After graduating from high school, Lynch enrolled at Kansas University to study software engineering, but before he could finish his degree he was offered a lucrative job at a tech firm. Lynch decided to leave school to take advantage of the opportunity — after all, it was the era of the dot-com boom. After Chris Moneymaker's WSOP victory hit the airwaves in 2003, Lynch began playing in a home game with some of his coworkers who were similarly inspired. Lynch enjoyed the games, did okay at them, and soon found himself creating a PartyPoker account and depositing $50. He ran the $50 up into several hundred dollars playing limit hold'em
but lost nearly all of it back in short order. Realizing he had a lot to learn about the game, Lynch dedicated himself to studying strategy books and posting in poker forums. Sure enough, his results began to turn around and he spent the next year and a half grinding the limit cash games while maintaining his IT job.
In 2005, with the poker boom in full swing and prize pools never higher, Eric Lynch began transitioning from limit hold'em cash games to no-limit hold'em tournaments. His first substantial score came from winning an $11 rebuy event on PokerStars, netting him over $14,000. With his bankroll at new heights, he was able to start playing higher buy-in tournaments. A few months later he won the PartyPoker Friday Special for a $45,000 score and soon after that he took down the Paradise Poker $100,000 guaranteed. His biggest career online score, though would come in 2006 when he won the PokerStars $1Million Guaranteed, earning over $157,000. Lynch was soon making enough money playing to be able to leave his day job behind to play full-time.
Buoyed by his online success, Lynch brought his family out to Las Vegas for the summer of 2006 so he could take a shot at a few WSOP events. In one of the first tournaments he played, the $1,500 Pot-Limit Omaha event, Lynch made the televised final table, ultimately finishing third for $104,544. He followed up his first WSOP final table with a deep run in the Main Event, making the final three tables and finishing 24th for a $494,797 payday. While many players would be in the depths of depression after coming so close to Main Event immortality, Lynch was collected and polite in his post-game interviews, his then 16-month-old son sitting in his lap.
Returning to the WSOP in 2007, Lynch logged another five cashes and two final tables including a seventh-place finish in the $1,500 Pot-Limit Hold'em event and a runner-up finish in the $1,500 Pot-Limit Omaha event, which was won by Scott Clements. '07 was also a profitable year for him online, winning an UltimateBet Online Championship event for over $57,000, final-tabling the PokerStars Sunday $200 rebuy multiple times, and finishing fourth in Full Tilt's $750,000 Guaranteed tournament for over $41,000. In 2008, Lynch cashed the PokerStars Caribbean Adventure in 26th place, made two more WSOP cashes in no-limit hold'em events, and continued to flourish in online tournaments, making the final table of PokerStars' Sunday $530 NLHE, finishing second in the Bodog $100,000 Guarantee, and final-tabling the Stars $109 rebuy.
Only last week, Lynch made another huge online score, finishing second in PokerStars' SCOOP Event #6, $215 Pot-Limit Omaha (1R1A). Though he lost heads-up to Rolf "sapperjuu" Slotboom, Lynch earned $47,225 for his day's work.
Though he'll always make time for the WSOP, Lynch still prefers playing online for the opportunity it gives him to spend more time with his family and watch his children grow up. He still lives in his hometown of Olathe, Kansas.
Get the best PokerStars First Deposit Bonuses on PokerNews.com - The #1 poker resource on the internet.