The Online Railbird Report, Vol. 14: Dwan and Sahamies Tangle in Largest-ever PLO Pot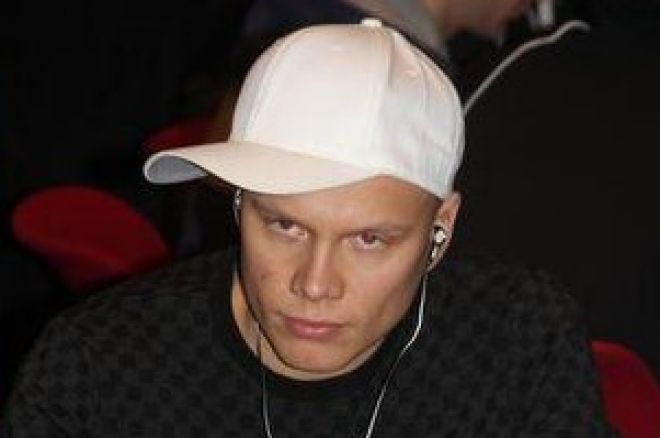 Anyone will tell you it's the slowest time of the year for high-stakes online poker action. The start of the World Series of Poker is only days away and if their Twitter feeds are to be believed, many high-stakes regulars like Patrik Antonius, Phil Ivey, Daniel Negreanu, and David Benyamine spend far more time this week on the greens at TPC Summerlin in Las Vegas than behind a computer screen wagering hundreds of thousands of dollars. For the few who stayed indoors, however, it was quite a wild week, with Tom "durrrr" Dwan and Ilari "Ziigmund" Sahamies leading the action with their continued bouts of $3,000-$9,000 heads-up pot-limit Omaha.
Dwan and Sahamies Set Record for Largest Online PLO Pot
The $3,000-$9,000 heads-up PLO action we reported on in the last edition of the railbird report continued this week between Tom Dwan and Ilari Sahamies (shown). During several more sessions at the $500/1,000 tables on Full Tilt, Dwan and Sahamies agreed to raise and reraise every single pot, committing $9,000 apiece before the flop came down. These brief forays into stratospheric blind levels often produced pots in the $300,000-$400,000 range, but just after 12:00 EDT on Saturday afternoon, the action reached new heights as the two played a $702,925 pot – the second-largest pot in online poker history and the largest online pot-limit Omaha pot ever.
After Dwan made the compulsory opening raise to $3,000 and Sahamies put in his required reraise to $9,000, Dwan pushed the action with a four-bet to $27,000. Sahamies called and they saw a flop of
. Both players checked and the
landed on the turn. Sahamies led out for $54,000, Dwan raised to $216,000, and Sahamies moved in for his entire $324,463 stack. Dwan called, having him covered, and showed
for a queen-high flush draw, a gutshot straight draw, and a pair of tens. Sahamies was a 3-to-1 favorite, however, with
for a jack-high straight and two pair. The river improved Sahamies' hand further, falling the
to make him jacks full of sevens, good for the nearly $703,000 pot.
Resurgent Dwan Enjoys $1.7 Million Week
Tom Dwan certainly took a beating over the last several weeks. After losing over $2 million in the final week of April, he managed to win nearly a million of it back the following week, but lost it all back and then some a week after that. While most of his peers were logging hours out on the golf course or resting up for the World Series of Poker, Dwan spent the last seven days grinding out $1.7 million in profit, much of it coming out of Gus Hansen and Phil Ivey's pockets after some lengthy sessions of heads-up $500/1,000 PLO.
In one 24-hour period between Monday and Tuesday, Dwan raked in over $1 million, close to $800,000 coming from heads-up sessions with Hansen and Ivey and another $300,000 on the newly installed $300/600 (with antes) PLO tables. Dwan took nearly $383,000 off Ivey after two hours in the "Ivey Thunderdome", their largest pot peaking out at $185,000. After Ivey opened for $3,000 from the button, Dwan three-bet to $9,000 and Ivey flat-called, the flop coming down
. Dwan led out for $11,200, Ivey raised to $42,000, and Dwan came back over the top for $144,000, trying to set Ivey all in. Ivey indeed called and turned up
for two pair while Dwan's overpair with
needed some help. He got it on the turn when the
fell, making him aces up, and held on through the
on the river, earning him the $185,573 pot.
While playing Ivey on his "Thunderdome" table, Dwan simultaneously played Gus Hansen on at least four different heads-up $500/1,000 PLO tables and came out over a $400,000 winner including this $213,000 pot where he hit a very lucky river card: Hansen opened for $3,000 and Dwan three-bet to $9,000. Hansen came back over the top with a four-bet to $27,000 and Dwan flat-called. Dwan check-raised Hansen's $54,000 bet to $116,484 on the
flop, and Hansen called, showing
to Dwan's
. The
on the turn didn't help Dwan but the
on the river made him two pair, kings and eights to snap off Hansen's aces and win the $212,975 pot.
Ivey Drops Over $1 Million in Under 1,600 Hands
Phil Ivey didn't play very much online this week, logging less than 1,600 hands, but unfortunately managed to lose over $1 million in the process. On Sunday evening, "Bomberman" took a successful shot at Ivey and played him heads-up at $500/1,000 PLO for 45 minutes, finishing $100,000 to the good after 120 hands. The following evening Ivey dropped $383,000 to Tom Dwan and they met again on Tuesday night, Dwan beating him for half a million straight over the course of 50 minutes in a two-table match. Friday afternoon, Ivey reclaimed just over $100,000 of that money in an 11-minute session against Dwan and they went heads-up again 24 hours later, with Ivey taking a $50,000 loss.
In one particularly brutal confrontation against Dwan, Ivey three-bet Dwan's $3,000 opening raise to $9,000 and Dwan flat-called, the two seeing a flop of
. Ivey led out for $14,000 only to be raised to $60,000 by Dwan. Ivey shipped in his remaining $120,194 and Dwan called, revealing a set of deuces with
that crushed Ivey's pocket kings (
). The turn was the
, the river was the
and Dwan raked in the $258,387 pot.
DIN_FRU Continues to Shine at LHE and PLO
His identity is currently a mystery, but "DIN_FRU" has been cleaning up at high-stakes limit hold'em and pot-limit Omaha over the last several weeks and is up nearly $405,000 for the month of May. This week, DIN_FRU had a particularly good run in heads-up limit hold'em matches, beating "Resoh" for $165,000 at $1,000/2,000, Richard "Quiet Lion" Brodie for $60,000 at $500/1,000 and Matt Hawrilenko for $90,000 in an 80-minute $500/1,000 match.
In one notable hand against Hawrilenko, the flop made both players monster hands. Holding
, DIN_FRU opened to $1,000, Hawrilenko three-bet to $1,500 with
and DIN_FRU called. DIN_FRU flopped a nine-high flush when it came down
and flat-called Hawrilenko's lead bet. The turn was the
and Hawrilenko led again, DIN_FRU coming in for a raise. The betting was capped and the
fell on the river, Hawrilenko leading again. Perhaps fearing a higher flush, DIN_FRU flat-called but discovered his hand was good against Hawrilenko's set of eights and won the $14,000 pot.
Who's Up? Who's Down?
This week's biggest winners: Tom "durrrr" Dwan (+$1.7 million), Patrik Antonius (+$309,000), Zugwat (+$110,000)
This week's biggest losers: Phil Ivey (-$1.08 million), Gus Hansen (-$504,000), Ilari "Ziigmund" Sahamies (-$353,000)
Check out the Full Tilt First Deposit Bonuses on PokerNews.com - the #1 source for everything poker on the internet.