2009 WSOP: $1,500 Six-Handed No-Limit Hold'em Event #9, Day 3 – Aldridge Claims Bracelet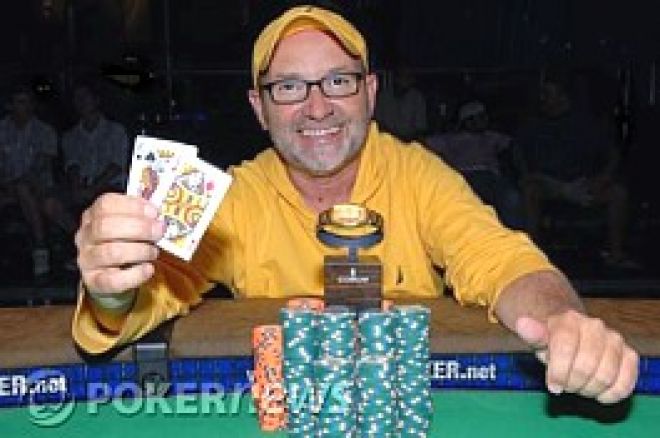 After two days of intense play, eight players returned to complete play for Event #9, $1,500 Six-Handed No-Limit Hold'em. Bryce Yockey would enter the day as chip leader, but would falter in the later stages of the final table. Ken Aldridge would surge late to take the chip lead, eventually taking down the title and his first WSOP gold bracelet.
Bryn Kenney would be the first player eliminated in the day. Kenney raised to 43,000 preflop and Carman Cavella reraised to 115,000 total. Kenney responded with an all-in shove and Carvella made the call. Kenney held
against the
of Cavella. The board missed both players and Kenney was felted in eighth place. After Kenney's elimination, the tables were combined to make one table of seven, with the following seat assignments for the not-quite-final table.
Seat 1: Ken Aldridge
Seat 2: Peter Gould
Seat 3: Charles Furey
Seat 4: Praz Bansi
Seat 5: Bryce Yockey
Seat 6: Carman Cavella
Seat 7: Manny Minaya
One more player had to be eliminated before the players would make the "official" final table. Praz Bansi became the hapless final table bubble boy. He raised preflop to 65,000 and was met with a reraise to 215,000 by Bryce Yockey. Bansi tanked for bit before moving all in and was insta-called by Yockey. Bansi held
against the
for Yockey. Both players whiffed on the flop and turn, and the river gave both a pair of aces. But Yockey's kicker would play and Bansi headed out to receive his $42,320 payday. With Bansi's elimination, the final table was official.
Manny Minaya was the first player to get bounced from the final table. He moved all in preflop for 295,000 and was called by Peter Gould. It was a classic pair-versus-pair confrontation, with Gould in front holding pocket nines against the pocket eights of Minaya. The board failed to bring a third eight for Minaya, and he headed home in sixth place for $59,049.
After Minaya's elimination, Ken Aldridge would double through Carman Cavella. Bryce Yockey made it 57,000 to go and both Aldridge and Cavella called from the blinds. On the flop of
, Aldridge bet out for 80,000 and only Cavalla made the call from the small blind. The turn fell the
and Aldridge bet out 225,000. Cavella then shoved all in and Aldridge went into the tank for a bit. He finally made the call and tabled
for top pair with a flush draw. Cavella showed pocket eights. The river fell the
and Aldridge doubled up to 2.2 million, taking over the chip lead.
Bryce Yockey raced back into the lead after picking off a big bluff from Ken Aldridge. Yockey raised to 80,000 preflop and Aldridge called. The flop came down
and Yockey bet out 80,000. Aldridge made the call and the
fell on the turn. Yockey bet out 120,000 and again, Aldridge flat-called. The river card was the
and Yockey checked. Aldridge bet out 200,000 and Yockey nearly snap-called, showing
for trip aces with K-J. Aldridge showed
for trip aces with air and Yockey moved up to 1.93 million in chips after this pot.
Play then slowed down significantly for awhile. Most pots were of the raise-and-take-it variety. In fact, it was not until the elimination of Charles Furey in fifth place that any significant action occurred at all. Furey raised to 135,000 preflop and Ken Aldridge three-bet to 400,000. Furey shoved and Aldridge made the call. Furey held
against the
of Aldridge and seemed in great shape to double up. But the flop would change things as it came down
to give Aldridge a set of nines. The
turn gave Furey outs to a flush. But the flush was not meant to be as the river fell a harmless
and Charles Furey was eliminated. He took home $80,896 for his strong finish.
Bryce Yockey entered the day as chip leader, but was not able to hold onto his lead, thus resulting in his elimination in fourth place. He got into a raising war with Carman Cavella preflop and when the smoke cleared, all of Yockey's chips were in the middle. Cavella held
and Yockey had pocket tens. The flop fell
to give Cavella the lead, leaving Yockey in need one of the two remaining tens. However, the
turn and
river sealed the hand for Cavella and Bryce Yockey was saddled with a fourth-place finish. He would take home $115,230.
The next elimination came when Ken Aldridge made a fantastic call to knock out Peter Gould. Gould raised to 120,000 preflop and was met with a call from Aldridge. The flop arrived
and Aldridge checked over to Gould. Gould moved all in for 385,000 total. Aldridge went into the tank for awhile before make the hero call with A-10. Gould could only show
and needed help to stay in the tournament. The turn fell the
and Gould was drawing dead, making the river card irrelevant. Peter Gould received $170,953 for his third-place run.
Going into heads-up play, Carman Cavella held a slight chip lead of 3.61 million to 2.96 million for Aldridge. The heads-up duel between the two saw both players limp into a lot of pots, with most pots going to showdown with a minimum of betting. The passive style of play was the polar opposite of the style that most would use in this situation. An example of this happened in a pot where both players saw the flop of
. Aldridge just check-called a bet of 175,000 from Cavella. He again check-called a bet of 325,000 on the
turn. The river fell the
and again, Aldridge check-called 200,000 from Cavella. Aldridge showed 7-8 for a straight and Cavella showed pocket kings. A raise at any point by Aldridge may have resulted in Cavella's ouster.
Carman Cavella then proceeded to double up twice through Ken Aldridge. First, Aldridge raised to 270,000 preflop and Cavella pushed all in for 815,000 total. Aldridge made the call with
and was far behind the
of Cavella. Not only would Cavella's hand hold up on the flop and turn, but he would river a ten to seal the deal and double up. A few hands later, Cavella led out on the flop of
. Aldridge moved in and was called by Cavella. Aldridge held
for top pair and Cavella had
for top pair with a better kicker. The turn and river missed both players and Cavella moved up to 2.7 million in chips.
At this point, Aldridge changed gears and proceeded to grind down Cavella with a series of aggressive bets and raises. Finally, Cavella was so short-stacked that he decided it was time to move in and attempt another double-up. He chose
to make his stand. Unfortunately for him, Aldridge made the call with
. The flop came down
to give both men two pair. Now Cavella had outs for a chop. The turn would fall the
, giving Cavella even more outs. But the river was the
and Aldridge's queen kicker was enough to crown him as this event's champion. Carmen Cavella finished runner-up and took home $264,814.
The final table of Event #9 saw varying speeds of play, including some play that left observers scratching their heads. But in the end, Ken "Teach" Aldridge schooled his opponents and took home the gold bracelet and the $428,259 top prize.