2009 WSOP: Carsten Joh Wins First Bracelet in NLHE #51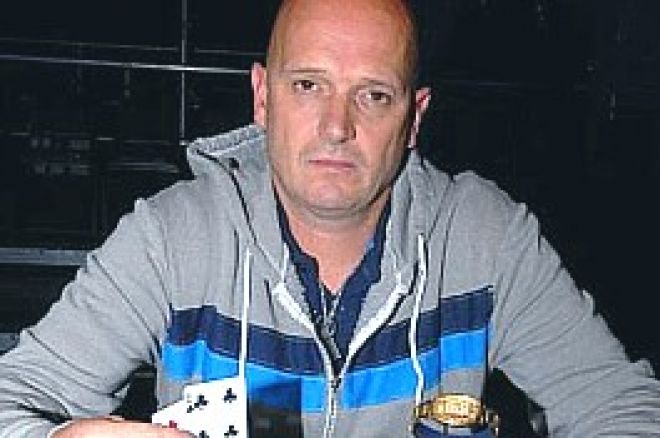 Carsten Joh has won the gold bracelet and $664,426 in the 2009 World Series of Poker Event #51, $1,500 No-Limit Hold'em, after a grueling final day that lasted nearly 13 hours, including an hour of heads-up play against runner-up Andrew Chen.
Day 3 kicked off about 15 minutes after the official 1pm starting time with 30 players left, all chasing a piece of a total prize pool of $3,796,065. They represented the last survivors from the initial field of 2,781 who registered on Day 1.
The early going featured a flurry of eliminations, giving a glimmer of hope for a not-too-late night; 14 of the 30 remaining players were shown the door within the first two hours of play, including one on the very first hand. That unlucky player was Allan Lebiszczak, who moved all in from the small blind with
. He was called by Jason Helder in the big blind, who had
. Lebiszczak took the bad beat and $15,374 for 30th place when the board came
.
Alex Jacob, the most recognized player left in the tournament, lasted only about 90 minutes before running his
into David Walasinski's
, and finding no help from the community cards. Jacob – along with all his famous 'fro – was eliminated in 21st place, worth $19,587.
Viktoria Szilasi, the last female player in this event, lasted to 13th place, good for $39,820. She pushed from the button with
and was called by Steven Levy in the small blind, who had the slightly better
. He improved to two pair when the board came
, and Szilasi was out.
As per usual WSOP practice, the players were consolidated to a single table when they got down to ten, though for record-keeping purposes it is not deemed a final table until the players are reduced to nine. That occurred when Jon Mazursky was eliminated in tenth place ($56,751). He raised preflop with
, and received a sneaky call from Jason Helder with
in the hole. Mazursky then shoved on the safe-looking flop of
, and that's when he got the bad news. The turn and river ran out
and
, and Helder's kings held up to send Mazursky packing.
The remaining nine players then took a one-hour dinner break before tackling final-table competition. Helder was the chip leader at that point, with 2.9 million, followed by Levy with 2.5 million.
The first empty seat opened when Nathan Page, who had entered the final table as the second-shortest stack, looked down at
, and raised to 110,000. Andrew Chen pushed all in with
, and Page called. Chen won the race with overkill quads when the board came
. Page was awarded $80,894 for ninth place.
Jason Helder lost the last of what had once been his big stack just a few minutes later, about two hours into the final table. He had earlier turned over more than half of his chips to Chen on the bad side of an all-in preflop confrontation with
to Chen's
. Then, just after Page's exit, Helder doubled up Thibault Durand, taking himself down to below 600,000, with blinds and antes at 25,000/50,000/5000. So it was not surprising when Helder opted to put it all in before the flop when he looked down at
. He was called by Owen Crowe with
in the pocket. No improvement came for Big Slick on the board of
, and Jason Helder was out in eighth place, with a payday of $86,702.
Georgios Kapalas had been perhaps the least active player at the final table to this point, presumably experiencing a lack of both good cards and good opportunities. His stack had finally diminished to the point that he was all in from the big blind with just
after a raise from Carsten Joh with
. No jack came to make Kapalas a better pair on the board of
, and he was eliminated in seventh place for $97,634.
Thibault Durand went out in sixth place. He had been crippled on the previous hand when his apparent attempt to steal the blinds and antes with
had been arrested by David Walasinski, who looked him up with
. Durand's move looked to pay off when the first four cards came
, but Walasinski made his set on the river
to double up. On the next hand, Durand was all in before the flop with
, facing the
of Steven Levy. When the dealer put out
, queen-high was the winner, and Thibault Durand left $115,817 richer.
Owen Crowe lost a classic race, and as a result was the next to leave, taking $145,199 for fifth place. Andrew Chen raised from the button with
. Crowe reraised from the small blind with
. Chen shoved. Crowe thought for several minutes, then said, "I'm probably really going to hate myself," and made the call. The community cards of
did not give Crowe the desired overpair. Chen's eights were good, and Crowe's day was done.
Action folded to Steven Levy in the small blind. He raised to 220,000 with
. David Walasinski was in the big blind with
and reraised all in. Levy called immediately, and was in trouble. No help came on the
board, and Steven Levy was out in fourth place, with a check for $192,650.
Carsten Joh had been the short stack when play was six-handed, and was still the shortest entering three-handed play. He quickly changed that status, though, with a double-up through David Walasinski. Joh limp-reraised all in from the small blind before the flop with
and got a reluctant call from Walasinski, holding
. The flop was big for Joh:
. Walasinski couldn't catch up with
and
on the turn and river. That pot put Joh to over 4,000,000, and dropped Walasinski to 2.6 million, with blinds and antes at 50,000/100,000/10,000.
Less than 20 minutes later, Joh captured the rest of Walasinski's chips when the latter moved all in from the button with
and Joh called from the big blind with
. Both players made a pair on the board of
, but Joh's was better. David Walasinski was eliminated in third place, picking up $272,405 for his three days of work.
That pot gave Joh a slight lead over Chen going into heads-up play: 6.9 million to 5.7 million. He steadily increased that lead over the next hour, until he held a 4-to-1 advantage entering what would prove to be the final round, with blinds and antes at 60,000/120,000/15,000.
In the last hand, Carsten Joh raised to 410,000 from the button holding
. Andrew Chen responded by moving all in for 2.2 million with
. Joh called instantly. The board played out
, giving Joh a superfluous set on the end to win the race. Chen, who had been the chip leader for most of the final table, had to settle for second place, with $412,632 as a none-too-shabby consolation prize.
The impressive come-from-behind victory marks the first WSOP cash, final table, and bracelet for Carsten Joh, who hails from Reutlingen, Germany, though he has a track record of several final-table appearances in major European events.