2009 WSOP: Greg Mueller Takes Second Bracelet in Shootout #50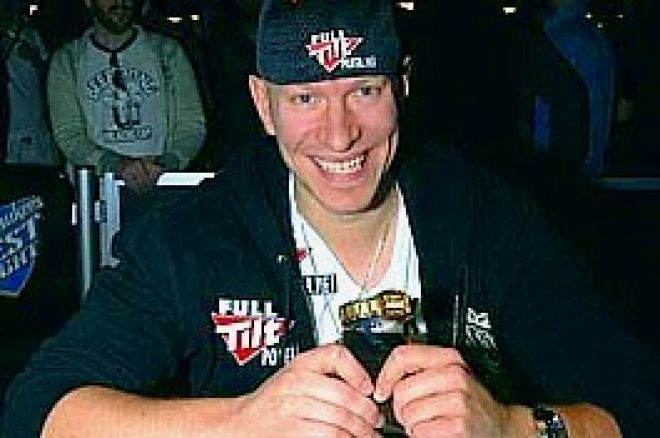 Greg "FBT" Mueller is the champion of Event #50, $1,500 Limit Hold'em Shootout. With this win, Mueller became the fourth double-bracelet winner of the 2009 Series, having previously taken first in Event #33, $10,000 World Championship Limit Hold'em, just 11 days before. The other two-time winners so far this year are Phil Ivey, Brock Parker, and Jeffrey Lisandro.
All eight players at this final table started with equal stacks of 450,000 in chips. The shootout format of the tournament meant that each of the finalists had prevailed over two previous tables. Day 3 got underway just after 2:00 p.m. with limits of 6000/12,000, giving each player starting ammunition of 37.5 big bets. No antes were used in this event. The first hand portended well for Mueller as he hit a runner-runner nut flush with
on the board of
and was called on every street by Joep van den Bijgaart, who mucked when shown the unbeatable cards.
Van den Bijgaart sent an even larger pot to Matt Sterling a few minutes after that, getting on the bad side of a set-over-set flop, but he then recovered some chips from Marc Naalden when he turned quad kings a short time later.
Jose Barbero was the first player to end up all in. The board was showing
, and Barbero held
for two pair. He was called by van den Bijgaart, who had
for flush and straight draws. The river was the
, making a full house for Barbero, who doubled up to 120,000. That was only six big bets at this level, however, and about 15 minutes later Barbero was all in again. Coincidentally, this time he was the one with the heart flush draw up against two pair. He had
on a flop of
versus Greg Mueller's
. The
on the turn didn't help, and this time the rivered
didn't, either. Barbero was eliminated in eighth place, for a payout of $13,655.
After having dropped those early pots, van den Bijgaart never really got out of the hole, chronically one of his table's short stacks. It finally caught up to him in the day's fourth level. He raised from late position with
, then called a reraise from fellow Dutchman Marc Naalden, who had
. Van den Bijgaart got the last of his chips in on the flop of
, but would need to hit two consecutive cards to overcome Naalden's top pair. That didn't happen, as the board ran out
and
, and van den Bijgaart was out in seventh place, good for $18,136.
The remaining six players took their dinner break, returning to limits of 20,000/40,000. By this point, the table had neatly bifurcated into two factions: the big stacks and the small stacks. Greg Mueller, Marc Naalden, and Millie Shiu each had 795,000 or more, while David Williams, Flaminio Malaguti, and Matt Sterling each had 375,000 or less.
It took only about 15 minutes for Malaguti to take his final stand with Big Slick. He raised from the small blind with
and was called by Williams from the big blind, holding
. The flop was
, and the action was bet and call. When the turn
made Williams a pair, he raised Malaguti all in and Malaguti tossed his remaining chips into the middle. The
river reduced the table to five. Flaminio Malaguti took home $24,824 for his sixth-place finish.
Pocket aces surprisingly turned up three times in the course of about 20 minutes during Level 5. Williams and Shiu both dragged pots with them, but the bullets delivered a fatal wound to Sterling. With
in hand, Sterling bet fifth street with the board showing
, then called a raise from Mueller, who had rivered the nut straight with
. Sterling was crippled with that loss, and he was all in preflop on the next hand with
. It was once again Greg Mueller who topped him with an inferior starting hand, making two pair with
on the board of
. Matt Sterling received a check for $35,058, and the table was down to half of its original players.
David Williams was reduced to less than one big bet in a hand against Marc Naalden about seven hours into the day. Naalden raised preflop and Williams reraised from the button. On the flop of
Naalden check-raised, then bet both the
turn and
river, with Williams calling all the way. Naalden showed
for trips, and Williams flashed the
before mucking. It was just a few minutes later that Williams put the last of his chips in before the flop, holding
and getting called in two places. He could not beat either opponent, though; both Millie Shiu and Greg Mueller bet the hand aggressively all the way through, as Williams watched helplessly. Shiu had started with
, but lost the pot to Mueller's
when the final board read
. David Williams earned $51,145 for fourth place.
Millie Shiu lost another pot to Mueller on the next hand, taking her down to 65,000, just over one big bet. That went into the middle soon thereafter, with Shiu holding
to Mueller's
. The board came
, and Shiu unfortunately was left with the second-worst possible hand. However, her third-place exit was worth $77,138.
Remarkably, both of the last men standing had already won a bracelet earlier in the summer, and both in limit hold'em events (Naalden's win came in Event #38, $2,000 Limit Hold'em). Additionally, both had cashed in two other tournaments in this Series.
Greg Mueller entered heads-up play with a 4-to-1 chip lead, holding 2.9 million to Naalden's 700,000. Despite that lead, it would take about two hours for the winner to be determined. Just a few hands in, Marc Naalden evened the score at 1.8 million apiece. The chip lead then changed hands at least six times over the next hour, and at one point Naalden was up to 2.5 million to Mueller's 1.1 million. Just before 11:00 p.m., however, Mueller took the lead for what would prove to be the last time, though he would require another 30 minutes or so to oust his stubborn opponent.
The end finally came when Mueller held
to Naalden's
. Of course, these two hands will often chop a pot, but not this time. Naalden raised from the button and Mueller called. The flop was
, and Mueller check-called Naalden's continuation bet. The turn was the
, giving both players top pair, and, predictably, the two of them raised each other back and forth until Naalden was all in. The river was the
, and Mueller's five kicker just barely played to give him the pot and the championship. Marc Naalden picked up $120,614 for second place.
Greg Mueller took home $194,854 for the win, bringing his WSOP career total to two bracelets, seven final tables, 19 cashes, and $1,516,261 in earnings.