2009 WSOP: NLHE #24, Pete Vilandos Snares Second Bracelet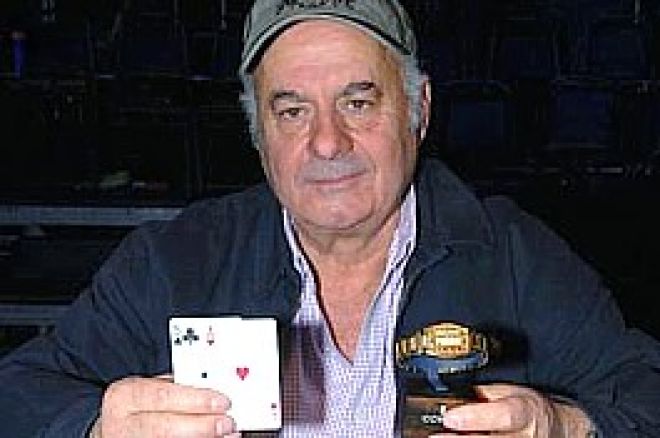 No-limit hold'em continued to display a dominant presence at the 2009 World Series of Poker, as 2,506 players plunked down the $1,500 entry fee for Event #24, $1,500 No-Limit Hold'em. After three long days of poker and 2505 bustouts, the bracelet didn't go to some internet whiz kid or an unknown European just months past his 21st birthday. It was Panayote "Pete" Vilandos who walked away with his second career WSOP bracelet at his second final table of the 2009 WSOP. Vilandos, who picked up his first bracelet in 1995, bested Andy "BKiCe" Seth to claim the gold bracelet and the $607,256 top prize.
There were 19 survivors as Day 3 kicked off, but it didn't take long to drop down to just two tables. Chris Sparks got his chips in early with pocket sevens against David Lerman's Big Slick, and was drawing almost dead on the
flop. When the
hit the turn, all hopes of running quads were gone for Sparks, and he headed to the cage to collect $17,753 for his 19th-place finish. Other early eliminations included Andrew Seden (18th, $25,347), Roberto Correa (17th, $25,347), Ali Davoudi (16th, $25,347) and Roberto Truijers (15th, $36,225). Truijers flopped an open-ended straight draw with
on the
board. He moved all in over the top of Andy Seth's flop bet, and needed help when Seth tabled pocket kings. The turn and river blanked out, and Truijers was done as Seth surged into a significant chip lead.
Mihai Manole lost a standard coinflip when he busted in 14th place ($36,225). Manole raised preflop, and Michael Greco moved all in over the top. Manole called with
, and Greco showed
. No help came on the
board and Manole was busted.
After the elimination of a few more players, including Stuart Marshak (13th, $36,225), Gualter Santos (12th, $51,755) and Benny Champlin (11th, $51,755) the remaining ten players consolidated to one ten-handed table awaiting the official final table. The final table bubble came fairly quickly, as Ronnie Kevin sent Ernst Hermans home in tenth place ($51,755), and the final table seating assignments and chip counts looked like this:
Seat 1: David Lerman — 625,000
Seat 2: Ronnie Kevin — 670,000
Seat 3: Dean Hamrick — 1,450,000
Seat 4: Glenn McCaffrey — 1,900,000
Seat 5: Michael Greco — 400,000
Seat 6: Brian Fitzpatrick — 390,000
Seat 7: Andy "BKiCe" Seth — 2,770,000
Seat 8: Alan Jaffray — 1,200,000
Seat 9: Panayote "Pete" Vilandos — 1,490,000
Brian Fitzpatrick made his moved with
and shipped it in preflop. He got one caller in Pete Vilandos, who showed
, and Fitzpatrick was in deep trouble. The water got only deeper for Fitzpatrick on the
flop, but he picked up a few outs when the turn brought the
. He couldn't pick up his gutterball on the
river, and he had to settle for ninth place and $73,886.
Andy Seth raised preflop, Pete Vilandos reraised, and Ronnie Kevin moved all in over the top in an action-packed hand that saw Kevin head home in eighth place ($79,017). Seth got out of the way, but Vilandos made the easy call with
. Kevin needed to catch an ace with his
, but the board ran dry for him as it came down
.
Glen McCaffrey, Alan Jaffray, and David Lerman all saw the flop of
in a raised pot. Lerman fired first, moving all in on the flop. McCaffrey went into the tank for a brief moment before he reraised. That got Jaffray out of the pot, and McCaffrey showed
for top pair. Lerman tabled
for bottom pair and a lotta guts, but when the turn brought the
, he needed a two-outer to stay alive. The
wasn't one of those outs, and he was done in seventh place ($88,937).
Alan Jaffray (and his hat) headed to the rail in sixth place ($105,699) when he moved all in preflop with
. Pete Vilandos called with
, and Jaffray was dominated. Nothing exciting happened on the
board, and Vilandos took over the chip lead as Jaffray headed to the haberdashery. Vilandos then claimed another victim when he busted Dean Hamrick in fifth place ($132,380). Hamrick raised preflop, then called off the rest of his stack when Vilandos moved in over the top. Hamrick found himself in a race for his stack when he saw his
up against the pocket nines of Vilandos. The flop came down a safe
, but the turn was disaster for Hamrick as it brought another nine to give Vilandos a full house and leave Hamrick drawing dead. The irrelevant river card was the
, and Hamrick was done.
Andy Seth got into the elimination action when he took out Glenn McCaffrey in fourth place ($176,165). Seth opened for a raise preflop, McCaffrey moved all in over the top with
, and Seth called with
. McCaffrey held the lead going into the hand, but the board ran out
to give Seth a diamond flush and send McCaffrey packing.
English actor and poker player Michael Greco logged his second WSOP final table in this event, and he picked up his biggest tournament cash to date when he fell just short of the bracelet in third place ($248,855). Once again, all the money went in preflop in a coin toss, and this time it was Andy Seth with
to Greco's
. No help on the
board for Greco, and Andy Seth took a slight chip lead over Pete Vilandos into heads-up play.
The two players jousted back and forth for a little while, staying fairly even in chips until a massive pot developed that left one man crippled and the other within striking distance of the bracelet. Andy Seth raised preflop from the button, and Vilandos reraised. Seth four-bet and Vilandos shoved. Seth thought for nary a second before calling, but found himself absolutely crushed when he tabled
to Vilandos'
. The board blanked out
, and Vilandos took a massive chip lead.
It was all over just a few hands later, and when the dust settled Andy Seth was gone in second place ($372,855). Pete Vilandos limped in from the button and Seth raised. Vilandos moved in over the top with
, and Seth quickly called. He got his money in good with
, but Vilandos came from behind to turn the wheel on the board of
.
Vilandos' gutterball picked up the spare on the turn and gave him the bracelet and the $607,256 top prize. His last bracelet came in 1995, in pot-limit hold'em. Vilandos' 2009 victory was worth almost four times as much as the $148,500 he picked up in the 1995 win, and was all the sweeter for the wait. Pete Vilandos moved over the $1 million mark in total 2009 winnings, adding a first-place finish to the second place he picked up in the "Stimulus Special" earlier this month.