2009 WSOP: Von Halle Tops #26 LHE, Newitt Nabs Lead in PLO/8 #27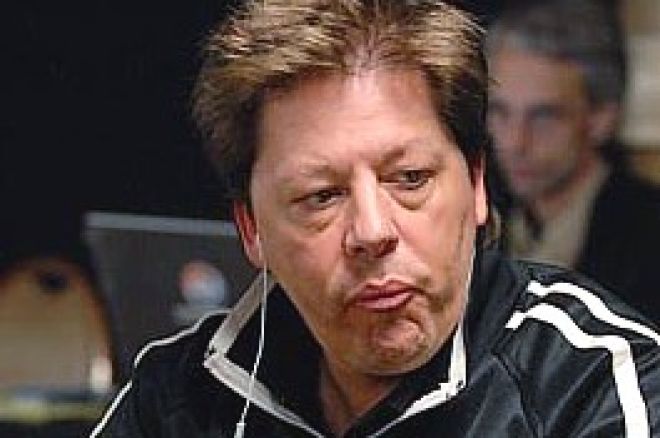 $1,500 Limit Hold'em Event #26, Day 1 – Von Halle Jumps to Early Lead
Event #26, $1,500 Limit Hold'em, began at noon with 643 players shelling out $1,500 for 4,500 in tournament chips and the chance to win a gold bracelet. By day's end, 80 percent of the field had left the Rio disappointed, and just 124 players will return Saturday for the next stage of the contest. The top 63 finishers will get the money. German pro Jan von Halle (husband of Katja Thater) finished the day at the top of the leaderboard with 68,300, with Dominik Kulicki and Bill Chen both hot on his heels on stacks of 61,100 and 60,600 respectively.
The prize pool of $877,695, of which $197,488 will accompany the bracelet, is nothing to sneeze at – well, unless you come into it already as rich as, say, L.A. Lakers owner Jerry Buss or "Simpsons" co-creator Sam Simon, both of whom just happened to be in the field today. (When somebody asked Buss whether he shouldn't instead be in Orlando with his team for the NBA playoffs, Buss was heard to reply laughingly, "They do better when I'm not there.")
Daniel Negreanu, who won a bracelet in limit hold'em last year and just finished runner-up in another limit hold'em event last week, was eliminated when he ran Big Slick up against opponent holding pocket fours after both an ace and a four appeared on the flop. The chips flew back and forth until Negreanu was all in, and he couldn't catch the miracle he needed. By early evening, the pace of eliminations had picked up, with only 330 surviving long enough to use the $10 dinner voucher that Harrah's provided with each buy-in.
Soon thereafter, two players learned the hard way the potential price of slow-playing a big hand. The flop of
must have looked juicy to the players holding A-K and A-Q. It probably didn't look quite an enticing to Jan von Halle – who has cashed four times in each of the last two years and once already in this Series – with his
underpair. Conversely, though, the
turn card must have looked delicious to von Halle and harmless to his two opponents. They capped the first round of big bets. Von Halle got only one more bet out of each of them on the
river, but it was a large enough pot to push him to about 33,000 and into the chip lead.
Actress Shannon Elizabeth survived at least two close calls. The first time, she was all in before the flop with the less-than-stellar
against three opponents. But the board of
matched her hole cards nicely, and she lived to play on. Much later, she almost made a fatal error with all but her last few chips at stake. With the board showing A-3-3-x-K, she called her opponent's bet with A-10 and thought she had lost to A-Q. The dealer thought so, too, and was pushing the pot away from her, until an alert player correctly pointed out that the pot should be split.
Among those getting the Day 1 boot were Brock Parker (the first double bracelet-winner of the 2009 WSOP), Maya Gellar, Barbara Enright, Teddy Monroe, and Jerry Buss. Von Halle will start Day 2 with a strong chip lead, and the returning players who'll be attempting to relieve him of those chips include Matt Keikoan, Rep Porter, Justin Bonomo, Noah Boeken, and Barry Greenstein. Play is scheduled to resume Saturday at 1:00 p.m. PDT.
$5,000 Pot-Limit Omaha Hi/Lo, Day 1 – Newitt Perched on Top of Leaderboard
Both starting and ending later than Event #26 was another Day 1, this time for Event #27, $,5000 Pot-Limit Omaha Hi/Lo. Contestants took their seats at 5:00 p.m., and wrapped up the day at 3:00 a.m. after eight one-hour levels of play. At the close of the day only 59 of the original 198 players remained, with Jason "J.D." Newitt possessing a healthy chip lead on a stack of 185,900. His next-closest competitor was Senovio Ramirez III with 134,200, followed by Roland de Wolfe with 130,800.
Straight Omaha is usually played pot-limit, and the hi/lo version as fixed limit. But there's really no reason one can't mix and match the games and the structures, as the existence of this tournament demonstrates. Last year there was a $1,500 Pot-Limit Omaha Hi/Lo event at the WSOP, which also continues later in this Series, but this $5,000 version is new for 2009. Its debut saw 198 entrants, making a total prize pool of $930,600, with $246,616 set aside for the champion.
Players were given 5,000 in tournament chips to start, plus the right to claim two add-ons – good for 5,000 more each – at any time during the first three levels. The additional chips would be given automatically at the end of Level 3 to anybody who had not exercised the option by that point. Deciding when it would be most advantageous to extend one's stack with the add-ons became another strategic consideration not present in most poker tournaments. You can take all the chips up front and thus maximize your chance for a huge double-up, but doing so also removes your back-up parachute, so to speak. A more conservative approach is to hold the add-ons in reserve, which reduces the chance of going broke early, but also limits the potential profit if you get an opponent trapped for all he's got.
Scotty Nguyen was one of the earliest well-known players to hit the rail, just before the first break. He made an early-position raise with A-2-2-10 and was called in three places, including by Manuel Bevand, holding 10-4-3-2. Bevand bet the flop of 3-4-J; only Nguyen called. Nguyen again called, this time for the rest of his stack, when Bevand bet the king on the turn. The river was another jack, missing Nguyen's straight and low draws and giving Bevand a higher two pair than Nguyen's.
James Van Alstyne, who had been runner-up in Event #21, $3,000 HORSE the previous day, could not repeat his success. Holding A-3-5-K on the flop of
, he got it all in as a favorite against Amnon Filippi, who tabled
. Another nine on the turn didn't change the situation, but the river three sure did, making a full house for Filippi with no low for either man.
One of the pragmatic dilemmas this game causes is complicated chops when side pots get created. This happens far more often with the pot-limit format than with fixed-limit. As a nightmarish example of this phenomenon, consider the task of correctly awarding this enormous four-way pot that went down just before the close of business: Filippi won the high half of the main pot and both side pots with a club flush. The main pot low was quartered between Eli Elezra and John Shipley, each holding A-2 for the nut low. Shipley also took the low half of the first side pot, and Andy Bloch won the low half of the second side pot with a 2-3 for the second-nut low. It reportedly took about ten minutes for the dealer to sort it all out.
Notable exits of the day included Fabrice Soulier, Perry Friedman, David Bach, David Chiu, Erik Seidel, Allen Kessler, and Max Pescatori. Phil Ivey performed the superhuman feat of surviving in this event while simultaneously making the money and a return ticket to Day 3 of Event #25, $2,500 Omaha/Seven-Card Stud Hi/Lo. He will thus have to double-table both matches for another day.
The remaining 59 players will come back at 2:00 PDT Saturday, with the schedule calling for them to play down to a final table. Big-name pros still in the hunt include Amnon Filippi, Antony Lellouche, Andy Black, Jeff Lisandro, Daniel Negreanu, Scott Clements, and Mike Matusow.