Poker Book Review: 'Pass the Sugar' by Joe Hachem and Peter Ralph
Haley Hintze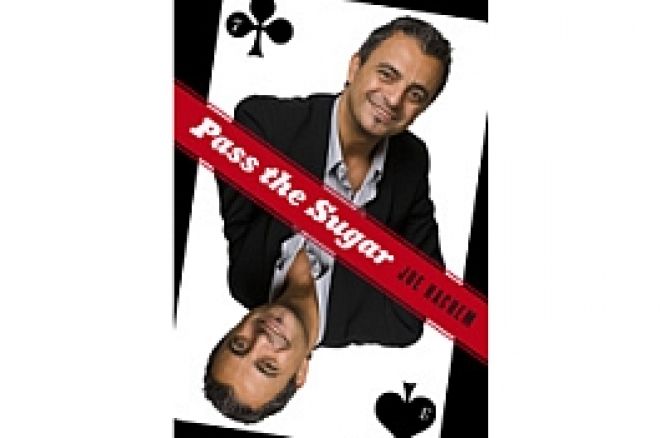 mélange (n) — a mixture or medley; hodgepodge
Pass the Sugar, the auto-biography of 2005 World Series of Poker Main Event champion Joe Hachem, co-authored by Peter Ralph, is an entertaining but unpolished recounting of the life and times of the Lebanese-born Australian whose unexpected surge to the 2005 WSOP title set a sports-mad country on its ear. The book, of course, is titled after the catchphrase that Hachem used for years and made famous in his run to victory, where his "mates" cheered every big pot he claimed with elated cries of "Aussie, Aussie, Aussie! Oi! Oi! Oi!"
Pass the Sugar is the second biography of a Main Event winner to appear this decade, following 2005's Moneymaker, by Chris Moneymaker with Daniel Paisner. As with Moneymaker, Hachem's climb from anonymity to a level of international fame spreading far beyond the poker world itself is an extended story ripe for the telling; the disappointment is that the book itself falls somewhat short of its promise – what could have been a great tale is here just something adequate, like a photo of a scenic panorama rendered dull by a camera lens not quite focused.
The book is essentially an assemblage of first-person narratives by Hachem and others, beginning its story in medias res at the moment that would truly change Hachem's life – when he sat down for his heads-up duel against eventual runner-up Steven Dannenmann for the title. From there the first half of the book, titled "Part One – The Main Event," intersperses Hachem's run through the 2005 WSOP with flashbacks (and occasional flashforwards) designed to flesh out the character of this intriguing Aussie with an interesting background who suddenly and literally found himself center stage. The poker part of the story works well; the character expansion, somewhat less. What emerges is an incomplete picture of what surely is one of the poker world's most complex characters… but with that character posed, seemingly, for the cameras.
Hachem's spur-of-the-moment decision to enter the 2005 WSOP, courtesy of a last-minute gesture and change of vacation plans by his wife, Jeanie, allowed him to accompany a group of Melbourne friends who had already committed to playing in Las Vegas. Early on, Hachem noted a few good omens that pointed toward a successful run, the most important in the telling being Jeanie's recurring insistence that he was going to finish either first or third. Hachem's cheering section as his wife's prophetic vision came true included his younger brother Tony, cousin Billy Sukkar and fellow players such as Emad Tahtouh and Arul Thillai.
Fans of televised poker might remember how well Hachem ran late in the event, when he stormed back from short-stack status to the win. ESPN's cameras first captured him only as the money bubble approached, and showed him time after time with monster pairs that held up as he worked his way toward the final table. Hachem won a couple of key races as well, and received one of his biggest breaks of the tourney when he pushed his chip stack in bad against Aaron Kanter, who was, until the hand in question, by the far the most fortunate player in the event. Kanter's luck turned sour in that hand, when Hachem caught a needed king to double up and stay alive. Other than Kanter, the TV version depicted Hachem as the player who was luckiest when it mattered most, though the truth behind big-field poker is that no one wins a title without a couple of big breaks along the way. What the ESPN cameras couldn't show, in their highly edited take on the Main Event, was the process of Hachem himself picking his spots late in the action, after never having an above-average chip stack through most of the first four days of play.
When Hachem quickly dispatched the amateur Dannenmann after trapping him with a flopped straight, holding 7-3 and catching a heaven-sent 6-5-4 flop, it was almost anticlimactic. By the time heads-up play began, Hachem had seized both the chip lead and the strategic edge; the toughest foes at the final, Mike Matusow and Andy Black, had already been eliminated, and "Big Mo" was clearly on Hachem's side. The win, along with his fellow Aussies' exuberant celebration, made Hachem a national hero and "Pass the Sugar" one of poker's most memorable sayings.
That's the part of Pass the Sugar most poker fans already know. But what about the man behind the catchphrase?
Hachem, for those unfamiliar with his background, was born in Beirut, Lebanon, just before the Middle East strife of the Six-Day War. Joe was the eldest of three sons, and was six when his poor family emigrated to Australia's small but tight-knit Lebanese community via a loan organized through the Catholic Church. Hachem's youngest brother Tony is also well known in the poker world, though middle brother Elei was killed as a teenager in a car accident. His parents also separated when Joe was 13, with Joe's beloved Uncle Vince becoming the father figure in the teenaged Hachem's life. In fact, it's only in the book's final stages, when recounting the 2008 passing of his "Khaule Mansour," that Hachem risks dropping his guard and shares a bit of the pain that surely has shaped a part of his complex character.
The hard-working, entrepreneurial Hachem was on the go from an early age. He worked job after job from age seven on, including later stints at a meat-packing plant and as both model and manager for a modeling agency, being for years the primary breadwinner for his family before settling on chiropracty as his chosen career. Hachem quickly built a thriving practice before being dealt a medical bad beat of his own. After battling for several months with chronic burning sensations in his hands and feet, he was diagnosed with the rare condition erythromelalgia, which causes chronic inflammation of blood vessels in the extremities. Active use of hands or feet aggravates the condition, making the diagnosis a deathblow to Hachem's chiropractic career.
Hachem was forced to sell his practice and moved into work as a mortgage banker, all while having been bitten by the poker bug. Hachem had become a poker regular, excelling in cash games and tournaments at Melbourne's Crown Casino, and he also hosted a monthly 30-player, three-table poker tourney in his garage. Consistently beating the Melbourne games led to his amassing enough of a poker bankroll to finance his life-changing 2005 WSOP adventure.
Pass the Sugar, though, at times stumbles all over itself in telling Hachem's tale, with the flashbacks and other artificial literary devices often an annoyance that joins loose writing and editing in detracting from the tale. Hachem's biggest break of the 2005 WSOP might have come on Day 1, when the aggressive eventual winner found a pair of pocket nines (in a chapter titled, appropriately enough, "A Pair of Nines"). Hachem tried to bully a weaker player – who he somewhat derisively refers to here as "Mr. Beady" – getting a good chunk of his starting chips in the pot with a board showing A-K-5-Q and no indication at all that his opponent, weak player or not, was going away.
Did Hachem suck out a nine on the river? Ahh, but there's a chapter of Vegas-trip interlude to wade through before finding the cliffhanger's (obvious) answer, as otherwise there'd be darned little reason to tell the tale. It's the lit'ry equivalent of a '30s "Flash Gordon" film serial showing a humming, stage-threads-visible missile closing in on poor Flash's space rocket. Cue closing credits. In days of yore, we'd have to wait a week to learn the answer, though in our heart of hearts we already know that Flash will pull off another miraculous escape from the dreaded Ming's merciless attack... or spike that needed nine.
So too does Pass the Sugar pad and posture its somewhat thin collection of what were likely narrated, first-person tales, and the book does so rather unsatisfactorily, the "mélange" as mentioned at top. The collective story is told in the present tense, quite jarring for a well known bit of poker history accompanied by even older personal-life flashbacks. Frequent errors and typos also jar the reader –- an example being "Dannenmann" spelled as "Dannemann" throughout -– again detracting from the final product.
Also of note is that the tale of Joe Hachem's historic win and the snippets of his early personal life that we're given together account for only half the book. Most recent WSOP Main Event winners have been slapped with the label "amateur player," Hachem included, and the second part of the book ("Seeking Validation") details Hachem's struggle against that too-easy and incorrect label. Does winning the WSOP Main Event and being called an "amateur" player put a chip on one's shoulder, if that player is hard-working and skilled, but prior to the breakthrough, unknown?
In Hachem's case, as illustrated in Part Two, the answer seemed to be "Yes." This middle section is another loose collection of tales from Joe and others about events following his 2005 triumph, as he cemented his status as one of the most prominent names in the game. Interspersed with several of Joe's own tales are stories along with guest appearances from poker dignitaries and celebrities, family and friends, including Seinfeld's Jason Alexander and 2004 WSOP champ Greg Raymer. Tossed in here as well are miscellaneous Hachem anecdotes, all leading up to the win he cites as validation, his $2.1 million triumph in the December, 2006 Doyle Brunson Five Diamond World Poker Classic in Las Vegas.
The constant struggles to reach new levels of success, as in "Validation," are in fact one of the book's overriding themes. One is mindful of the 2006 WSOP Media Day conference where a then reigning-champion Hachem admonished a Vegas newspaper reporter to get his facts straight for referring to Hachem as an online qualifier, as with previous winners Moneymaker and Raymer. Hachem indeed paid his $10,000 2005 WSOP entry fee out of pocket, though the quick outburst suggested that Hachem was already struggling against the confines of his media-created box.
The shortish third and final part of Pass the Sugar, "Fame and Family," is a brief collection of more recent anecdotes and life stories from a more worldly Hachem, who's seemingly accepted his present and future role among poker's very public elite. Tales of trips to Cannes (via sponsor PokerStars), South Africa and elsewhere, an appearance on Australia's version of "60 Minutes," ongoing charity work with Aussie cricket legend Shane Warne, and recent family tragedies remind the reader that Hachem's life, as with his poker career, is very much a work in progress.
Pass the Sugar is an interesting book, if a bit of a messy one. The opposing contrast, of course, is between interesting and captivating. One difference between an autobiography and a biography is that an autobiography is more often the tale the subject wants to tell than the one potential readers most yearn to digest. Here, that distinction conjurs up Jungian questions of self and shadow and persona, the differences between the "I" that each of us is, that which we believe we are, and that which other people perceive. That Joseph Hachem is a complex human character goes almost without stating, but the toughest back questions, those that would help bring into clarity the man behind the story, were perhaps unexamined here.
Or perhaps that's just poker. After all, if we're to win at the game, we can't share all our secrets.
Note: Pass the Sugar is published by Melbourne Books and sells for AU $32.95.