Poker Book Review: 'Deal Me In' by Stephen John and Marvin Karlins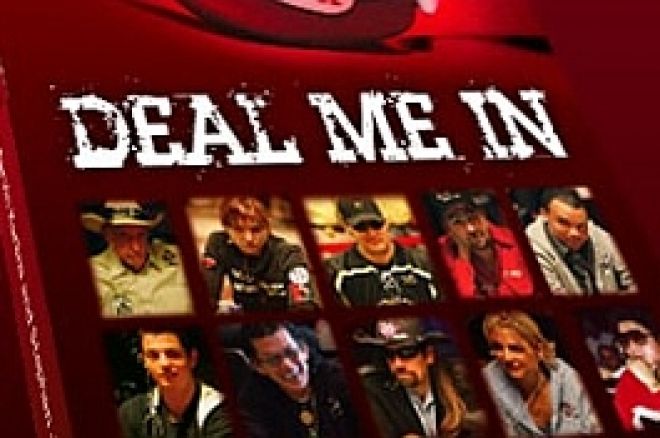 The first book to appear from Phil Hellmuth, Jr.'s latest commercial venture, Phil's House Publishing, Deal Me In by Stephen John and Marvin Karlins, is a highly-readable, engaging collection of stories about 20 of poker's most famous and well regarded players. Handsomely illustrated with over 150 photographs, the book not only chronicles several of the major events of each of the players' lives, but also collectively presents a more general overview of poker's rise into cultural prominence during the last few decades.
Authors John and Karlins conducted interviews with each of the players, in most cases reworking the players' answers to their questions as continuous first-person accounts. The exceptions are Chris "Jesus" Ferguson's chapter, which is told in the third person, and Erik Seidel's chapter for which Hellmuth conducted the interview and wrote the narrative. As publisher of the Kentucky Sports Report, John brings experience interviewing athletes and telling their stories. Karlins, meanwhile, has co-authored books with former FBI agent Joe Navarro, including Read 'Em And Reap, the well-regarded book on poker tells from 2006.
It is apparent the pros were invited first to explain how they were initially introduced to poker, then relate their experiences as they followed their often circuitous paths to joining poker's elite. The players' tales share parallel narrative trajectories insofar as each humbly begins at the bottom of the poker hierarchy and ends somewhere near the top. However, the stories demonstrate great variety in between, with the individual accounts being at times poignant, instructive, and even inspiring.
Certain common themes do emerge from chapter to chapter, however. Both Doyle Brunson and Chad Brown talk at length about their athletic careers, and how poker ultimately satisfied for both the desire for competition that sports had previously satiated. Several share details of how their families took to their chosen careers, with some players' experiences — such as those of Jennifer Harman and Hellmuth — proving more difficult than others'. Some also discuss their battles with problem gambling, with a few, including Johnny Chan and Chau Giang, telling of how they had suffered from the serious leak of losing their poker winnings in other casino games.
Giang and Scotty Nguyen both describe how they emerged from war-torn Vietnam, made their way to America, and the struggles they faced before rising to prominence in poker. Nguyen's story is especially moving, and perhaps might surprise some readers with its emotional depth. Layne Flack's self-deprecating tale of his battles with drug addiction and self-destructive behavior is similarly stirring, although Flack successfully manages to avoid becoming too maudlin by the use of humor.
There are other, lighter moments throughout the book as well. Allen Cunningham's chapter reveals the soft-spoken California pro to possess unexpected wit as he peppers his story with funny quips and one-liners. Dave "Devilfish" Ulliott's chapter also contains numerous grins, as the boisterous Brit recounts his many skirmishes first as a safecracker, then often cracking heads at some of the rougher underground games in the U.K.
Another theme of Deal Me In is the collegiality that exists among professional poker players, with several of the players highlighting the relationships that not only have helped them in their careers, but give added meaning to their lives. Both Harman and Flack discuss their friendship with Daniel Negreanu and its importance to their careers (and their well being). Annie Duke tells of her relationship with her brother, Howard Lederer, and his guidance to her, especially early in her career. Seidel and Lederer both talk about their days playing together at Mayfair Club, and their reliance on each other and the other players when it came to developing their games. Even Phil Ivey, who confesses "I'm not really as private a person as I am portrayed," points to his friendships with other pros as important and influential for him.
The entire book, in a sense, underscores this sense of community that exists among the pros, all of whom have at least some common shared experiences that enables them to support one another. The book ends with three chapters on "young guns" — Tom Dwan, Annette Obrestad, and Peter Eastgate — a seeming effort to invite these new players (and the generation they represent) into a larger tradition. All three show humility and awareness of the fact that most of their lives are ahead of them, and all appear to have a good grasp of where they stand in poker, as well as the relative significance of poker in their own lives.
The chapters each range from 12-20 pages in length, and so necessarily cannot present comprehensive bios of each of the players. Some editorial decisions were a bit surprising — for example, in Carlos Mortensen's chapter he doesn't even touch upon his victory in the 2001 WSOP Main Event. However, that's probably a positive for the book as a whole, insofar as it doesn't merely repeat the same stories many of us have already heard or read about these players.
For those interested in poker history, or in these personalities in particular, Deal Me In is certainly worthwhile reading. Besides being entertaining and informative, it also represents a significant addition to the growing collection of works documenting the game of poker and those who play it at the highest levels.
More information on the book is available at pokerbrat.com.