2009 WSOP: #55, Mosseri Leads Last Nine Lowballers; Konkin Tops NLHE #54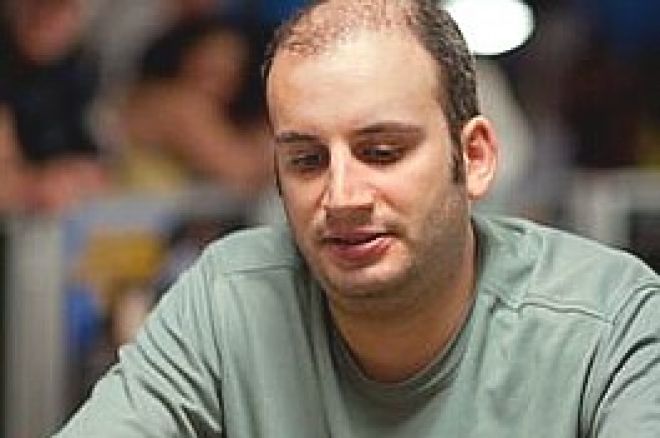 $2,500 Limit Deuce-to-Seven Triple Draw Event #55, Day 2 – Mosseri Tops Lowball Leaderboard
Day 2 of Event #55, $2,500 Limit Deuce-to-Seven Triple Draw, saw 73 returning players whittled down to the final nine. Abe Mosseri holds the chip lead heading into the last day with 447,000, followed by Blair Rodman (358,000), Masayoshi Tanaka (345,000), and John Juanda (182,000). Other familiar names still in contention are Julie Schneider (wife of 2007 WSOP Player of the Year Tom Schneider) with 163,000, and Nam Le, on the second-smallest stack with 95,000.
This year saw 257 players signing up, an uptick from the 238 of last year, when the event was won by John Phan. Of those, 73 returned for Day 2, but only 24 would hit pay dirt.
Victor Ramdin lasted only about an hour. Action began when Jacobo Fernandez made it two bets from the cutoff, and Justin Smith and Ramdin both came along from the blinds. Ramdin drew three cards while his opponents each took two. Ramdin bet, Fernandez raised, Smith folded, and Ramdin called all in for his last 200 chips. He would draw one card on the next two rounds while Fernandez stood pat. With his last card still face-down, Ramdin tabled four cards: 7-5-4-3. Fernandez had a strong low made after the first draw: 7-6-5-4-2. Needing a deuce to stay alive, Ramdin instead flipped over a six for an unwanted straight.
Double-bracelet winner Greg "FBT" Mueller was out soon after, but he showed an even greater sense of drama than Ramdin. Hung La was standing pat after the first draw with 9-8-6-4-3. Mueller was drawing one, and he showed the table that he was working with 8-6-5-2, giving him plenty of chances to draw to the winner. On his last draw, Mueller squeezed out his final card. "It's a two-dotter!" he nearly yelled. "Either a four or a five. Coinflip." After a long pinch, Mueller shrugged and turned over a second five for a pair.
It took the nuts to knock out Hung La a short time later. He raised in middle position, Tom McCormick reraised in the small blind, and Gabriel Nassif called from the big blind, as did La. McCormick drew one, Nassif two, and La three. McCormick bet and the other two called. After McCormick drew one again and both the others drew two, it was checked over to Nassif, who bet. Both opponents called. On the last draw McCormick took one, Nassif stood pat, and La drew one. McCormick checked once more, Nassif bet, and La called all in, with McCormick folding. Nassif showed the hand for which the game is named, 7-5-4-3-2, and Hung La was out.
The undisputed all-time champion of lowball poker, Billy Baxter (seven bracelets, all in triple-draw, razz, and various other lowball events) could not extend his record here. First he lost most of his remaining chips to Dustin Sitar's 8-6-5-4-2, which was made after the first draw. Baxter called bets after the first and second draw but couldn't beat eighty-six. Then against the same player, Baxter was all in after the first draw but was unable to beat Sitar's 8-7-4-3-2, both standing pat after the second draw.
The money bubble broke at about 9:30 p.m. when Tom McCormick, all in for his last 400 before the first draw (blinds at 1300/2500), went up against Joseph Morrow, who had started the day as the shortest stack left. Morrow drew two, then stood pat. McCormick drew two, two, and one. Morrow showed 8-7-6-3-2. Before revealing his last draw, McCormick showed 8-6-4-2, but when he pulled another four at the end, he was out in 24th place, the last player not to cash. Other notables who exited before the money included Jimmy "Gobboboy" Fricke, David Sklansky, and Tuan Le.
Daniel Negreanu was all in against Abe Mosseri and Dan Quach by the first draw. Mosseri drew two while Quach and Negreanu each drew one. Quach bet and Mosseri called, with Negreanu calling all in. On the second draw Mosseri took two again, Quach took one and bet, and Mosseri folded. After the third draw Quach showed 8-7-5-3-2 and Negreanu flipped 8-4-3-2. He needed a five, six, or seven to stay alive, but he could only manage another deuce, and was knocked out in 16th place, for $7,223.
Jacobo Fernandez fell out of the running in one of the last hands of the night (tenth place, $13,423). Masayoshi Tanaka raised first in from the cutoff, Brad Libson reraised from the button, and Fernandez made it four bets from the small blind. Tanaka drew one and the others each drew two. After the draw, Fernandez bet all in for his last 6,000, and both opponents called. The players drew the same number of cards and checked it down, and they both drew one and checked it down on the last round as well. Libson made a pair, so he mucked, and Fernandez simply said, "Jack." It was no good as Tanaka tabled the winning 9-5-4-3-2.
Others finishing in the money included Justin "Boosted J" Smith, overnight chip leader Adam Ewenstein, and Hasan Habib. Play is scheduled to resume at 2:00 p.m. PDT Wednesday, with $165,521 and a gold bracelet in store for the winner.
$1,500 No-Limit Hold'em Event #54, Day 2 – Konkin Leads Last 28
Day 2 of the 2009 World Series of Poker Event #54, the last of the popular $1,500 no-limit hold'em tournaments, is in the books. At the close of play, Sergey Konkin was at the top of the leaderboard with 1,400,000. He is followed by Christopher DeMaci (1,332,000), Joseph Chaplin (1,095,000), and Mike Ratcliff (745,000). Vivek Rajkumar is probably the best-known professional left in the field, well behind at 216,000.
Event #54 attracted the most entrants of the seven $1,500 no-limit hold'em tournaments in this Series, with 2,818, just topping the 2,791 of Event #7 and the 2,781 who came to play Event #51. Of those, 376 were left to commence Day 2, and just 28 will make it back for Day 3 and a shot at the bracelet. They will each receive at least $15,578 from the massive prize pool of $3,846,570, but, of course, every one of them will be dreaming of the $673,276 reserved for first place.
Play got underway just after 2:00 p.m. Short stacks were eliminated quickly enough that the money bubble was reached in less than two hours, with the last 297 players each guaranteed at least a $2,769 payout. Hevad Khan was eliminated in 239th place ($2,923) when his
was unable to outdraw an opponent's
on the board of
.
Men "The Master" Nguyen went out in 230th place, good for $2,923. Amit Makhija opened with a raise on the button with pocket eights. Nguyen pushed in his last 22,000 from the big blind, holding 9-8. Makhija called, and his pair was still good when the board bricked out for both players. This marked the 65th WSOP cash for Nguyen, a record surpassed only by Phil Hellmuth with 73.
Makhija himself would last less than another hour. His pocket kings ran into another player's pocket aces, and the predictable happened: all in preflop and no help for the kings from the community cards. Amit Makhija finished in 171st place, worth $3,308. Alexandre Gomes was taken out by Vivek Rajkumar's
. Gomes's
could not compete on the board of
, and he was eliminated in 80th place ($5,385).
Raymond Rahme made it until after the last break of the day, but not much further. He and Mike Ratcliff got to the turn with the board showing
. Ratcliff moved all in and Rahme called, only to find that his
had just three outs to win against Ratcliff's
. The
on the river was not what he needed, and Rahme was out in 52nd place for $9,116, well-short of the $3,048,025 he won for third place in the 2007 Main Event.
Other familiar names finishing in the money included Allyn Jaffrey Shulman, Theo Tran, Frank Sinopoli, Dean Hamrick, Wendeen Eolis, Carlos Mortensen, Alex Bolotin, Van Nguyen, and Anthony Harb.
Play wrapped up for the day at the usual 3:00 a.m. curfew, and will resume at 1:00 p.m. PDT Wednesday.