PokerNews Jet Set: Barcelona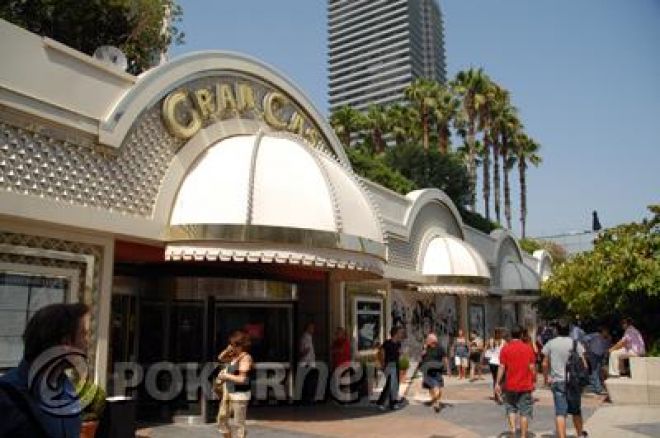 Barcelona is one of the most exciting destinations you'll find on the international tournament circuit and from September 4 through 9, 2009, the PokerStars European Poker Tour is returning for the sixth year in a row to host the EPT Barcelona Open. If you can drag yourself away from the tournament (not to mention all those juicy side games) a plethora of culture and cuisine lies just begging to be explored right outside the door. Here are only a few highlights the Catalan capital has to offer.
Places to Hang Your Hat
Hotel Arts
If it's five-star accommodations you're looking for, end your search with the Hotel Arts. Adjacent to the beach and less than 100 yards from the Casino Barcelona, the Hotel Arts is situated in a striking, high-rise building and sports 483 beautifully appointed rooms with views of both the city and the Mediterranean. Owned by The Ritz-Carlton chain, the hotel has all the amenities we've come to expect from the brand including a full-service spa, an extremely helpful English-speaking concierge, and a variety of restaurant options from fine-dining at Enoteca to quick snacks at Bites. Best of all, you can roll out of bed and be inside the tournament room in ten minutes.
Hotel Icaria Barcelona
If you're traveling on a budget, Hotel Icaria Barcelona is a great option. About a ten-minute walk from the casino, the hotel's rooms are on the small side but comfortable, modern and complete with plasma TVs. Many rooms overlook the shimmering outdoor pool where a lively cocktail scene breaks out as the sun begins to sink over the mountains. Guests at the Icaria enjoy free wi-fi, access to a fitness facility, and 24-hour room service that is a must for every traveling poker player.
Rent a flat
If you're planning on spending a few extra days in Barcelona either before or after the tournament, a great option to consider is renting your own flat for the duration of your stay. There are dozens of vacation rental companies to choose from in Barcelona; we recommend Inside-BCN, which rents out two buildings in the historic El Born area adjacent to the Barri Gotic and either a 20-minute walk or a short subway ride to the Casino Barcelona. This option is also cheap, cheap, cheap-- rentals start at only €85 a night.
Getting around
The best way to enjoy Barcelona is on foot, though if you'd prefer a set of wheels, try renting a bike. Red and black community Bicing stations (where you can rent a bike) are scattered across the city. There's even one right outside the Hotel Arts. Taxis are plentiful and cheap, though the cab lines outside the casino can get rather lengthy on the weekends when the bars along Port Olimpic let out. For longer distances, get on the Barcelona Metro, the city's modern, easy-to-use subway system.
The Local Cuisine
If you're looking to grab a quick bite on your dinner break from the tournament, the easiest option is to head across the street to Port Olimpic and pick up some sustenance from one of the fast food stands or casual restaurants there. Food options vary from seafood to pizza to traditional paella. If you have a little more time on your hands or happen to bust out early, check out any of these places in and around the El Born area.
Pla
Located in a tiny alley in the Barri Gotic, Pla is a little difficult to find, but it's well worth the effort. Warm and inviting with aubergine walls, glowing chandeliers and terra-cotta tile floors, the food is sublime Catalan cuisine with the occasional Middle Eastern or Asian influence. Go for the beef carpaccio with pickled mushrooms and truffle oil and follow it up with some superb roast lamb, or order the tasting menu for a little bit of everything.
La Luna
Reasonably priced while maintaining an elegant air, La Luna is not only a great place to grab a drink, but they have a fantastic menu featuring fresh salads, tapas, and modern Catalan cuisine. Go for the solomillo de ternera con foie gras y pure de patatas con mostaz a (filet steak with foie gras and mustard mashed potatoes) and we promise you won't be disappointed.
Comerc 24
Carles Abellan's outpost in El Born specializes in upscale tapas and has a menu that changes daily, depending on what foods are in season. Not one to only stick with Catalan cuisine, Abella incorporates Asian, Itialian, and even American flavors into his dishes. There's also no shortage of fine wine available here, and the staff is extremely helpful when it comes to selecting a pairing.
The (Late) Night Life
It's quite common to walk into a hot nightspot in Barcelona at 10 p.m. and find it completely empty or even yet to open. Things don't really get going in this city until after midnight, and the party is still in full swing come 6 a.m.
London Bar
Start your night off at one of Barcelona's oldest watering holes, the 94-year old London Bar, a pub where Dali, Picasso and Hemingway used to enjoy more than a few cocktails back in the day. Located right off La Rambla, glass of the local brew (Estrella) will only run you €3. There is also live music every night in the back of the bar.
Zahara
Located right on the beach in the Barceloneta area (only a 15-minute walk from the casino), Zahara is a breezy venue with an outdoor terrace that is perfect for cooling down after a day on the sand. Sit inside on one of the funky couches and enjoy the mellow house music or take advantage of the glorious views from the terrace and sip a to-die-for mojito while getting in some people-watching.
CDLC
If clubbing is more your thing, Port Olimpic has plenty of them, all a stone's throw from the casino. While most recall a spring-break scene straight out of MTV's The Real World, the Carpe Diem Lounge Club (CDLC) is a more upscale alternative. Enjoy the "untz untz" powering out of the speakers, relax on one of the white beds that surround the dance floor and channel P. Diddy as you sip Dom Perignon.
Can't-Miss Sightseeing
If you only have a few hours and want to get in some culture, hop on the Metro and take a ride to the Eixample district to lay eyes on Barcelona's most emblematic piece of architecture, Gaudi's unfinished masterpiece, the Sagrada Familia. The ornate, breathtaking church has been under construction for going on 200 years and is still a good 30 years away from completion. To get your Gaudi on even more, head up to the Gracia district and spend an afternoon exploring the Gaudi-designed Parc Guell, which was most recently featured in the Woody Allen film Vicky Cristina Barcelona. Don't get on the plane home without experiencing the sights and sounds of the Barri Gotic, Barcelona's "old city" or taking a walk up La Rambla, a mile-long stretch of shops, stalls, outdoor performances, and sidewalk cafes.
Want to win your own seat to the EPT Barcelona? Open an account at PokerStars today.