PokerStars.com EPT Grand Final: Pieter de Korver Stages Comeback, Takes Title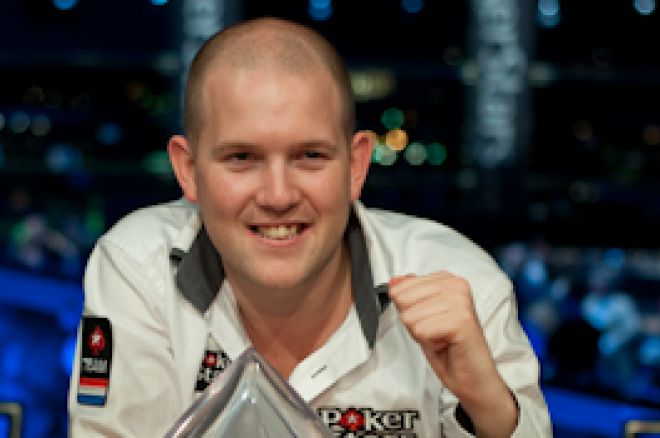 After battling back from near elimination, then surviving a heads-up battle versus American Matthew Woodward, Pieter de Korver of Holland emerged early Sunday evening as the champion of the PokerStars.com European Poker Tour (EPT) Season 5 Grand Final in Monte Carlo, earning €2,300,000 for his efforts.
When the eight-handed final table began in the early afternoon on Sunday, Norwegian Dag Martin Mikkelsen enjoyed a healthy chip lead with more than 7.3 million, about three million ahead of his nearest foes, Woodward and Hungarian Peter Trapley. poker players held steady for the first few orbits, with most hands ending with preflop raises. Then came a monster of a hand between Trapley and Mikkelsen.
With the blinds 50,000/100,000 and antes 10,000, Woodward opened for 250,000 from middle position, and Mikkelsen reraised to 625,000 behind. Then Trapley shoved all in from the button for his whole stack, about 4.25 million. Woodward got out, but the chip leader Mikkelsen decided to make the call, showing
to Trapley's
. The board ran out
, and suddenly Trapley was out the door in eighth. Meanwhile, Mikkelsen was pushing the 12-million mark in chips.
About a dozen hands later, Daniel Zink of Germany, one of the short stacks when play began on Sunday, raised to 235,000 from the button, and Mikkelsen reraised to 700,000 from the big blind. Zink shoved, and Mikkelsen quickly called, tabling
. Zink would need help with his
. The flop brought a king, making life even more difficult for Zink. A jack on the turn helped, but the
on the river sealed it, and Zink was out in seventh.
At that point Mikkelsen, with over 15 million, had over half of the chips at the table. However, it would be Russian Mikhail Tulchinskiy who would start getting active, knocking out the next two players on successive hands.
In the first, Tulchinskiy open-raised, a short-stacked Alem Shah of Germany pushed all in, and Tulchinskiy called. Shah showed
, and Tulchinskiy
. The board came
, and Shah exited in sixth.
Tulchinskiy was open-raising again the next hand, and this time Eric Qu was the one reraising all in behind him. Tulchinskiy called, showing
, and once more was in a good spot versus Qu's
. The flop came jack-high, then the
on the turn appeared to give Qu life. But the
on the river gave the advantange back to Tulchinskiy, and Qu hit the rail in fifth.
With four players left, Mikkelsen still had a commanding lead with over 15 million, followed by Tulchinskiy (7.81 million), Woodward (3.995 million), and a severely short-stacked de Korver (905,000). De Korver began pushing all in immediately, and the third time got a caller in Tulchinskiy. De Korver's
outlasted Tulchinskiy's
, and de Korver had moved out of the danger zone, having doubled up over two million.
Woodward's stack soon began to slide, and then he was the one all in against de Korver with
against de Korver's pocket nines. Woodward would manage to river Broadway, however, knocking de Korver back down under 400,000. But the Dutchman again managed to battle back, first by tripling through Woodward and Mikkelsen, then doubling up through Mikkelsen a total of three times over the course of just ten hands. On the third one, Mikkelsen had raised to 380,000, de Korver pushed all in from the small blind, and Mikkelsen called, going to battle with
against de Korver's
. The flop came
, giving de Korver two pair, though giving Mikkelsen straight outs. But the turn was the
and the river the
, and suddenly de Korver was right back in contention.
Mikkelsen's bad fortune continued, and he had lost most of his stack by the time he found himself all in for about 360,000 against both Tulchinskiy and de Korver. The checked-down board came
, and de Korver's
meant he was better than Tulchinskiy's
or Mikkelsen's
. After appearing to have had the table in his control, Mikkelsen was out in fourth.
About a half-hour later, Woodward raised to 475,000, Tulchinskiy reraised to 1.2 million from the big blind, then after some deliberation Woodward moved all in for 7.81 million total. Tulchinskiy didn't like it, but called anyway, showing
. Woodward turned over
. The board came
, and Woodward's treys had held up, knocking Tulchinskiy out in third.
Woodward and de Korver then took their dinner break, after which they began heads-up play with de Korver holding a 15.27 million to 12.755 million chip advantage over Woodward. The pair would ultimately battle for 45 hands, with de Korver gradually building on his lead throughout the 75 minutes or so it took to decide it.
Finally, down to about seven million to de Korver's 20-plus million, Woodward raised to 750,000 from the small blind/button and de Korver called. The flop came all hearts —
. De Korver checked, Woodward again bet 750,000, and de Korver check-raised all in. Woodward thought a bit, then called, showing
for middle pair and a small flush draw. De Korver had middle pair, too, but his
meant his kicker was best. The turn was the
and the river the
, and de Korver was the champion.
Here are the final-table payouts for the 2009 PokerStars.com EPT Season 5 Grand Final from Monte Carlo:
1. Pieter de Korver (Holland) — €2,300,000
2. Matthew Woodward (USA) — €1,300,000
3. Mikhail Tulchinskiy (Russia) — €800,000
4. Dag Martin Mikkelsen (Norway) — €600,000
5. Eric Qu (France) — €470,000
6. Alem Shah (Germany) — €350,000
7. Daniel Zink (Germany) — €250,000
8. Peter Traply (Hungary) — €170,000