Rousso Rolls in PokerStars.com EPT Monte Carlo High Roller Championship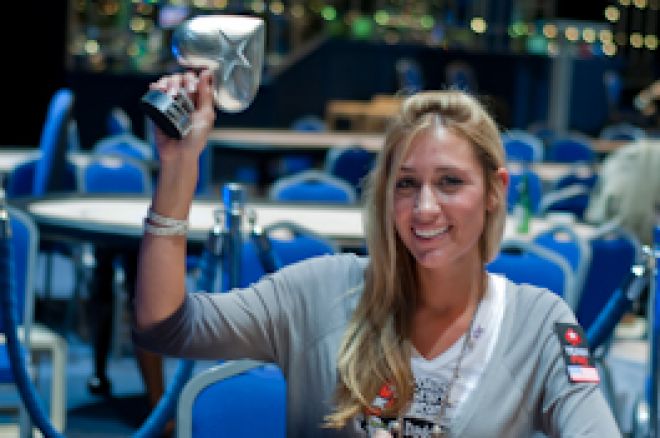 Fresh from her runner-up finish in the NBC National Heads-Up Poker Championship in March, Vanessa Rousso continued her winning ways on Sunday, defeating fellow American Randy Dorfman heads up to win the PokerStars.com European Poker Tour (EPT) Monte Carlo High Roller Championship. Rousso outlasted 78 other competitors to claim the €720,000 first prize in this €25,000 buy-in event.
It took only two hands for the fireworks to begin at Sunday's final table. Dorfman, sitting in third place with just under 500,000, put in a preflop raise to 32,000, and David Steicke, a little shy of 350,000, reraised behind him to 92,000. It folded back to Dorfman who promptly moved all in, and Steicke just as promptly called, showing
to Dorfman's
. The flop was safe for Steicke —
— but the
popped out on the turn, leaving him hoping for the case king. The river was the
, and Steicke was out in eighth.
The next elimination came just 15 minutes later. Tony G, in second place when poker play began on Sunday, raised to 40,000, and a short-stacked Andrew Feldman pushed all in for 160,000. Tony G called, turning over
. Feldman showed
. The flop came
, giving Tony G the set, and the
on the turn meant Feldman was drawing dead. Not a half hour into the day, just six players remained.
Shortly after that hand, William Thorson, the table's short stack when play began on Sunday, found a hand and pushed all in. The table folded to Dorfman, who reraised all in over the top, then David Eldar, covered by Dorfman, called with the rest of his chips as well. Thorson showed
, Dorfman
, and Eldar
.
The flop came
, and Eldar was sitting pretty with his set of queens and both of his opponents drawing thin. The turn was the
, providing Thorson and Dorfman some outs to a chop, and Dorfman the spade flush draw. Then the river brought the
, giving Dorfman his flush and knocking out both Thorson and Eldar. As Eldar had more chips when the hand began, he finished fifth, while Thorson ended in sixth place.
With all of that action, Dorfman had assumed the chip lead with about 1.2 million, Florian Langmann was next with 1.1 million, and Tony G was close behind with 900,000. Meanwhile, Rousso, who had begun the day with a sizable advantage over the field, had slipped behind the others with 810,000.
Both Langmann and Rousso would subsequently lose some chips, with Rousso falling to 600,000 and Langmann down to about half of that. Then came a hand in which Langmann open-raised to 43,000 from the button and Rousso called from the big blind. The flop came
, prompting Rousso quickly to push all in. Langmann thought a moment, then called. Rousso turned over
for sevens and treys, while Langmann showed
. Rousso's hand held up, and Langmann was out in fourth place.
The remaining trio of players would push back and forth for the next few levels, with each taking turns assuming the chip lead. At one point the chip counts between the three drew all but even, and the three agreed to an equal chop, with €420,000 for each player and €150,000 set aside for the winner.
Following the deal, Dorfman finally began to edge out ahead of the other two, with Tony G falling behind. After nearly five hours, they'd reached the dinner break, at which point Dorfman had 1.88 million of the chips, Rousso 1.53 million, and Tony G 560,000.
Soon after the players returned, Dorfman raised, Tony G pushed over the top all in with
, and Dorfman called with
. The flop came
, and all was still well for Tony G. But the turn brought the
, leaving Tony G looking for an ace to save him. The river was the
, and Tony G exited in third place, leaving the two Americans, Dorfman and Rousso, to battle it out for the title.
When heads-up play began, Dorfman had the edge with 2.4 million to Rousso's 1.8 million. Dorfman quickly built on his advantage, and soon Rousso was down to about 700,000. After an hour of small fluctuations up and down, Rousso's stack was sitting at less than half a million when it all went in the middle on a board of
. Rousso had
for two pair, while Dorfman had
for a pair of queens. The river was the
, and Rousso had doubled up.
Rousso would double up again after another hand in which she flopped two pair, thereby pulling close to even with Dorfman. A badly-timed bluff by Dorfman shortly thereafter then gave the chip advantage to Rousso. With the board showing
, Dorfman check-raised all in with
only to be called by Rousso who held
, meaning Dorfman had no outs whatsoever with a card to come. That hand pushed Rousso near the three-million mark.
The pair would battle for another half-hour, with Rousso maintaining her large lead. Then came a hand in which both players checked a flop of
. The turn was the
, Rousso bet 150,000, and Dorfman called. The river was the
, and that was enough for Dorfman to move all in. Dorfman showed
for two pair, but Rousso had
for the turned straight. About 11 hours after it had begun, the PokerStars.com EPT High Rollers Championship had its winner.
Only the eight players who survived the original field of 79 to make the final table cashed in this event. Here's what they earned:
*1. Vanessa Rousso (USA) — €570,000
*2. Randy Dorfman (USA) — €420,000
*3. Tony G (Lithuania) — €420,000
4. Florian Langmann (Germany) — €188,000
5. David Eldar (Australia) — €138,000
6. William Thorson (Sweden) — €99,000
7. Andrew Feldman (England) — €79,000
8. David Steicke (Australia) — €60,000
* — three-way chop for remaining prize money, €150,000 for eventual winner