Playlist 1: Start of Tournament, Bubble Play and Finale Table Stage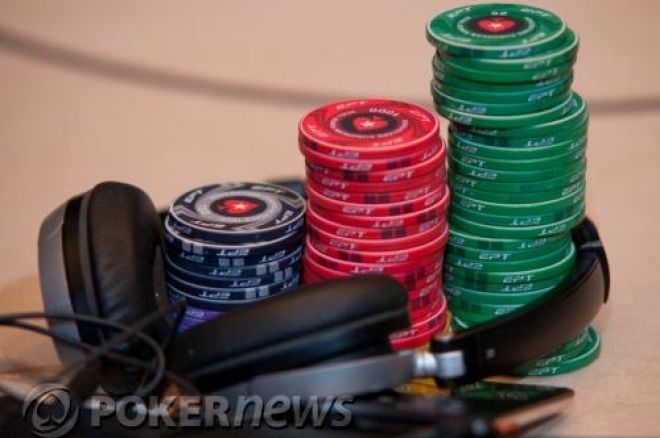 For both serious, and casual online poker players, Sundays are (hopefully) a long grind. For those who don't want to play in a meditative state, music can be the perfect middle ground between total silence and the distraction of television. Don't know what to listen to? Let us take care of that. The following playlists are broken down into the three stages of tournament play - the start of a tournament, the bubble, and the final table. So go ahead, fire up those speakers and let us help you through the day.
Start of tournament
The multi-table tournament grind is a tough one on the best of days. If things go well, you could find yourself sitting in front of your computer or at a poker table for more than twelve hours. Getting started on the right mental track is critical and these songs will help you settle in for a long ride. The songs in this playlist change as much as a stack of chips during a tournament and they will prepare you for not being comfortable in one situation for too long.
Modest Mouse – "Dramamine"
Refused – "New Noise"
F*cked Up – "Son the Father"
Ween – "Tick"
Bloc Party – "Helicopter"
Arcade Fire – "Rebellion" (lies)
Black Mountain – "Tyrants"
Chad VanGaalen – "Poisonous Heads"
The Constantines – "Do What You Can Do"
Girl Talk – "What It's All About"
Bubble Play
By this point you should be exploiting the weaker players at your table and stealing blinds from those hoping to min-cash. The first few songs on this playlist are to remind you that some people play a little too tight on the bubble. Ninja Gun's "Security" offers the line "Every one that you hold ain't the one that you wanted, and the one that you need just walked out the door." It may not have been written with a tight bubble player in mind, but it sure reminds us that they exist. The rest of these songs aim to stir up ambition and confidence - just what you need to break the bubble and reach the final table.
Ninja Gun - "Security"
The Loved Ones - "Distracted"
The Gaslight Anthem - "Great Expectations"
Classified "Get Out The Way"
Jay-Z - "What More Can I Say"
M.O.P. - "Ante Up"
Kidz In The Hall featuring Masta Ace - "Drivin Down the Block (Low End Theory)"
Lil' Wayne - "A Milli"
Talib Kweli - "Get By"
Wu-Tang Clan - "C.R.E.A.M."
Final Table
Once you've reached the final table, there's nothing wrong with a little celebration. That's where Teenage Bottlerocket comes in. The band is the 21st century's answer to The Ramones, and they're experts at writing short, infectious and fun songs. Although you an celebrate for a little bit, keep in mind the final table is also a time to focus. You don't want anything too challenging. These songs are here to make you feel comfortable. They can easily fall into background music or provide you with some great listening between hands.
Teenage Bottlerocket - "Gave You My Heart"
The Chemical Brothers feat. Q-Tip "Galvanize"
Althea & Donna - "Uptown Top Ranking"
Cut Copy - "Unforgettable Season"
The Dears - "Money Babies"
Joe Strummer & The Mescaleros - "Johnny Appleseed"
Bruce Springesteen - "Hungry Heart"
Joel Plaskett Emergency - "Extraordinary"
Jurassic 5 - "What's Golden"
Peter Bjorn And John - "Young Folks"
With any luck this Sunday finds you a few dollars richer. Check back each Sunday as we bring you fresh playlists to get you through poker's toughest day of the week. Don't forget to follow us on twitter here, and be sure to sign up for your very own account at Blogs.Pokernews.com.