World Poker Tour Merit Cyprus Classic Day 5: Jazzar Heads Final Table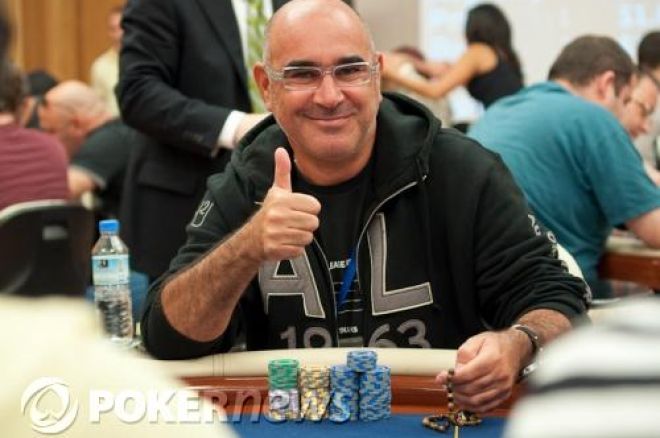 Everyone in the room for Day 5 of the 2009 World Poker Tour Merit Cyprus Classic knew it was going to be a short day. Only four eliminations were needed to reduce the field from the ten players who entered the day to the six that would make the televised final table. Yet no one could have predicted that Day-4 overnight chip leader Rep Porter would lose a third of his stack in two-and-a-half levels to finish third in chip position or that the only three players at the table with previous WPT final-table experience, Layne Flack (#2), Nenad Medic (#3) and Jonathan Little (#4), would be among the ranks of the eliminated. By the time Huck Seed was eliminated in 7th place, it was two local players, Rony Jazzar (1,796,000) and Uri Keidar (1,753,000) who were at the top of the counts.
Play for the first hour of the day was exceedingly tight. It seemed as though all the players were aware that only four eliminations were needed to end the day and set the TV table. Flops were uncommon, and hands that did take flops had very little post-flop betting action. It wasn't until the second level of the day that stacks started to move. Flack made a bold preflop call with pocket threes after Keidar moved all-in with ace-king but lost when both a king and an ace hit the board. Losing that 800,000-chip pot left Flack as the shortest stack at the table. He declared himself all-in a few hands later "for the first time in four days." It was a bad time for this to happen because Steven Fung woke up with pocket queens in the big blind and knocked Flack out of the tournament in 10th place.
The day wasn't any better for Medic. He started play as the short stack and never managed to increase his count. Down to less than 200,000 chips, Medic opened for a raise to 55,000 and then called all-in after Keidar reraised him. Keidar had ace-king a second time; Medic showed down ace-seven. A king on the flop was enough to all but end the hand and Medic reported to the rail as the 9th-place finisher.
From that point, Jonathan Little took up the "run-bad" torch. It seemed that Little was only able to win the small pots while losing all of the big ones. Once again it was Keidar doing most of the damage. He tagged Little for more than half a million chips by turning a nut flush and inducing Little to pay off his river bet. That left Little as the new short stack, an honor he held for about 30 minutes before moving all-in preflop with king-nine and running into Thomas Bichon's ace-queen. Little never improved his hand and was eliminated in 8th place.
Of course, the day wasn't only about eliminations. Rony Jazzar played pocket jacks to perfection against Porter after Porter flopped top pair of tens. Jazzar moved all-in on the turn, a bet that may have looked suspicious to Porter after watching Jazzar do something similar earlier in the day against Flack on what turned out to be a bluff that Flack didn't call. Porter wound up doubling up Jazzar from 650,000 to 1.3 million. Jazzar then used his new-found stack to steal pots on a regular basis.
Thomas Bichon also managed to double up late in the day, which eventually proved to be the undoing of Seed. Bichon moved in as the short stack with king-queen, and Seed moved in behind him for twice as many chips with ace-king but lost the pot when a queen flopped. That hand left Seed as the new short stack. Twenty minutes later, he and Bichon were at it again, with Bichon taking king-queen to a showdown for the second time. Seed was once again in the lead, this time with ace-jack, but again lost the pot when a queen flopped.
With Seed's elimination in 7th place, play was halted for the day. Tomorrow, the remaining six players will return to play down to a champion. Here's how they'll be arrayed around the table:
Seat 1 – Thomas Bichon (1,079,000)
Seat 2 – Steve Fung (732,000)
Seat 3 – Uri Keidar (1,753,000)
Seat 4 – Rony Jazzar (1,796,000)
Seat 5 – Janar Kiivramees (727,000)
Seat 6 – Rep Porter (1,115,000)
When play resumes at 12:00 p.m. local time (GMT+3), there will be 12 minutes left in Level 20 (12,000 / 24,000 / 3,000).
Visit our comprehensive live reporting pages for all the updates as they happen, or follow us on Twitter.