PokerNews Op/Ed: You Play to Win the Game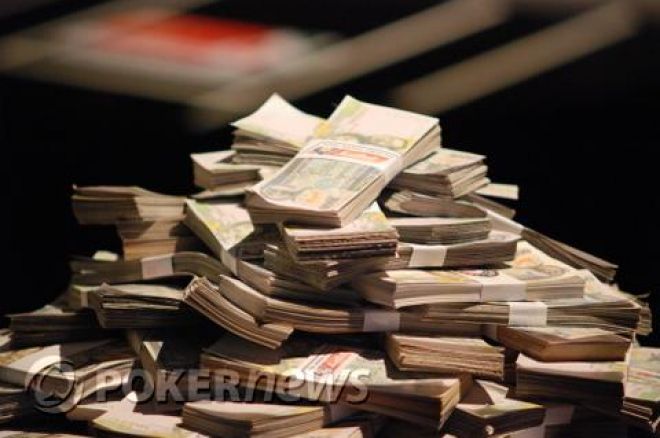 Herman Edwards, during his tenure as head coach of the New York Jets, uttered a phrase that has become synonymous with his name: "You play to win the game."
Veteran sports writers shrugged off Edwards' statement during a press conference in 2002 after his team suffered a dismal loss. However, many football players and individuals outside of sports took his sincere words to heart. Although simplistic in nature, Edwards' Zen-like mantra is a powerful reminder of the ultimate goal in any competition.
You play to win the game.
Michael Jordan epitomized Edwards' philosophy over the course of his astounding career in the NBA. Jordan is revered as the greatest basketball player of all time because he combined his physical skills, his mental toughness, his leadership ability, and his desire to win into a successful formula. The result? One college championship, six professional championships, and two Olympic gold medals, not to mention personal accolades too numerous to list. Last weekend, Jordan was elected into the Basketball Hall of Fame. During his acceptance speech, both his fans and peers were allowed to glimpse inside the head of one of the most successful athletes of all time. Jordan eloquently spoke about how his parents and siblings were the motivating factors in his development as a premier athlete.
"The fire (in me) started with my parents. As I moved on with my career, people added wood to that fire," explained Jordan.
One of the most pivotal moments in Jordan's life occurred in high school when he was the last player cut from the junior varsity basketball team. The coach's decision infuriated Jordan. He channeled his irate energy into improving his basketball skills. He embarked on a quest to prove to everyone that he deserved to make the team. Jordan extended an invitation to the Hall of Fame ceremonies to Leroy Smith, the player who beat him out for the last position on his junior varsity squad. Instead of playing the victim and wrapping himself in a wet blanket of self-loathing, Jordan seized responsibility for his failure.
Over his career, Jordan was driven to prove his critics wrong whenever they doubted or questioned him. He was fueled by the slightest hint of opposition from coaches, teammates, opponents, the media, or the owners of his team. His skills, coupled with a relentless desire, determination, and discipline, propelled him to the highest echelon of success.
Jordan was not satisfied with being good. He strived to become the best. That philosophy is not limited to professional basketball and often comes to the forefront of poker. I often wonder about the reasons why people play poker, because as we know, in tournament poker, everybody except one player goes home a loser. What are their motivations? How do they handle their failures? As the saying goes, "Second place is just an award for first loser."
Not every pro can handle the psychological fallout from losing. Very few can gut out a grueling bombardment of bad beats during a losing streak. How many flashes in the pan came out of nowhere, ran up a fat bankroll, went on a cold streak, and were never heard from again?
When superstars like Michael Jordan lose, they are motivated to want to win even more; however, for the rest of the masses, losing makes them want to quit.
Over the last five years, I've covered poker tournaments all over the world and observed players and pros from all walks of life. Only a handful of players have deft skills and cutthroat determination to consistently win. Phil Ivey comes to mind. He always had the skill, but he needed the financial incentive in the form of prop bets to motivate him to win multiple World Series of Poker events this summer. He elevated his game and won two bracelets, not to mention millions of dollars in prop bets. Ivey's rush spilled over into the Main Event resulting in a November Nine appearance.
Even though Ivey is not the final-table chip leader, he's my favorite to take down the Main Event. The majority of the November Nine players lack Ivey's experience and proficiency, and I don't think anyone can match his solid emotional foundation and his relentless desire to win.
Successful players generate the majority of their income from fleecing bankrolls from inferior players. That's how they are able drive luxury cars, live in upscale neighborhoods, and afford to send their kids to private school. They also take advantage of so-called pros who lack self-awareness and cannot simply answer the question, "Why do you play poker?"
The poker world is infested with herds of mediocre pros who will never advance beyond their current status because they lack the desire to continuously improve themselves. Sometimes when players reach a level of success, they become complacent with their poker educations because of their exploding egos or because they are just lazy.
The game is constantly evolving. So much has changed in the last two years, let alone the last 20. A new wave of bloodthirsty players enters the market every day and are not showing up at the tables with Super System as their only educational base. The Internet is a breeding ground for young talent in North America and Europe while poker thrives in several emerging international markets in Asia, Eastern Europe, and Latin America. Players are incorporating life skills at the tables whether they come from a background in backgammon, chess, or derivatives trading.
The most successful pros over the last couple of years were the ones who could adapt to the new generation of online players. That's what separated legends from dinosaurs. The legends gobbled up dead money and were hoisted onto pedestals while the dinosaurs employed their antiquated strategies and quickly found themselves extinct.
The poker boom ushered in thousands of new enthusiasts, but it also attracted a wave of fame whores who used the poker scene to facilitate their desire to be liked. Hollywood rejects and D-list celebrities who couldn't even get a callback for a dog food commercial, were all of a sudden walking the red carpet at poker events and gracing the covers of poker magazines. Amateur players seeking their own "15 minutes of fame" swarmed the poker scene in an attempt to become the next media darling. Having a shtick or a big rack will get them exposure on televised poker shows, but those gimmicks will only take them so far before their bankrolls dry up or their sponsors drop them for poor results. The sharks feast on those poseurs blinded by the glitzy side of poker.
It seems obvious that "playing to win" should be the driving force for why people play poker, but in reality it isn't. Some players are simply content with just getting by.
"Show me someone who is comfortable in poker, and I'll show you a loser," said Brian "Flawless_Victory" Roberts on a recent episode of Two Months, Two Million.
The "min-cashers" of the poker world aren't the ones drinking champagne in VIP booths at the Rhino, or writing books, or sharing their knowledge on instructional videos. Instead, they're grinding it out in satellites and hording buffet coupons. Only the strong survive in the poker world. That's why only a select few can truly make it to the big time.
As Herman Edwards explained, "You play to win the game. You don't play it to just play it. That's the great thing about sports: you play to win."
Read more of Dr. Pauly's work at TaoPoker.com, and follow us on twitter while you're at it.