Pokerstars Asia Pacific Poker Tour Auckland Day 2: Jason Brown Holds Massive Chip Lead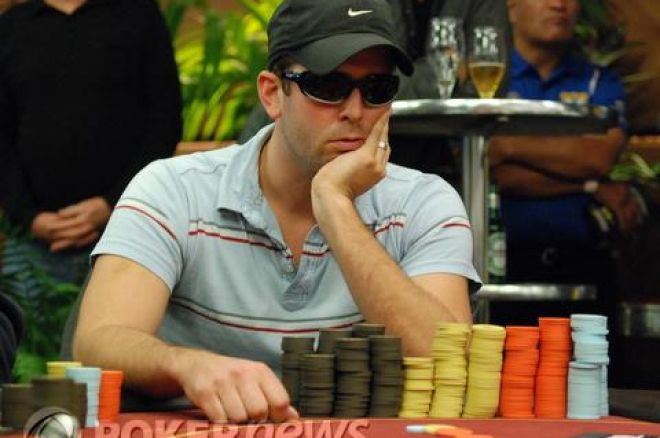 Day 2 of the PokerStars.net Asia Pacific Poker Tour Auckland Main Event has ground to a halt with only 32 players left, all of them in the money. The day began just after midday New Zealand time with 130 players returning from the two Day-1 flights to fight for the money — and fight they did.
Two headline stories came out of the session. The first was the utter capitulation of Emad Tahtouh who went from dominant chip leader to out-the-door in such an unbelievably short time that many folks on the rail and in the media were unaware of his departure for some time afterward.
Tahtouh had entered the day's play head and shoulders above the rest of the field at 162,900 chips. About halfway through the day, though, play suddenly turned south for the Australian pro.
Apparently, Tahtouh raised a limped pot to 10,000 from the big blind and play folded back to local Auckland player Jason Brown in the small blind who three-bet to 25,000. Tahtouh four-bet shoved and Brown quickly called and tabled pocket kings to have Tahtouh's pocket sixes in pain.
Brown flopped a set and hauled in 250,000 chips. One hand later, Tahtouh shoved with
on a king-high flop only to run into
. Tahtouh's elimination was stunning, but Jason Brown's late-day domination was also mighty impressive.
Brown took the chips that he won from Tahtouh and turned them into 632,000 by the time they were bagged and tagged. He was also involved in one of the more intriguing hands of the day after he made a huge call in an almost 500,000 chip pot.
Brown opened from middle position and got a call from Sean Wilson in the big blind. The flop came
and Wilson check-called a 20,000 chip bet from Brown. They proceeded to the turn
in which Wilson check-called a 50,000 chip bet from Brown.
The river was the
and Wilson moved all of his chips in with a busted flush draw on a massive bluff. Brown was not fooled, though, and made a great call to haul a massive pot with only the
for a measly two pair.
The oddity-of-the-day award went to Assadour and Eric Assadourian. This father and son combination have both made the money of this tournament. While Eric is a Team PokerStars Pro, his father is no slouch. It will be interesting to see whether they can make it a family affair on the final table.
Of course, while 32 players made the money, many had to fall before the bubble and some of the bigger-name players to be eliminated on Day 2 included Team PokerStars members Celina Lin, Grant Levy, and Tony Hachem, along with New Zealand's Graeme Putt and James Honeybone, and American Poker player and writer Dennis Waterman. PokerNews' own Garry Gates also fell by the wayside on Day 2.
Tomorrow will see 32 players return, all guaranteed at least $5,523 NZD. They will play down to a final table from just after midday (GMT+13). As always, you can follow all the updates live on PokerNews.
Follow us on Twitter for up-to-the-minute news, and also become our fan on Facebook.