PokerStars.net Asia Pacific Poker Tour Macau Day 4: Dermot Blain Wins the Main Event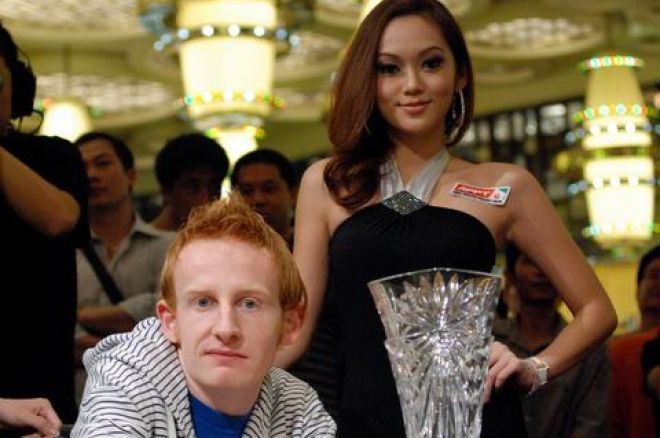 Just another Sunday in Macau didn't just mean a visit to a spa or sauna, or even some friendly gambling at one of the many casinos –- instead it meant completion of both the PokerStars.net APPT Macau Main and High Rollers Event!
Main Event
Nine players returned today to see who would sit atop the 429 original starters and take home the coveted trophy: title of champion and the $541,089 US first prize.
Stefan Hjorthall was first to go when he was unable to win a race holding
to fellow Swede Pontus Kers'
when both an ace and a queen dropped. American Brandon Demes fell next when he was unable to outdraw Dermot Blain's
with
after all the money went in preflop.
Blain would continue his final table onslaught when his
managed to find an ace on the flop against Dbinder Singh's
, which saw the Canadian fall in seventh. Jicheng Su fell next when his
was dominated by Daoxing Chen's
.
After relinquishing a chunk of chips to Blain with just ace-high, Darkhan Botabayev managed to snatch some of them back when he eliminated Kers holding
to the Swede's
. After all the money went in preflop, Botabayev caught a nine on the flop and when Kers was unable to find a king or running spades, he hit the rail in fifth place turning a $20 rebuy satellite on PokerStars into more than $114,000!
Chen started to chip up and eventually overtook the lead, but the quiet Mike Kim found a nice double-up to put him back in contention when Chen made a rather interesting fold that may have cost him the tournament.
After raising to 125,000 from the button, Chen called a 250,000 re-raise from Botabayev to see the
fall on the flop, and a 1,400,000 shove from Botabayev to follow. In his trademark fashion, Chen took his time and after six minutes eventually folded his
face up to the amazement of the onlookers and fellow players on the table. Botabayev would breath a sigh of relief when he knew he had just used his lifeline for the day after kindly tabling his
.
Unfortunately for Botabayev, he would be next to fall when his
failed to improve against his final table nemesis, Chen and his
, after three-betting all-in from the blinds. The crowd favorite, Chen was definitely an interesting character but unfortunately for those watching from both the final table stage and the poker room, Chen would depart in third after calling all-in for his tournament life on a
flop with
, only to be dominated by Blain's
. No queen would fall and Chen would exit in third to take both Kim and Blain into heads-up play.
With Kim having more than an eight-to-one disadvantage and only eleven big blinds at the time, he would commit the last of his chips preflop holding
to the dominating
of Blain.
The board ran out
to see the Asian poker pioneer finishing second in his first-ever live Asian poker tournament.
As for the Irish Blain, a mix of maturity, patience and aggression saw him stand alone holding the trophy high as he was crowned the Season 3 APPT Macau Main Event Champion and worthy recipient of a handy $541,089 prize.
1st – Dermot Blain ($541,089)
2nd – Mike Kim ($484,999)
3rd – Daoxing 'Boa Boa' Chen ($239,327)
4th – Darkhan Botabayev ($166,497)
5th – Pontus Kers ($114,464)
6th – Jicheng Su ($74,923)
7th – Dbinder Singh ($52,033)
8th – Brandon Demes ($41,621)
9th – Stefan Hjorthall ($31,222)
High Rollers Event
Twenty-five of the original 64 returned for day-two action in the PokerStars.net APPT Macau High Rollers Event and straight off the bat the action was faster then a poker player calling an all-in holding aces!
Nine players busted in just over a level with Team PokerStars Pro Lee Nelson being one of the casualties, along with Elton Tsang and Terrence Chan. Once two tables were made, JJ Liu exited thanks to a suck, re-suck out when her flopped set of threes were outdrawn by Grant Levy's turned set of kings. Yevgeniy Timoshenko went next after his squeeze went wrong and when Australian Michael Marvanek exited courtesy of Vladimir Geshkenbein's
we had arrived at our unofficial final table.
The bubble would last nearly 150 minutes with Grant Levy surging for most of it as long-time chip leader Geshkenbein began crumbling round the pressure. Eventually, however, it would be Jonathan 'xMONSTERxDONGx' Karamalikis who would take the unfortunate honours of bubble boy when his
was outdrawn by Geshkenbein's
on a board running out
.
Nicolas Wong fell first when he was unable to spike against Neil Arce's
holding
and was soon followed by Gap Young Kim who was unable to improve holding a pair of eights to Levy's
.
Fellow Korean In Wook Choi lasted less then six more minutes when his top pair was no match for Neil Arce's top two-pair as the Filipino snatched the chip lead from Levy. Arce's lead would be extended when a huge hand played out involving Levy and Geshkenbein.
Levy opened to 52,000 and Geshkenbein made the call before also calling 81,000 on the
flop. Levy checked the
on the turn to see Geshkenbein fire 150,000 at the pot before check-raising it to 300,000. A puzzled Geshkenbein made that call along with one for 340,000 when the river fell the
. Levy's
, although in the lead on the turn, was unable to best Geshkenbein's
who rivered a pair to see the momentum switch as Levy lost two thirds of his stack in the hand.
With the Main Event final table coming to an end, the remaining five players went on a quick break as the tournament relocated to the stage in the center of the Grand Lisboa gaming floor.
Danny Huynh found a double through fellow countryman Levy as the crowd begin to shuffle in -– including Team PokerStars Pro's Emad Tahtouh, Lee Nelson and Joe Hachem – only to see Geshkenbein increase his lead courtesy of Levy's elimination. Levy held
to Gershkenbein's
, and after all the money went in preflop, the board would run out
to see Levy hit a runner-runner flush eliminating his opponent in fifth place.
Huynh would fall next when his dominating
would be rivered by Neil Arce's
when the board completed a straight for Arce, but his chips wouldn't stay too long with him as his top pair was no match for Geshkenbein's flopped set of threes.
For the 1987-88 World Champion Johnny Chan, heads-up play with a four-to-one disadvantage was not going to be easy, but his experience saw him slowly draw some chips his way.
However, Geshkenbein's aggression would prove too much as Chan eventually fell when he committed the last of his chips on a board of
holding
only to be dominated by Geshkenbein's
. The turn card was the
and the
on the river would see Chan knocked out in second place, and Geshkenbein being crowned champion of the Season 3 APPT Macau High Rollers Event winning US $266,690.
1st – Vladimir Geshkenbein ($266,690)
2nd – Johnny Chan ($154,400)
3rd – Neil Arce ($84,218)
4th – Danny Huynh ($63,164)
5th – Grant 'grunter' Levy ($49,127)
6th – In Wook Choi ($35,091)
7th – Gap Young Kim ($28,073)
8th – Nicolas Wong ($21,055)
The next stop of the PokerStars.net APPT will be in Auckland, New Zealand, from October 14 through 18 with the NZ $3,250 (US $2,100) APPT Auckland Main Event being featured in the SkyCity Festival of Poker.
For more details of this event, consult the APPT website, or to earn your seat today, log on to PokerStars and play any number of different satellites to have a chance and capturing your piece of APPT glory!