UltimateBet.com Aruba Poker Classic: Brandon Hall Wins!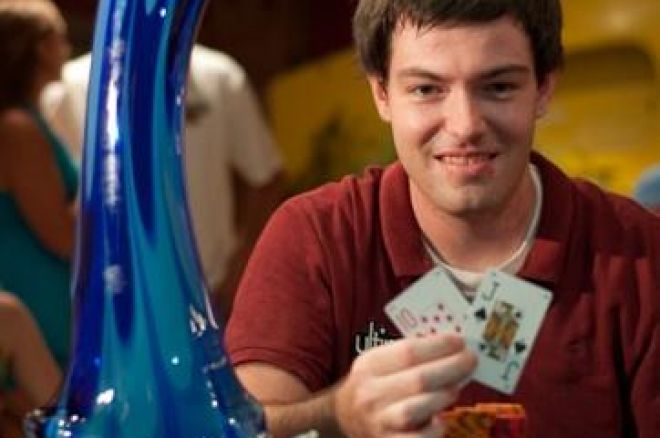 The final table of the 2009 UltimateBet Aruba Poker Classic was scheduled to begin at noon local time, but Mother Nature was trying to rain on everyone's parade. Tournament director Matt Savage and company weren't going to let a little rain hold up the show and after the venue was moved to Gilligans, a restaurant with ocean views and a tent for protection from the rain, the cards were in the air. When the final card hit the felt, it was Brandon Hall who secured the victory.
Seating assignment and chip counts are as follows:
Seat 1: Chase Steely - 1,293,000
Seat 2: Jose Roberto Santos - 211,000
Seat 3: Brandon Hall - 442,000
Seat 4: Brock Parker - 1,241,000
Seat 5: Eric "basebaldy" Baldwin - 1,573,000
Seat 6: Robert Mizrachi - 1,977,000
Seat 7: Matt Ross - 301,000
Matt Ross was the first to bid adieu to the final table when he shoved his short stack in on the button and was called by Jose Santos in the big blind. Ross'
was no match for Santos'
and Ross walked away with $41,470 for his seventh-place finish.
Two-time World Series of Poker bracelet-winner Brock Parker was next to go, finishing in sixth place, which was good for $66,810. Parker's
could not outrace Eric Baldwin's
when Baldwin, from under the gun, made it 40,000 to play and the table once again passed around to the big blind. Parker announced a reraise and put out 125,000 chips. Baldwin then four-bet it up to 302,000 before Parker moved all-in for 1,103,000. Baldwin asked for a count as he debated his options.
"I'm probably gonna call," he said. "No slowroll. Just a big spot." When the stack was counted down, Baldwin made the call to put Parker at risk while putting the biggest pot of the tournament up for grabs. Parker's
found no help on the
board and he was sent packing.
Jose Santos took home $92,150 for fifth place when his opponent, Chase Steely, tabled
for a seven-high straight. Steely became the chip leader after that hand with over two million.
On break, the players discussed a chop. Baldwin, however, was not satisfied with the first numbers and after some more crunching, Robert Mizrachi and Baldwin couldn't come to terms on the second set. Just as the cards were about to be dealt, chop talk started again. The players were going to set aside $100,000 of the total $1,513,580 prize pool to play for and then each would get their chip equity share of the remaining prize pool.
In addition, Baldwin asked for a bit of extra cash to sweeten the deal for him and Steely offered to give up $11,000 with Mizrachi and Brandon Hall donating $5,500 apiece. After another five or ten minutes of debate, Baldwin called Matt Savage over and said, "Let's play."
"What's wrong? You don't like the deal?" Steely asked.
Baldwin's response was a simple one: "I've never made a deal in my life," and cards were in the air.
As fate would have it, Baldwin was next to go when his
was no match for Mizrachi's
on the
flop. The turn and river bricked out and Baldwin took home $126,710 for fourth place. Steely was eliminated by Mizachi in third place and for that he got a $218,860 consolation prize.
Mizrachi and Hall, the last two standing, decided to skip a level of play and begin with 40,000/80,000 with a 10,000 ante. They also agreed on a chop in which each player locked up second-place money for $414,680. After that, they took their chip percentage of the remaining prize pool and put up $30,000 each for the winner to take home.
Fifteen minutes later, 20-year-old Hall was victorious. In what was a raised pot, Hall checked to Mizrachi after the
flop. Mizrachi then fired a 225,000 bet and Hall came over the top with a raise that looked to be about 725,000. Mizrachi quickly moved all-in, Hall called, and before anyone knew it, the cards were on their backs:
Hall:

Mizrachi:
Fourth street delivered the knockout blow to Mizrachi when the dealer burned and turned the
giving Hall top pair. The river
blanked and Brandon Hall was declared the 2009 UltimateBet.net Aruba Poker Classic Champion!
If you need moving pictures to help satisfy your Aruba Poker Classic cravings check out the latest from TV.PokerNews.com.
Be sure to follow us on Twitter for up-to-the-minute news.