UltimateBet.com Aruba Poker Classic Day 1a: Hellmuth Survives the Day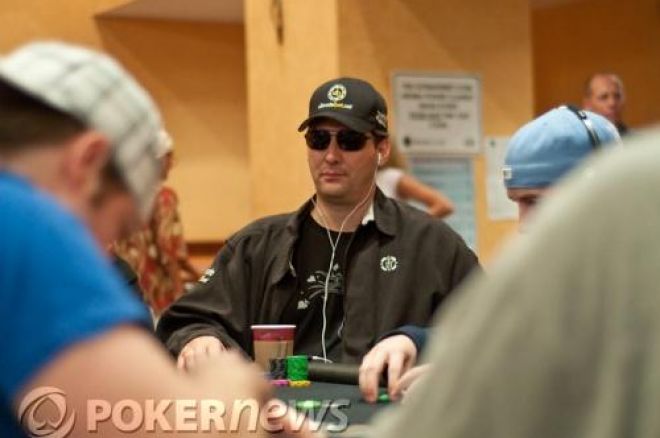 Moving from Big Ben to the beach, many regulars who travel the tournament circuit traded their city shoes and socks for beach sandals and sunscreen as they descended upon the Caribbean island of Aruba for the 2009 UltimateBet.com Aruba Poker Classic.
The event officially kicked off on Sunday night with a poolside welcome party hosted by Phil Hellmuth and company, featuring the comedy of Vegas-based funnyman Vinny Favorito, a slew of body-painted UB models, a synchronized swimming routine and an impromptu rap battle between "Poker Rapper" and special guest Jeff Madsen.
Many attendees stayed out well into the night, but 188 of the more dedicated poker players (or those less hangover-prone) took to the felt for Day 1a, held at the Radisson Aruba Resort, Casino & Spa.
UB pros Adam "Roothlus" Levy, "Hollywood Dave" Stann, Matt Graham, Anthrax guitarist Scott Ian, and the Poker Brat himself all chose to play Day 1a, though of that group only Levy (32,000), Ian (27,925) and Hellmuth (49,175) survived.
One hundred and eleven players remained when Tournament Director Matt Savage honked his bike horn (a real bike horn) signaling the end of play. Double bracelet-winner Brock "tsoprano" Parker (42,250), who goes by "Maria Nuccia" on UB, was among the big-name players who bagged chips at the end of the night as did fellow bracelet-winner Max Greenwood (39,825) and pros Jason Gray (13,125), James "MOOLOONZ" Honeybone (17,200) and Vinny Pahuja (44,700).
Nick "FU_15" Maimone, William Reynolds, Chris Klodnicki and Matt "lapozie" Lapossie are among the notable but less fortunate players who each hit the rail before day's end.
Top Ten Chip Counts
1. Jon Faualoro - 88,575
2. Ryan Caldwell - 74,475
3. Chase Steely - 73,525
4. Tristan Wade - 64,450
5. Gylbert Drolet - 59,375
6. Ryan Howard - 54,100
7. Kazuhito Oshima- 52,325
8. Jamie Armstrong - 52,175
9. Majd Ibrahim - 50,450
10. Phil Hellmuth - 49,175
PokerNews' coverage of the Aruba Poker Classic resumes tomorrow at 12:00 p.m. local time. Tournament organizers anticipate a Day 1b field of over 300 players so be sure to check in early and often for up-to-the-minute updates, chip counts and exclusive interviews direct from the tournament floor.
You can follow us on Twitter for up-to-the-minute news and also start prepping for next year's Aruba Poker Classic by signing up for an Ultimate Bet account now.