The PokerNews Jet Set: Foxwoods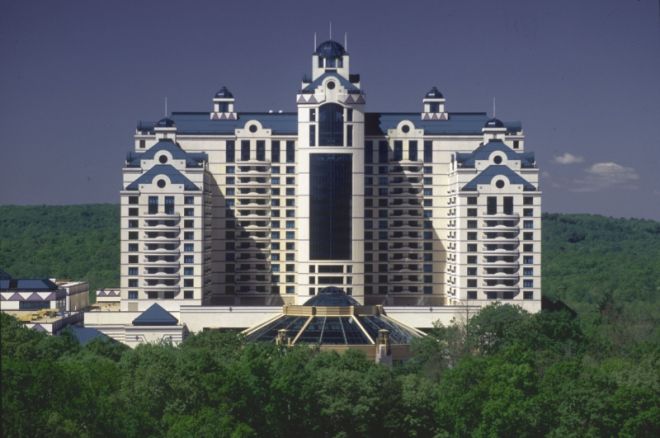 When most people think of poker on the East Coast, they think of Atlantic City first, but for those in the Northeast, Foxwoods Resort Casino is the place to be if you want to participate in top-flight tournament poker. Poker players flocked by the hundreds to Connecticut to get in on the $10,000 World Poker Tour Foxwoods Poker Finals, which started on Thursday. PokerNews has the lowdown for those of you who busted out and need something to do this weekend, or those who are spending the weekend at Foxwoods rooting for their favorite pros.
Foxwoods Resort Casino
Well-known for offering the largest poker room on the East Coast, Foxwoods has a little something for everyone. Featuring four hotels to choose from, Foxwoods offers players a chance to relax in lavish surroundings before heading to the tournament floor for some action. Take your pick of lodging venues that include the Grand Pequot Tower, the Great Cedar Hotel, the Two Trees Inn, and the stunning MGM Grand at Foxwoods. Considering that each hotel has its own theme, players should have no problem finding a room that suits their fancy.
Home Away From Home
Because of the sheer size of Foxwoods, it is easy to feel at home within the confines of the venue because there is everything from shopping to nightclubs, not to mention the monster poker room that offers 104 tables. If you feel like pampering yourself, a salon and spa will fit the bill, and a number of high-end clothing stores will help keep your look updated. If you want to blow off some steam, make sure to stop in at the Tree House Arcade so you can have some fun and maybe even win a goofy stuffed animal or a video game system.
Casino Tips
Don't get lost. No, seriously. Foxwoods offers a relaxed atmosphere that pretty much provides everything you need without you having to leave the property. Unlike other high-scale venues, Foxwoods has more of a come-as-you-are feel to it, which seems to fit poker players perfectly. Make sure to take advantage of all that this destination has to offer as it is basically a one-stop shop for gamblers who like to have fun.
Getting Your Grub On
With over 30 restaurants to choose from, Foxwoods is an epicure's delight. If the finer side of gourmet dining suits you, check out Al Dente for savory Italian dishes like Linguine Alla Vongole (Littleneck clams, white wine, garlic and parsley) or Zuppa Di Pesce (lobster, crab, shrimp, scallions, mussels, clams, spicy tomato broth and imported linguine). For American classics like organic roasted chicken breast or the house special two-and-a-half-pound Maine lobster dish, eat at Cedars. It you are a steak fan, David Burke Prime cooks up plenty of options including a big-eye rack of lamb and aged rib eye. If that's not enough, then visit Paragon, one of eight Connecticut restaurants to have earned the AAA Four Diamond Award for excellence, and sample one of the tasty dishes like the Ahi Tartar (lime, chili, sesame flavors, cucumbers, iceberg lettuce, tobiko and sudachi quark).
If you're a casual diner, California Pizza Kitchen has you-know-what. Crave a sandwich or a burger? Burke in the Box, Fifth Street Cafe and Fuddruckers offer varied menus. Want atmosphere with your meal? Consider Golden Dragon for Asian delicacies or the tried-and-true Hard Rock Cafe. If you favor local cuisine or lots of clam chowder, The Grill at Two Trees is for you. And for Mexican food, make it to the Scorpion Bar for burritos, tacos and nachos.
Things to Do Off the Felt
If you want to kick back and unwind after a hard day on the felt, the Center Bar is for you. Featuring a specialty drink menu that should satisfy the most finicky pallet, this open-air venue is perfect. Offering two private lounges next to the bars, this comfy getaway is perfect for those looking to go over the day's happening while imbibing.
If you are more into live concert, consider country star Toby Keith or legendary rocker Roger Daltrey of The Who when they visit to perform for Foxwood audiences. If clubbing is more your thing, DJ Crime and DJ Riz at Foxwoods' hottest night spot, Shrine, may be for you. Housed in the MGM Grand at Foxwoods, this critically acclaimed club offers satisfying sounds for those who want to dance the night away. Featuring bottle service for all of you high rollers, this club has several bars and 35 private VIP rooms for seclusion without you having to leave the club. With stars such as Diddy, Jenny McCarthy, NFL quarterback Matt Cassell and Carmen Electra having graced the dance floor, you never know who may be sitting next to you getting on their own groove.
Follow us on Twitter for up-to-the-minute news, and also become our fan on Facebook.