Weekend Survival Guide: Hotel 32, JAQK Wine, and the WPT Legends of Poker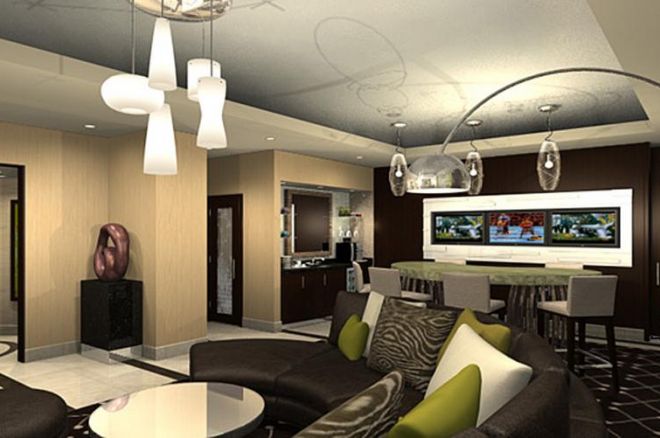 In honor of the impending weekend, PokerNews will be offering up a few things that'll allow you to spend some of that hard-earned bankroll, since nothing's better than working hard, but playing harder.
Go
For those that are heading to Sin City this weekend, consider booking a room at the Monte Carlo. Having debuted this past week, the casino's boutique 32nd floor, Hotel 32, offers a variety of penthouse suites between $800 and $1,600 per night. Featuring a monster 60'+ television, a pool table and several LCDs located throughout the suite, this might be a perfect spot to chill with your posse. Book it at Hotel32.com.
Like to eat? Make your way over to MGM Grand to try one of their fine dining bargains? Featuring prix fixed seasonal offerings from restaurants such as L'Atelier de Joel Robuchon, Craftsteak, Diego, Fiamma, Nobhill, Pearl, Seablue, Shibuya and the Wolfgang Puck Bar & Grill, there is bound to be at least one meal that will leave you wanting more. This promotion runs through August 30, 2009. Check out MGMgrand.com.
Golf fans should consider taking advantage of the Foxwoods golf package. Offering one night's lodging, 18 holes at the award-winning Lake of Isles North Course, unlimited use of the practice facility, a sleeve of Callaway golf balls, a $15 Foxwoods Food & Beverage voucher, a complimentary drink at Shrine or The Scorpion Bar and all applicable taxes and service charges (wow thats a lot of stuff), this package is perfect for those playing in the Foxwoods Mega Stack Challenge who need a break from the felt. For more information go to MGMatFoxwoods.com.
Buy
Energy drink enthusiasts have reason to cheer thanks to a new player in the marketplace. Despite being consumed by tons of poker players, energy drinks have avoided the poker market, but thanks to the Lacey Jones-endorsed Zizzazz, poker players finally have an energy drink that has both flavor and a powerful combination of caffeine and vitamins that will help keep them in the game. Fortunately for players that are overweight, out of shape, or horrible eaters (and we know that's not you), this energy drink mixture is combined with water, only so it appears that it is healthier than other energy drinks. A packet of Zizzazz will cost you a measly $2. Get yourself some Zizazz at Zizzazz.com.
For wine affcianados, consider getting a case of JAQK to satisfy your thirst. Co-founded by amateur poker player Katie Jain, this San Francisco based company (JAQK Cellars) is the official wine of the World Series of Poker. Although Jain may be an amatuer poker player, she is far from an amateur wine maker, having made high-end wines for leading labels such as Spring Mountian Vineyard, Cain Vineyard and Winery and Chappellet Vineyard. Offering eight types of wine, JAQK (pronounced "Jack") is looking to appeal to the finer tastes of WSOP fans. Order a case at JAQKcellars.com.
Sick of ruining your mouse and keyboard? The Wireless Poker Controller is compatible with the majority of online poker rooms and it offers players a chance to ruin it insetad. Featuring all the controls you need to play including an Anti-Tilt Lockout button, this sick toy just may be your new best friend. Learn more and buy one at PokerControls.com.
Watch
If you are a Quintin Tarantino fan, then Friday finally gives you reason to celebrate. The long-awaited Inglorious Basterds will finally debut on the silver screen. Starring Brad Pitt, as a leader of Jewish American soldiers that commit atrocities on members of the Nazi regime, this action flick has received pretty solid reviews from the international press, so it looks as though Tarantino has returned to his Pulp Fiction form. Avoid spending time in the ticket line by ordering tickets to the Inglorious Basterds via Fandango.com.
2 Months. 2 Million debuted last week and so far the response has been very positive. Sunday offers another episode as the guys do their best to hit their goal of $2 million in two months. To watch 2 Months. 2 Million, call your local provider to find out which channel is G4TV. Here's what we thought of last weeks episode.
If you're in Vegas, there are some sick concerts that might appeal to your musical tastes as polar opposites Marilyn Manson plays The Joint at the Hard Rock, Depeche Mode hits The Pearl at the Palms, and Boyz II Men seduces at Mandalay Bay. Tickets can be had at Ticketmaster.com.
Play
If you're on the East Coast, it looks as though Foxwoods is the place to be. They are offering a $150,000 guarantee for its Mega Stack Challenge. Featuring a $560 buy-in, this deep stack tournament should attract a number of the top players from the Northeast. Players start with 20,000 chips, and levels are 50 minutes long. For more information check out Foxwoods.com.
Randy Couture's Operation All In charity tournament at the Golden Nugget in Vegas on Saturday night and features a $330 buy-in with $100 re-buys. Expect plenty of celebs and poker pros at this event. We have full details here.
If your on the "Left" coast this weekend, then head down to the Bike to get in on the $10,000 WPT Legends of Poker Championship. Players start with 30,000 chips and a number of the game's elite will be on-hand as they try to capture a WPT title and the first place prize. You'll need stuff to do while in LA, so check out our Jet Set guide.
With the FTOPS complete and the WCOOP still a few days away, the online poker scene may be a little slow. Don't let it get you down though; sign up for a poker account and get amazing deposit bonuses right here at PokerNews.com.
Hopefully this installment of the Weekend Survival Guide served you well, like it or hate it, let us know below. Invite your friends to become a fan of PokerNews at our Facebook page here.