2 Months. 2 Million: "Bling, Blang, Blaow!"
Nicole Gordon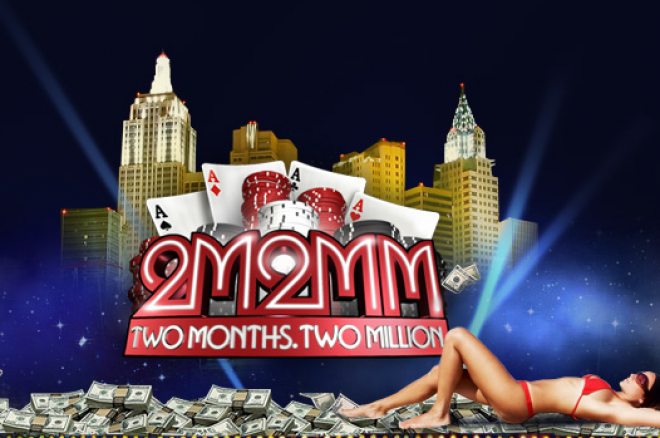 "Bling, blang, blaow!"
That was Jay "Krantz" Rosenkrantz's reaction upon laying eyes on the Spanish-revival style estate he and his three best friends (Dani "Ansky" Stern, Emil "whitelime" Patel, and Brian "Flawless_Victory" Roberts) would be living in for the duration of their stay in Las Vegas and their time on the reality show 2 Months. 2 Million, which had its premiere last night on G4. The 30-minute episode was a pleasant surprise, introducing the audience to our four twenty-something protagonists, who were billed as "former high school math whizzes" turned online poker prodigies. The best move the series made in its opener was allowing these four admitted geeks to be themselves, rather than attempting to paint them in a more macho light. They may wager tens of thousands per hand, eat out in four-star restaurants and frequent high roller lounges, but at the end of the day they're still funny, even a bit awkward, and genuinely care about one another's success.
Episode one saw the foursome move into their new digs, which sported three lavishly decorated bedrooms… and one all done up in pink paint and white lace with enough My Little Ponies to keep any nine-year old girl occupied for months to come. Naturally they gambled for the girly room, playing a four handed pot-limit Omaha sit-n-go. Dani Stern was the first player eliminated, and retired to his new princess chamber, where he began hurling all of the "creepy dolls" into the hallway.
There was a good amount of poker content as the four sat down in their online poker "war room" to attack some NLHE and PLO cash games. Jay Rosenkrantz found himself stuck $126,000 on Ultimate Bet playing heads-up $50/$100 no-limit with "BLEWJOB," who seemed to get the best of him on every hand. The four took a break for dinner at the Venetian's high-end seafood eatery, Aquaknox, where they were joined by Tom "durrrr" Dwan and Phil "OMGClayAiken" Galfond. They naturally discussed a few hands, with Dwan plying the minds of all four with choice verbiage like, "I think check-shoving sucks. I would either check-call or bet-call."
The next day, Rosenkrantz took a long look at his nemesis, "BLEWJOB" and was able to pick up on some timing tells and betting patterns that led to him getting almost entirely unstuck. Riding the high of his win, he headed out with his roommates, who were celebrating Emil Patel's birthday at the Palms. Patel confidently rocked a citrus colored v-neck sweater, then won a prop bet from an attractive brunette who incorrectly labeled the sweater's color as "salmon" rather than "peach." Patel also displayed some suave flirting abilities, chatting up women with talk of which vegetarian protein sources he most enjoyed before delving into a birthday cake made entirely of pancakes. The highlight of the show, however, came from Brian Roberts, who treated the audience to a series of spastic dance moves which will, no doubt, be immortalized with animated 2+2 avatars for years to come.
At the show's conclusion, Stern found himself on the losing end of the week's "penalty stunt." Having lost the most money that week, Stern was forced to dress up in a tutu, tights, and a pink wig and eat at a Las Vegas buffet. The joke, however, ended up being on his roommates, as Stern shockingly managed to get himself a date with a hot girl despite his attire. We wonder if he brought her back to his pretty princess palace when the night was done?
So what did you think of 2 Months. 2 Million? Love it or hate it, sound off in the comments and tell us your favorite moments. Make your own 2 Million by signing up now for an online poker account.