The PokerNews Jet Set: Sydney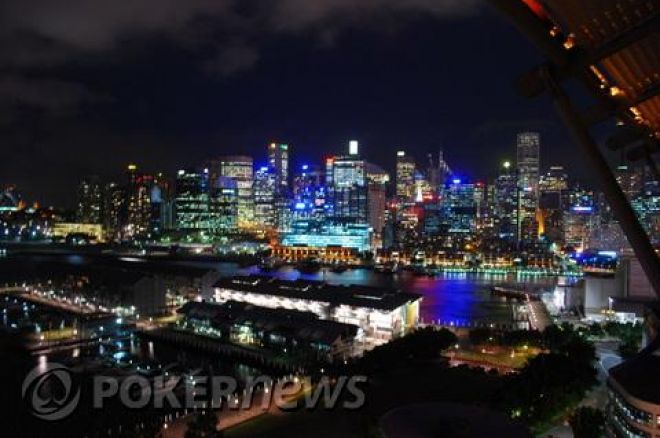 When people think of poker in Australia, the first place that comes to mind is Melbourne because it hosts the Aussie Millions. Thanks to the Asia Pacific Poker Tour's Grand Final held in Sydney, however, the country's most well-known city has earned its place among the top poker spots in the Southern Hemisphere.
Featuring a $6,300 AUD ($5,636 US) buy-in, the APPT Grand Final has become a mainstay for players on the tour because of its choice location and the generous prize pool that will see the winner take home over $1 million (AUD).
The Star City Hotel & Casino
This casino is your only bet for gambling because there are no other legal gaming venues in New South Wales. Featuring a 480-room hotel looking out on Sydney Harbour (we'll use the Aussie spelling), this gambling mecca offers 200 gaming tables, a 2,000-seat theater, six restaurants and eight bars. Rooms range from the traditional to luxury suites, so Star City has an accommodation to suit your needs.
Located in the heart of the Darling Harbour district, the casino is within walking distance of some of the city's most enjoyable activities and sights including the Chinese Gardens, Maritime Museum, Exhibition Center and Harbourside Marketplace.
Casino Tips
In addition to poker action, Star City offers plenty of other ways to gamble including baccarat, blackjack, Pai Gow (double-handed poker) and roulette to name a few. Considering that there are 200 tables for action, you should find plenty to satisfy your gambling jones.
If you're feeling really lucky, but you're missing the Las Vegas sports betting action, stop into the TAB lounge to wager on an event. That's right, sports bettors, you can wager on your favorite team while you are "down under" and on the other side of the world playing poker. The TAB lounge is also the perfect spot to catch up on the latest sports from around the world.
Getting Your Grub On
Although Sydney offers some of the best cafes and restaurants in the world, you don't have to leave Star City to find worthwhile dining options.
If you're looking for high-end delicacies, consider a meal at Astral. Featuring the 2009 Chef-of-the-Year, Sean Connelly, Astral offers a great view of the harbour during meals and features exotic treats such as king prawns, Angus beef, Semolina gnocchi and Tasmanian rock lobster.
For traditional fare, such as fresh Australian seafood or famous wagyū steaks, Sean's Kitchen will satisfy your palate.
If you are in the mood for Cantonese food such as Peking Duck or BBQ pork, enjoy the Lotus Pond in the Palace Garden section of the casino.
If these culinary hot spots don't do it for you, try the Garden Buffet, which features international foods and unlimited prawns. An alternative is Trophies Foodcourt , which features an international food selection from Asia, India, North and South America, and Europe.
Take Advantage of Your Surroundings
Although you may have poker on the brain during your stay at Star City, you'll kick yourself if you don't get out of the hotel for a few hours. Across the harbour from the casino, you'll find the Sydney Aquarium where you can walk in an underwater tube while watching fish swim around you. At Wildlife World, you can pet a cuddly koala, see roos and wallies, and get your picture taken with a butterfly — just don't tell your friends.
Within the harbour area itself, the two-level Harbourside Marketplace will remind you of the Baltimore Inner Harbor — except that you may be able to order a kangaroo steak. Ask your concierge where.
Nearby in another harbour, The Rocks & Circular Quay was home to Australia's first European settlers and now features shops, galleries, museums, cafes, restaurants and bars. The architecturally famous Sydney Opera House is within strolling distance and, if you want, you can catch a ferry to the zoo where you can share your picnic-table lunch with the ibis.
If you are a little more adventurous, consider the Bridge Climb, a three-and-a-half-hour ascent of the world-famous Harbour Bridge. When you finish the 134-meter climb (439 feet — about 27 car lengths), you can look out over the city and all its harbours.
Follow us on Twitter for up-to-the-minute news, and also become our friend on Facebook.